An early June 2016 home inspection included finding a gas-forced air furnace with its covers reversed. The airtight blower cover was on the burner compartment and the louvered burner compartment cover was on the blower cabinet. The 24-year-old furnace was a Carrier model 58WAV. Carrier made this model from about 1992 until at least 2000. I do not recall seeing another furnace with reversed covers prior to this inspection.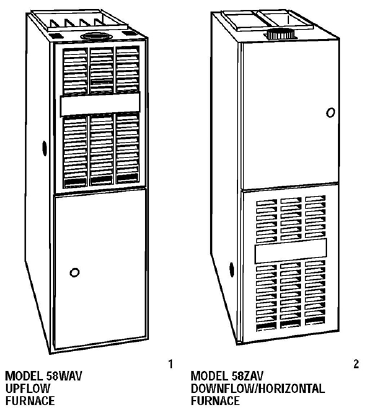 The result of the misplaced covers was an extremely dirty system since the blower cabinet was pulling in unfiltered air. Our report recommended the system be cleaned and corrected by a qualified HVAC firm. We further stated that the furnace was at the end of its normal service life.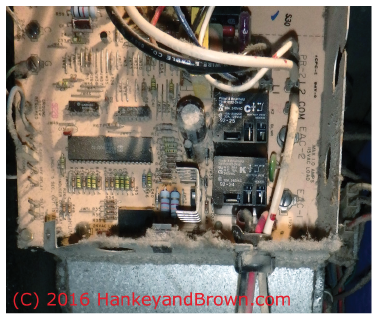 Nine days later, I found another Carrier 58WAV furnace, 21 years old, with the same reversed covers situation. In this case, the furnace was clean enough to operate briefly. However, a carbon monoxide test in the vent produced results consistent with a heat exchanger defect (CO levels rising after the blower came on).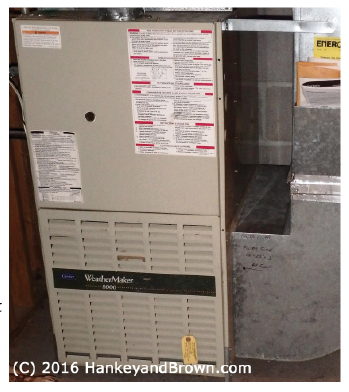 This furnace is VERY similar to its down-flow twin, model 58ZAV. The image shown at the top of the page compares both models. Notice the similar size, shape, and cover designs.
These images suggest that Carrier found it cost-effective to make the covers fit either furnace. There is no marking on either cover to inform the owner or occupant of the proper cover locations. Both covers will fit in either location and, when installed, both will depress the blower safety switch. This model furnace was also offered under the Bryant label and other brands built by Carrier.
Persons unfamiliar with furnaces or who have only seen down-flow furnaces may not realize the proper cover position on up-flow furnaces and vice versa. While it is easy to correct reversed covers, the consequences of reversed covers include poor air circulation, particularly in cooling mode, improper combustion due to insufficient air in the burner compartment and, if the covers have been reversed for an extended time, inefficient heat transfer due to dust coating all the surfaces of the heat exchanger and cooling coil. Additionally, if an atmospherically vented water heater is alongside the furnace, the unrestricted airflow into the blower has the potential to downdraft the water heater.
While researching this story, I was able to find only one other inspector's website with an image or discussion of reversed furnace covers. His example was a Trane furnace.
When encountering any of these very popular furnace models, home inspectors are advised to explain the proper cover location to their customer and/or mark the proper locations on the covers and, in addition, to recommend cleaning and any other necessary corrections by a qualified heating and cooling contractor.

Roger Hankey, ASHI Certified Inspector, was the first ASHI® member in Minnesota. He has served Minnesota homeowners since 1975 and is a Level II Certified Infrared Thermographer and an NRPP Residential Radon Measurement Provider. He can be reached at 952-829-0044, rhankey@hankeyandbrown.com, www.hankeyandbrown.com. "Before we speak house, we LISTEN."
© 2016 HankeyandBrown.com