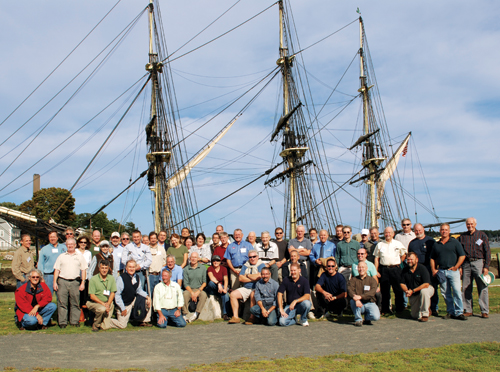 The chapter's sixth annual two-day seminar included tours of historic homes in Salem, Mass. As the seminar drew to a close, participants from several states gathered in front of The Friendship tall ship in Salem Harbor for a group photo.
Submitted by Bob Mulloy.





Standing Ovation at Western Washington Seminar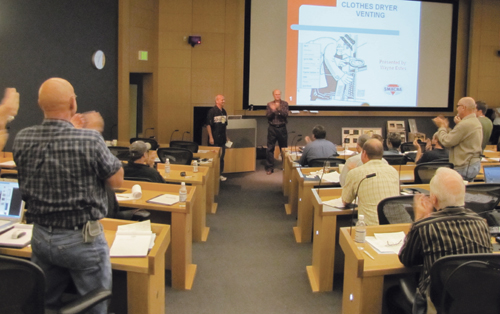 Darrell Marsolais received a standing ovation for his four years of presenting top-notch educational sessions, Sept. 11, 2011, at the ASHI WW Fall Seminar and Chapter meeting
(see photo above)
. Over 80 inspectors from Washington, Oregon, Idaho and Alaska enjoyed two days of technical presentations.
Lots of stories and shared experiences around the fine lunch at the Cedarbrook Lodge
(see photo below)
.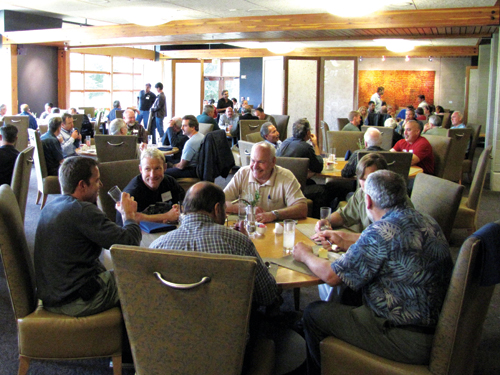 Submitted by Howard Maxfield.
Another Successful Seminar for NY Metro
The annual New York Metro ASHI educational seminar was held at the Crowne Plaza Hotel in White Plains on Sept. 10-11 this year. The organizing committee of Doug Kaufman, Bart Rodi, Victor G. Fagella and Cox Award winner Victor J. Fagella performed yeoman service through the year of preparation to ensure NY Metro Seminar's reputation as an outstanding educational value for inspection and real estate professionals in the region.
Among the timely topics covered were synthetic slate and photo-voltaic roofing, deck inspection, tankless water heaters, basement finishing systems and saving energy at home. An evening seminar on Connecticut law also was offered.
Photo above: The members of the organizing committee for the New York Metro Chapter's annual seminar, left to right, Doug Kaufman, Bart Rodi, Victor J. Fagella, and Victor G. Fagella. Submitted by Glenn Woertz.