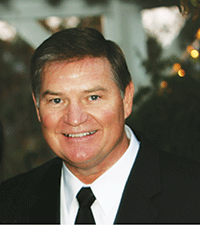 President's Report
By Bill J. Loden
Immediate Past-President
ASHI had a great 2014!
We made tremendous progress in so many areas. Looking back on my year as President of ASHI, I find that it passed so quickly. After a great InspectionWorld® in Nashville, the ASHI staff and volunteer leadership went back to work energized and ready to move the association forward.
Inspection World® InspectionWorld® 2015 in Philadelphia was so incredibly successful that it eclipsed any other IW in my memory. More than 800 inspectors were present for the opening of the exhibit hall on the first evening of the conference. Total attendance included over 1,000 members, spouses and vendors. ASHI staff actually sold more booths than planned, and we had to shrink the ASHI booth area to make room for more vendors. The entire ASHI staff deserves our thanks for a job well done.
InspectionWorld® 2016 is now less than a year away. In mid-February 2014, members of the Conference Planning Committee and staff, along with our consultant from Helms Briscoe, traveled to Phoenix, San Diego and Palm Springs to evaluate three potential conference sites. After visiting the properties and evaluating the proposals of each, the committee recommended the Town and Country Resort and Conference Center in San Diego, California, to ASHI's Board of Directors. You will hear more about this from ASHI in the coming months.
Public Relations Public relations is important to the success of ASHI and its members. ASHI must continually make consumers aware of the benefits and services our members offer, creating a better understanding of the tremendous value of home inspections and important services ASHI members provide. ASHI 's public relations firm, Public Communications, Inc. (PCI), is charged with taking the ASHI message to the public.
PCI is using its experience in both traditional and digital media to get the ASHI message to millions of potential clients in a cost-effective way. Within hours of being sworn in as ASHI President, I was doing phone interviews with national publications from my hotel room in Nashville. These interviews with print and radio media continued throughout the year.
In February, I was in Chicago shooting videos for distribution on social media. In April, PCI facilitated face-to-face interviews with major print publications in New York City. I met with editors at This Old House (circulation 966,817), HGTV Magazine (circulation 350,000), Popular Mechanics (circulation 1,234,691) and Dr. Oz's The Good Life Magazine
(circulation 800,000).
All of our PR efforts build on ASHI's positive image, which starts with the hard work of our members working in the field every day to protect their clients. The result of all our contacts with the public is that ASHI is the most trusted and respected professional association in America.
Financial On the financial front, we continued to build on the success of 2013 when we finished in the black for the first time in more than five years. In 2014, with the help of a rigorous budgeting process put in place by Treasurer Michael Stephens and the ASHI staff who worked diligently to cut operational costs, we were able to show excess revenue above expenses of almost $300,000. This allowed the ASHI Board of Directors to allocate $250,000 to a reserve account to strengthen ASHI's financial future.
The ASHI School continued to show exceptional growth, and in 2014 contributed significantly to ASHI by adding 241 ASHI school graduates as members and over $100,000 in additional dues revenue to ASHI. ASHI Education Inc. (AEI) also showed a profit on the year of almost $100,000.
Governance Over five years ago the ASHI Board proposed some sweeping changes to the ASHI Governance structure. Though some of the changes might have been beneficial and needed, the effort failed because the change was too complex, radically changing the way we govern ASHI.
Recognizing that a small change can have a tremendously beneficial impact on an organization, I spoke to the ASHI Council of Representatives (CoR) Speaker in early February and asked the CoR to consider a small reduction in the size of the ASHI Board. This change is needed because our board is much larger than needed. A recently published study shows that the average board size for a national nonprofit association is 14 members. ASHI's board currently has 21 members.
The CoR considered this proposal and at their annual meeting at IW, CoR then approved and sent a motion to the Bylaws committee to reduce the size of the board by three members over three years. The Bylaws committee will report the motion to the Board at the April meeting, and the motion will be presented to the membership for a vote soon thereafter. I strongly encourage all voting members to vote for this change. It will save ASHI money on overhead expenses and help the board function more effectively.
Inside the Beltway One of the important roles ASHI performs is providing the home inspection industry a voice in Washington, D.C. Our participation in addressing the legislative and regulatory issues that affect our profession is formulated and coordinated by Capitol Hill Advocates, Inc., and President Randy Pence. Randy has turned what began as an adversarial relationship with HUD into a productive partnership. HUD now relies on ASHI as THE voice of the inspection profession and invites our input on issues related to housing and home inspections.
Because of Randy's work on our behalf in Washington, D.C, ASHI was asked to attend the National Healthy Homes Conference sponsored by HUD and held in Nashville, TN, in June. We were able to meet with several potential partners, which ultimately could result in relationships that will mean new business opportunities for ASHI members in the future.
In another major initiative, Randy has been representing ASHI in our partnership with other industry organizations in the Coalition for Patent Fairness. This is an umbrella group consisting of business and professional not-for-profit associations and for profit companies supporting legislation to protect businesses from unfair practices associated with patent abuses. This will be important for our members who perform thermal imaging in their businesses.
I want to thank the directors and officers of ASHI for their hard work and support during my term as ASHI President in 2014. I believe we have moved ASHI forward, continuing the good work of ASHI's volunteer leaders for the past 39 years. I would like to give special thanks to 2013 President Bill Jacques for his mentorship over the years, and his advice and counsel during my term as President. I leave the office with the knowledge that ASHI's direction in 2015 is in the capable hands of President Alden Gibson. I look forward to many more great things for ASHI and its members.
Treasurer's Report
Fiscal Year 2014
Michael J. Stephens, ASHI Treasurer
ASHI Finances are in Good Order The audited statements provided at the annual Business Meeting reflect the responsible approach that the Board of Directors and staff have taken these past few years. The CPA firm issued an "unmodified" opinion, which is the highest opinion that can be issued. ASHI showed a gain in revenues over expenses, which is required by the Bylaws, for a second straight year. The ASHI School has also grown and was very profitable as well.
As we emerged from the housing slowdown a few years back, ASHI is strong and prudently replenishing its rainy-day fund so that it will always be ready to serve you in the future. Our strategic plan has always been to maintain ASHI as the Gold Standard in the industry.
I am pleased with the increases we have seen in membership and the attendance at the past few InspectionWorlds. The industry is coming back strong and ASHI is attracting very good candidates for membership. Our chapters are providing these members with valuable training, mentoring and camaraderie.
The Council of Representatives, under very good leadership these past two years, has been very busy providing support for members and chapters.
As ASHI goes into its 40th year, I see great things being done for the membership. I must acknowledge our staff for being our greatest asset. How nice it was to meet, know and work with such dedicated folks these past two years.
In closing, I have retired from the business and my tenure is up as your Treasurer. I have been honored to have been elected by you, the Members, and to serve as your Treasurer these past two years.
Thank you. Michael J. Stephens