1996 – ASHI's 20th year of serving home inspectors & the homebuying public

War stories were the basis for the cover story "Amazing but true" in the November 1996 ASHI REPORTER. These true accounts of inspections with an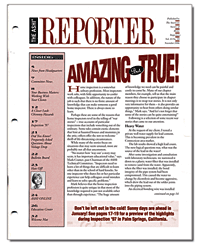 out-of-the-ordinary twist still are popular with home inspectors. Inside the issue, President Danny Maynard endorsed ASHI's systems of preparing members for positions of leadership and of delegating to the Board of Directors the responsibility to make decisions on behalf of the membership. The "Hats off" column featured Lois Ezzie, the first female ASHI Member in California.
Big changes announced

Also inside, it was announced that the ASHI Board of Directors had approved the relocation of editorial and production work for the newsletter to ASHI headquarters, and had hired the Society's first Director of Communication. In the following months, the new director, Gordon L. Briggs, completed what had been a gradual transformation from newsletter to magazine.
More changes in 2006
An equally exciting announcement about the ASHI Reporter will be part of ASHI's celebration of 30 years of experience representing home inspectors in 2006.