Don Norman - Newsroom Author Details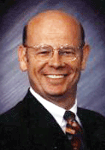 Telephone : 314-291-5556
Don Norman is the owner of HouseMaster Home Inspection Service in St. Louis. He joined the American Society of Home Inspectors (ASHI) and the St. Louis chapter of ASHI in 1985 and has served as Education Committee Chair, Secretary, Vice-President and President of the Chapter over the years. He also served for two years on the Council of Representatives. He was appointed as the National Education Committee Chair by then President Pat Casey in 1995 and served two years in that position. He was appointed as Membership Committee chair in 1997 and served an additional two years. In 1999 Don was elected to the ASHI Board of Directors and, simultaneously, to the Board of Directors of the Examination Board of Professional Home Inspectors (EBPHI). He served as a Director on both boards for two years and resigned from the EBPHI in 2001 to become Treasurer of ASHI. He was elected as Secretary in 2002, Vice-President in 2003, President-Elect in 2004 and currently is serving a one year term as the President of our Society.
Articles authored
ASHI Officer Nominating Committee Process Explained
, October 2006
2005 ASHI Annual Reports - Report of the President
, February 2006
The Pinnacle of My Career
, January 2006
Celebrating a Win
, December 2005
We See Things Differently
, November 2005
On Being a Home Inspection Dork
, September 2005
Getting Involved
, August 2005
Increasing the Value of Membership
, July 2005
Are You Losing Business?
, June 2005
Ethics Matter
, May 2005
Making ASHI Synonymous with Home Inspection
, April 2005
The Power of Hospitality
, March 2005
Welcome to 2005!
, February 2005
2002 Treasurer's Annual Report
, February 2003