Stephen M. Gladstone - Newsroom Author Details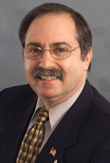 Telephone : 800-356-9611
ASHI Past-President Stephen Gladstone has been inspecting homes since 1983 and is the President of Stonehollow Fine Home Inspections, a multi-inspector home inspection and environmental testing company. He is a past President of both the Southern New England and Coastal CT. Chapters of ASHI®, in CT.. He has written many articles for local papers, has been nationally featured in Reader's Digest and The Wall Street Journal, is a contributing author for the ASHI® Reporter, and has his own Saturday morning radio show "Around the House with Steve Gladstone" on WSTC and WNLK radio.
Articles authored
2013 Liaison Report
, January 2014
ASHI Past-President Reports on CAHPI Conference
, December 2011
Safe Decks Always an Issue
, June 2011
President's Annual Report - 2004
, February 2005
Melancholy
, January 2005
ASHI Updates
, December 2004
A Busy Season
, November 2004
Traveling
, October 2004
President and Board Visit a Georgia Peach
, September 2004
Prescribing a Little R&R
, August 2004
Doors Open to ASHI During Annual Media Tour
, July 2004
Making a Promise to Our Members, Our Clients and Our Profession
, June 2004
Are Home Inspections in South Africa's Future?
, April 2004
Food for Thought
, April 2004
A Members Shares an ASHI Experience of a Different Sort
, March 2004
Proud and Honored to be Your President
, February 2004
Destination Albuquerque:Just back from Albuquerque—What a Trip
, July 2003
Come for the Sessions, Stay for the Party
, November 2002
ASHI Annual Reports for 2001: Report from the Treasurer
, February 2002
Home Inspector's Toolbox
, February 2002