Brad Lowery - Newsroom Author Details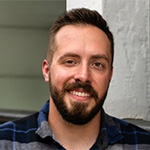 Brad is a native Floridian who became a Virginian by way of Connecticut. Having lived and worked all over the East Coast, he is now an established Home Inspector in the Washington D.C. Metro region.
Brad spent many years working in and around residential and commercial properties, and also used to be a youth pastor. Outside of being a licensed Home Inspector, Brad also holds an Associate's Degree in Business, and a Bachelor's Degree in Biblical Studies.
Brad believes that a fulfilling life is one lived intentionally with a sense of identity and purpose. As such, his life outside of work revolves around loving God and serving people. Brad volunteers weekly with his church's young adult ministry and worship band, and he has a huge heart for community service. Brad loves the outdoors, but not as much as he loves a good lager and smooth cigar enjoyed with great company. A diehard but conflicted baseball fan, he will cheer for the World Series Champion Washington Nationals… so long as they aren't playing his boyhood team, the New York Yankees.
Articles authored
Check Out a New Podcast: Inspection Connection
, September 2020