No doubt you get a high percentage of your business from real estate agents. So, what do they want from us? To answer this and a few other questions, I interviewed two people who shared their insights.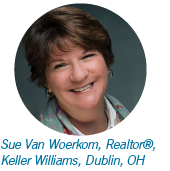 First, I talked with Sue Van Woerkom, a very successful and prominent Realtor® in the Columbus, OH, area. Here's a bit of our conversation and my commentary.
Tim Buell (TB): Where do you find your home inspectors?
Sue Van Woerkom (SVW): I actually choose a home inspector from networking meetings, from fellow real estate agents who relate good experiences. If my client chose them, I go on their recommendation.
TB: There are numerous reasons why a home inspector might not be successful and one is a lack of good marketing, which can happen if you don't do one-on-one meetings. Even though we are in an age where email, texting and social media are prominent, nothing replaces the personal relationship.
TB: What do you expect from a home inspector?
SVW: The home inspector should be thorough, preferably present the problem in context to the overall well-being of the house and know some costs associated with repairs. The inspector always should be in control of the process and not allow the buyers to jump around.
TB: The inspector should have a methodology. Some do the outside first, then the basement, first floor, second floor and attic. Others do the reverse. In any case, pick an approach that works best for you and stick with it.
TB: What don't you want from an inspector?
SVW: What we don't need from an inspector is overblown problems… finding stuff to make themselves look good. Fortunately, this is the exception, not the norm. My advice to inspectors is this: When you are finished with the inspection, please go back through the house and make sure that the faucets are turned totally off, lights are off and that thermostats are where they should be. I get many calls after inspections that mention all of these complaints.
For instance, recently, a client (the seller) told me that when a handyman came to the house a few days after the inspector had been there, the handyman reported that the bathtub faucet had been left on—not full strength—but on...and the client was upset. Again, you can't prove any of this, but it makes life difficult.
In another situation from a few years ago, the buyer called the inspector away with a question when the inspector was checking the faucet in the upstairs bathroom sink. The inspector left the water running, the sink in the bathroom overflowed and the ceiling in the living room had to be repaired. In this situation, the home inspector did the repair, but the results were not to the seller's satisfaction. So, again, some problems can be avoided or solved by being methodical.
Scott Taylor, Home Inspector and former Realtor® in Omaha, NE
Scott Taylor was a Realtor® before he became a home inspector. I met Scott at an ASHI Chapter meeting last October and when I learned about his background, I asked him to share his thoughts.
TB: When you were an agent, what did you expect from a
home inspector?
Scott Taylor (ST): As an agent, the most important thing I expected of home inspectors was consistency. By calling out items in the same way at each and every inspection, you can have a standard set of parameters, a consistent method of inspecting that remains the same for each and every home inspected. When an inspector provides this level of service, it makes it easy as an agent to explain to clients which items you feel will attract attention during an inspection and when showing a home, and to be prepared for the results.
For anything that has a function that can be turned on or off, that is a working component of the home, it was a reasonable expectation that these items were operating, and if they were at the end of their useful life, pointed out by the inspector. Structurally, it was a reasonable expectation to assure that the foundation, framing, doors, windows, exterior and roofing systems were sound.
My most important expectation was about safety items. Hearing about those items that could cause harm to occupants and guests is valuable information that most clients will not typically notice, as most are more interested in the color of the walls, if their sofa will fit in an area or how close the home is to the school.