WINDOW WELLS ARE TYPICALLY FOUND ON HOUSES with deep basements, where basement windows are completely or partly below the exterior grade level. Wells provide space for light, ventilation and access to subgrade areas.
Most window wells have drains that carry water from the well to the storm sewer. These drains can be pipes filled with gravel or just a gravel column. You won't be able to determine how effective the drain is or, in some cases, whether there even is a drain. The drain may be missing, or not visible because it is located below several inches of gravel.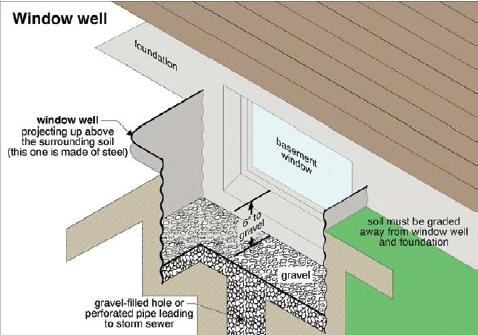 A common alternate solution to a drain is a clear plastic cover that prevents rain and debris, such as blowing papers, from accumulating in the well. The cover allows light in through the window, but you can't open the window and get fresh air.
Materials
Window well walls are typically made of steel, wood, poured concrete, masonry units or plastic. The floors are usually gravel.

Walls and Floor
Check the walls of the window well to ensure that there has been no movement. The floor should be approximately six inches below the window frame. Wood/soil contact should be avoided.
Add Wells When Regrading
Sometimes you will have to recommend the addition of window wells when you recommend grading improvements. As the grade around the house is raised, the basement window wells may end up below grade level. They will need to be replaced or extended.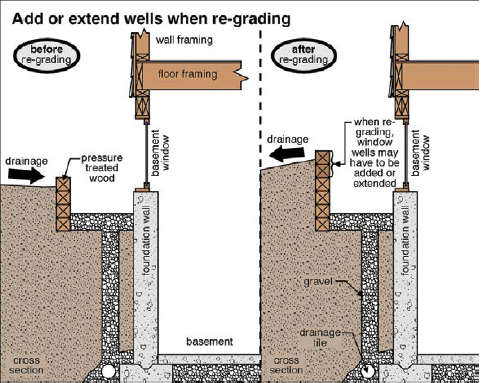 Common Problems
Common problems include:
• Missing window wells
• Damaged window wells
• Wood/soil contact leading to rot or rust
• Drain problems
Missing Window Wells
Check that wells are provided for all windows within six inches of grade. If the finished grade ended up higher than intended, the window wells may be missing. Missing wells create wood/ soil contact and may cause water problems in the foundation or basement. Metal windows and frames may rust, and wood components may rot.
Adding a window well will solve these problems, but it is very expensive to provide a drain for a well on an existing house.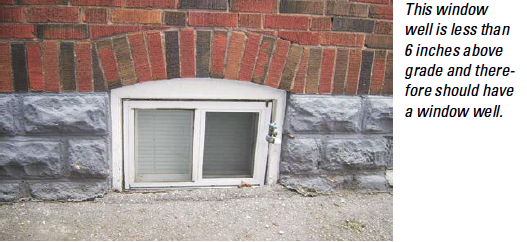 Damaged Window Wells
Window well walls are small retaining walls. Improvements will be needed where these retaining walls have moved or suffered damage. Damage can result from deterioration of the wall materials or soil pressure, often associated with freeze/thaw problems. Concrete walls may be spalled, cracked or leaning. Wood walls may be rotted, cracked, shifting or damaged by insect activity. Metal walls may be bowing, broken or rusted. Masonry walls may be cracked, broken and shifting. Plastic walls may be bowed or cracked.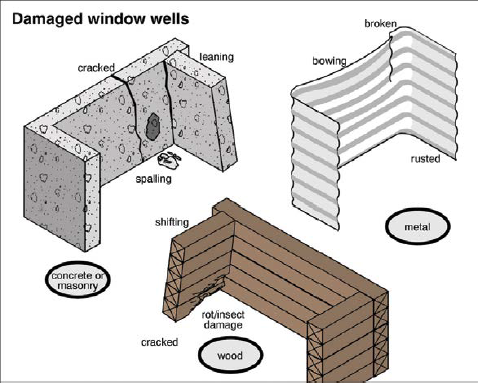 Ensure that the walls of window wells are intact and well secured to the building. Probe wood for rot and insect damage. If the walls have deteriorated or pulled away from the building, improvements will be necessary.
Also check the grading around window wells carefully. Window wells may funnel water into the window if the grading is poor. This is common at the well/wall intersection.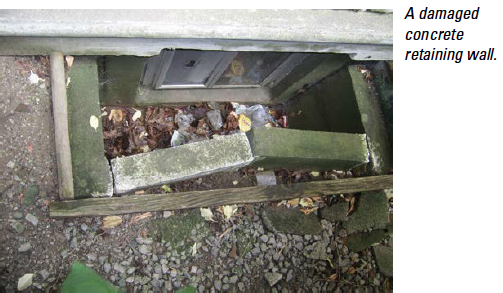 Wood/Soil Contact
Wood/soil contact can occur if window wells are missing or if the floor of the window well is too high as a result of inappropriate installation or debris accumulation in the well.
This problem can lead to rot and insect damage to the well walls (if wood) and to the windows and window frames, or to water entering the basement.
In some cases, the floor of the well can be lowered slightly. However, if the walls do not go down deep enough, they may need to be modified as well. It is often not possible to determine how much the well floor can be lowered during the inspection, so don't get too specific with your advice on this issue (or any issue, for that matter).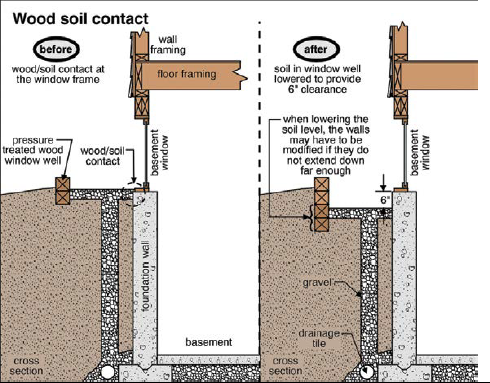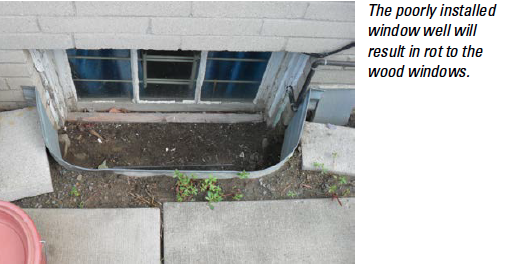 Drain Problems
Window wells should have drains, which can be open pipes that connect to downspout drains or perimeter drainage systems. The pipes may be filled with gravel.
In many cases, you won't be able to verify the presence of the drain, but you will see evidence of nonperformance if drains are missing, not connected, broken or obstructed. Problems include water entry into the basement, rusting or rotting window frames and freeze/thaw damage on the well walls.
Warning signs to look for include:
• A pipe projecting up through the center of the gravel floor. However, the top of the pipe may not be visible. The pipe may have been removed, and there may simply be a column of gravel extending down from the gravel in the floor.
• High watermarks on the glass, sash, frames or window well walls.
• Rotting wood or rusted metal.
• When you go inside, look for evidence of water running down the foundation wall below the windows. Use your moisture meter to check the finishes below the window. (The Standards don't require you to use a meter.) Also look for stains and damage to the finishes.
• Is the floor of the well six inches below any wood or metal in the window assembly? Is the well filled with debris?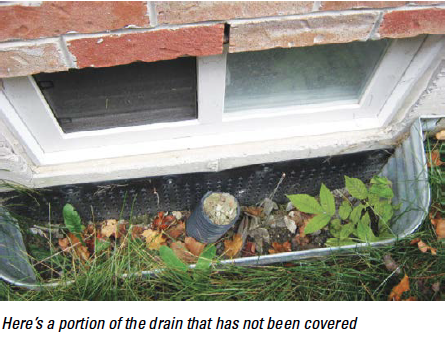 Clear Cover
Providing a drain or improving a clogged drain can be a considerable expense. As an alternative, a clear plastic dome cover over the window well, sealed to the wall, will deflect water away. Ensuring a proper grade slope away from the well minimizes ground water entry.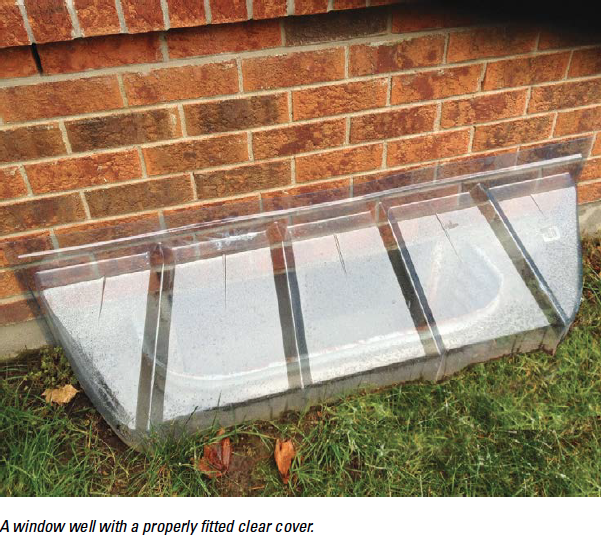 Summary
We have discussed in detail various types of window wells and addressed the important role they have in allowing below-grade windows to exist. More importantly, we have discussed the significance a good window well has in mitigating water entry into a basement or subgrade area. More information regarding other exterior water management features can be found in the ASHI@HOME training program.