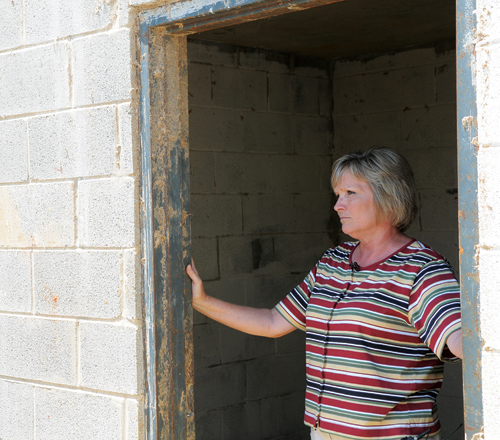 Photo: Moulton , Ala., May 31, 2011 – Tornado survivor Jerrie Nellterry recounts the events of April 27 from the safe room that saved her life. All of the occupants of the safe room were uninjured, but her husband was injured by flying debris while in the basement just outside the safe-room door. FEMA photo by Tim Burkitt.

A safe room is a hardened structure specifically designed to meet FEMA criteria and provide "near-absolute protection" in extreme weather events, including tornadoes and hurricanes. The level of protection provided by a safe room is a function of its design parameters, specifically the design wind speed and resulting wind pressure and the wind-borne debris load resistance.

To be considered a FEMA safe room, the structure must be designed and constructed to the guidelines specified in FEMA P-320, "Taking Shelter from the Storm: Building a Safe Room for Your Home or Small Business," (FEMA, third edition, 2008a) (for home and small business safe rooms).

Additionally, all applicable federal, state and local codes must be followed. When questions arise pertaining to the differences between FEMA 361 criteria and another code or standard, the most conservative criteria should apply.

Residential safe rooms usually are built with the house and located in the basement, garage or adjacent to it. Some are retrofitted to an existing house, a challenging and costly project. FEMA provides information on retrofitting existing buildings with a safe room, but suggests homeowners balance the desire to have protection within their home with the practicality of constructing a safe room outside the footprint of their existing home or structure for less money.

Who needs protection against the wind?

Almost every state in the United States has been affected by extreme windstorms such as tornadoes and hurricanes. Even in states not normally considered to be susceptible to extreme windstorms, there are areas that experience dangerous extreme winds. These areas typically are near mountain ranges and include the Pacific Northwest coast.


What is a tornado?

According to the American Meteorological Society's Glossary of Meteorology, a tornado is "a violently rotating column of air, pendant from a cumuliform cloud or underneath a cumuliform cloud, and often (but not always) visible as a funnel cloud." Tornadoes typically occur in the spring and summer months, but can occur at any time in any part of the country. Tornadoes sometimes are spawned by hurricanes. The severity of a tornado is categorized by the Enhanced Fujita Scale (EF Scale). It characterizes the degree of damage experienced by buildings during a tornado.

Since 1950, when the National Weather Service (NWS) started keeping records, 1953 was the deadliest year of tornado-related deaths (519). The average for the past 60 years has been 62 deaths per year, with uncounted injuries and as much as $1 billion dollars in property losses from a single event.

What is a hurricane?

A hurricane is a type of tropical cyclone, the generic term for a low-pressure system that generally forms in the tropics. A typical cyclone is accompanied by thunderstorms and in the Northern Hemisphere, a counterclockwise circulation of winds near the earth's surface.

Hurricanes can cause catastrophic damage to coastlines and several hundred miles inland. Winds can exceed 155 miles per hour. Hurricanes and tropical storms can also spawn tornadoes and microbursts, create storm surges along the coast, and cause extensive damage from heavy rainfall.

In the United States, 279 hurricanes were recorded to have made landfall between 1851 and 2006. Over one-third of these hurricanes (96) were classified as major hurricanes (designated Category 3 and higher on the Saffir-Simpson Hurricane Scale). Hurricanes have made landfall in Florida more than in any other state. The second most hurricane-affected state is Texas, but every state on the Gulf Coast and bordering the Atlantic Ocean is susceptible to damage caused by hurricanes, as are U.S. island possessions and territories. Hurricanes between 1900 and 2006 resulted in 17,832 deaths.

The basics of a safe room
The Federal Alliance for Safe Homes (Flash) describes safe rooms as follows:

• Safe rooms can be site-built or manufactured and can be installed in new or existing homes. See www.highwindsaferooms.org.

• Safe rooms can be located anywhere on the first floor of your home, in a basement or outside.

• Safe rooms must be designed for wind speeds up to 250 mph and debris impacts from a 15 lb. 2x4 board traveling at 100 mph.

Issues critical to performance include:

• Safe rooms must be structurally isolated from the main structure of your home.

• Safe rooms must be securely anchored to the foundation.

•Safe rooms installed in or over a crawl space must have a separate foundation.

•All components of safe rooms, including walls, ceilings and door assemblies must be designed and tested to resist the specified wind forces and prevent perforation by wind-borne debris.

• Safe rooms must have adequate ventilation.






Typical basement foundation, with safe room.







Typical slab-on-grade foundation with safe room.







Typical crawlspace foundation with safe room.



FEMA places emphasis on safe-room doors.

In addition to resisting both positive and negative wind pressures, safe-room doors also must be able to resist debris impact. Door construction (primarily the exterior skin) has been found to be a limiting element in the ability of a door to withstand missile impacts.

All doors should have been tested to meet the criteria outlined in FEMA P-361 (FEMA, 2008b), Section 3.5.2. A manufacturer should be able to provide documentation to show that its product has passed such testing. The door and door assembly also should have been tested to withstand both positive and negative pressures in addition to debris-impact loads.

For more information on testing of doors for both missile impact and pressurization, see Chapter 8 of the Standard for the Design and Construction of Storm Shelters (ICC, 2008), also known as the ICC-500.

FEMA has no recommendation regarding the direction of the door swing since wind can create both positive and negative pressures on a safe room. It suggests checking with a local building official or licensed design professional to discuss the applicable building code requirement for the direction of door swing.

Because a door can blocked by debris after a violent storm, there should be several forms of communication within the safe room to call for help. Having a jacking mechanism in the safe room to pry the door open is also prudent. In addition, the doors should be operable from the inside without any keys or special knowledge or effort. Before any hazardous event occurs, occupants should notify emergency management service personnel where the safe room is located.

The cost of mitigation

Costs for construction vary across the United States. The cost for constructing a safe room inside a new house, which can double as a master closet, bathroom or utility room, is between $2,500 and $6,000 depending on the type of foundation on which the house is built and the size and location of the shelter.

The Federal Alliance for Safe Homes says rate of investment return on a safe room is greater than that of most any other home improvement project.

According to a study by Dr. Kevin Simmons, Professor of Economics at Austin College, a Federal Alliance for Safe Homes (FLASH)® partner, mitigation devices such as tornado-safe rooms rank high with consumers — increasing the sale price of a home by 3.5 percent or an average of $4,200.

It's worth noting that Dr. Simmons' study was conducted in central Oklahoma, located in the heart of "Tornado Alley," where disproportionately high frequencies of tornadoes occur.


-------------------------------------------------------------------
Taking Shelter From The Storm WARNING

A safe room designed to protect a person, family or employees from a hurricane or tornado should not be built in an area expected to be flooded during a hurricane, thunderstorm or other severe-weather event. Residents of hazard-prone coastal areas should abide by the warnings of their local emergency services personnel and evacuate to safer ground. The protection from wind provided by safe rooms and shelters is quickly negated when people find themselves trapped and inundated by floodwaters.

Further, it is best not to install residential or small community safe rooms in any area susceptible to flooding defined by the 500-year floodplain.

Per FEMA P-361 (FEMA, 2008b), flood hazards should be considered when designing a residential safe room. Flood loads acting on a structure containing a safe room will be strongly influenced by the location of the structure relative to the flood source. Tornado or hurricane residential safe rooms should be located outside the following high-risk, flood hazard areas:

• The Coastal High Hazard Area (Zone VE) or other areas known to be subject to high-velocity floodwater or wave action

• Areas seaward of the LiMWA where mapped, also referred to as the Coastal A Zone in ASCE 24-05

Floodways
Areas subject to coastal storm surge inundation associated with a Category 5 hurricane (where applicable, these areas should be mapped areas studied by the U.S. Army Corps of Engineers, the National Oceanic and Atmospheric Administration or other qualified source).

A residential safe room, as prescribed in FEMA P-320 (FEMA, 2008a) or designed to the criteria presented in Section 3.5.2 of FEMA P-361 (FEMA, 2008b), should not be located within the Special Flood Hazard Area (SFHA) if at all possible. If it is not possible to install a residential safe room outside of the SFHA, the residential safe room should be placed outside of the high hazard areas identified above, and the top of the elevated floor of the safe room should be designed and constructed to the highest elevation specified in Section 3.6.2 of FEMA P-361 (FEMA, 2008b).

In simple terms
If you do not know whether a home or small business is in a storm surge area or other area subject to flooding, check the community service section of the local phone book for storm surge evacuation information or ask the local emergency management or floodplain management official.

Last, but not least, a safe room may be designed and constructed to meet all applicable FEMA criteria. Nevertheless, use of the safe room during a hurricane may not be in compliance with mandatory evacuation orders of the local jurisdiction. FEMA recommends that all safe room occupants comply with local jurisdictional directions and orders during a hurricane event (which may include evacuation) even if they have constructed a safe room.

Source: FEMA

-------------------------------------------------------------------



-------------------------------------------------------------------

Community Safe Rooms Best Option for Mobile Home Dwellers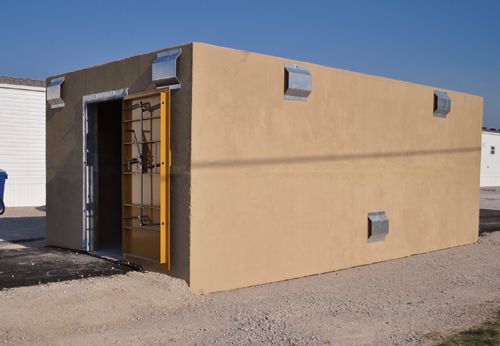 Photo: Safe rooms were installed at mobile communities built by FEMA in Joplin, Mo. Photo by Elissa Jun/FEMA


The National Severe Storms Laboratory has found that occupants of mobile homes are 10 to 20 times more likely to be killed in tornadoes than those in conventional homes. From 2006 to 2011, 31% of the 823 people killed in tornadoes in the United States died while in or fleeing from mobile homes, even though that housing accounts for only about 8% of the nation's residences, according to the National Oceanic and Atmospheric Administration and the U.S. Census Bureau.

DO NOT STAY IN A MOBILE HOME DURING A TORNADO. Mobile homes can turn over during strong winds. Even mobile homes with a tie-down system cannot withstand the force of tornado winds.

Plan ahead. If you live in a mobile home, go to a nearby building, preferably one with a basement. If there is no shelter nearby, lie flat in the nearest ditch, ravine or culvert and shield your head with your hands.

If you live in a tornado-prone area, encourage your mobile home community to build a tornado shelter.

-------------------------------------------------------------------




Reference & Resources
1. American Society of Civil Engineers (ASCE). 2005. Flood Resistant Design and Construction. ASCE 24-05.

2. ASCE. 2010. Minimum Design Loads for Buildings and Other Structures. ASCE 7-10.

3. Federal Alliance for Safe Homes, Inc. (FLASH). HIGH WIND SAFE ROOMS.ORG. Last accessed: December 2, 2011.

4. Federal Emergency Management Agency (FEMA). 2008a. Taking Shelter from the Storm: Building a Safe Room for Your Home or Small Business. FEMA P-320.

5. FEMA. 2008b. Design and Construction Guidance for Community Safe Rooms. FEMA P-361.

6. FEMA. 2009. Mitigation Interim Policy: Hazard Mitigation Assistance (HMA) for Safe Rooms. MRR-2-09-1. Last accessed October 18, 2011.

7. FEMA. 2010. 2011 FY FEMA Hazard Mitigation Assistance Unified Guidance: Hazard Mitigation Grant Program, Pre-Disaster Mitigation Program, Flood Mitigation Assistance Program, Repetitive Flood Claims Program, Severe Repetitive Loss Program.

8. International Code Council (ICC). 2006. International Building Code. 2006 IBC

9. ICC. 2006. International Residential Code for One- and Two-Family Dwellings. 2006 IRC.

10. ICC. 2008. ICC/National Storm Shelter Association Standard for the Design and Construction of Storm Shelters. ICC 500-2008.