Step and Stair Inspections, Done to the ASHI Standards of Practice
According to the National Safety Council, 1,638
persons died from falls on or from steps and stairs in 2004 (the most recent year statistics available). This was greater than the combined number of deaths from bathtub and swimming pool drownings (1,027). Furthermore, the Centers for Disease Control National Health reports that in 2001-2003 the annualized rate of fall injuries to adults aged 65 years and older on stairs, steps or escalators was estimated at 260,000. This was 15.5 percent of all fall injuries for this age group.
ASHI Standards of Practice requires us to inspect exterior attached or adjacent decks, balconies, stoops, steps, porches and their associated railings. We are also required to inspect interior steps, stairways and railings.
Because we examine residences of all ages and styles, we must accurately report any adverse conditions found so that our clients can learn of conditions that pose the potential for fall injuries. (Our Standards require reporting a reason or explanation as to the nature of deficiencies reported that are not self-evident.) I refer to deficiencies as adverse conditions, which I define in my inspection glossary.
Many adverse conditions found in or on steps and stairs meet the definition of UNSAFE listed in our Standards of Practice Glossary: "A condition in a readily accessible, installed system or component that is judged to be a significant risk of bodily injury during normal, day-to-day use; the risk may be due to damage, deterioration, improper installation, or a change in accepted residential construction standards."
Many of the recent changes in construction standards (building codes) involve changes in stair dimensions, but do not require changes in existing stairs and steps. Further, it is unlikely that rebuilding an interior stairs in a residence would be feasible from either a physical or cost-effective perspective. Therefore, while the ASHI inspector could report that an existing stairs does not meet new building code dimension (width, rise and run) requirements, s/he would be hard pressed to report a suitable recommendation to correct, as required by our Standards.
Given this constraint, I believe it is most important to focus on adverse conditions that can be easily remedied.
Some of the most important adverse conditions to report
include the following:

Handrail:
None, loose, incomplete, non-graspable profile
Guardrail:
None, loose, incomplete, unable to withstand
horizontal forces

Treads:
Cracked, out of level, loose or poorly supported, worn
Risers:
Non-uniform heights
Stringer:
Decay, separating or loose attachment at floor

Lighting:
Poorly lit, lights obstructing stairs, etc.

Drainage:
Exterior steps sloped to prevent icing and settlement
Design issues are more difficult to correct. These can be discussed in terms of warnings to occupants and suggestions for eventual modifications:
Door opening over stairs, "winder" treads, low headroom, rise/run, stair width, etc.
My experience indicates the key method of inspecting stairs is to walk them, in both directions (up and down) while using the handrail. Take a firm grasp of the railing to determine if it is loose. When headroom or stair width is atypical, I measure and report those dimensions. Where the back–underside of wood frame stairs is accessible, I examine the stairs, with particular attention to the attachment at the top end and support at the base, also trying to observe the framing details of any landings.
While it is important to realize that small children and the elderly are particularly vulnerable to falls, a real estate transaction typically puts new occupants on the stairs and steps of a house. Also, guests are vulnerable to falls on steps and stairs. (President Clinton tore his quadriceps tendon in 1997. He fell descending stairs at night at golfer Greg Norman's guest cottage.) Our bodies have experience with steps and stairs and expect them to be uniform and regular. When we encounter irregular steps that are new to us, we often stumble. Home inspectors usually are in the house for the first time and typically traverse all the stairs. A good home inspector will take into account the possibilities that small children, the elderly and guests will use the stairs and make appropriate recommendations.

Examples of findings and recommendations consistent with ASHI Standards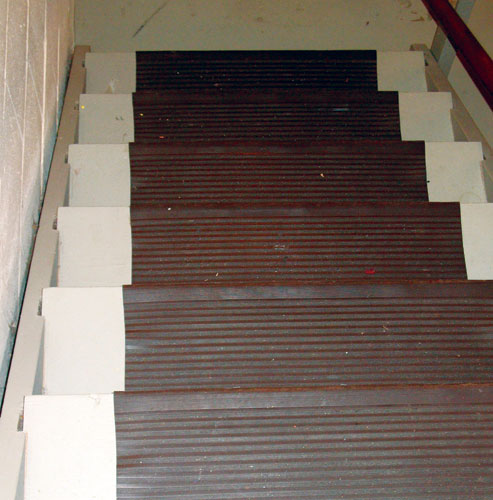 Immediate action recommended:
Wood-frame stairs to the basement have treads set into notches in the supporting stringers. Several treads are about to drop out of the notches. Have a qualified person secure the treads to the stringers and/or use suitable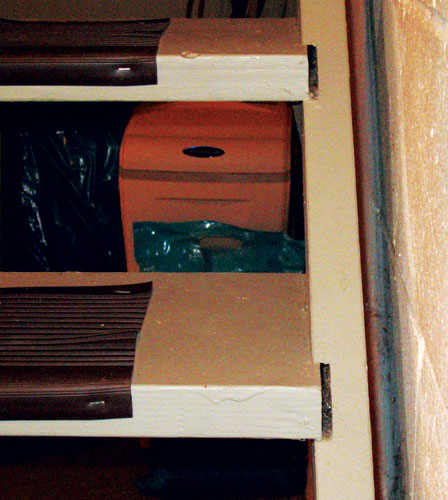 connectors to fasten the treads to the stringers to reduce the potential for tread collapse.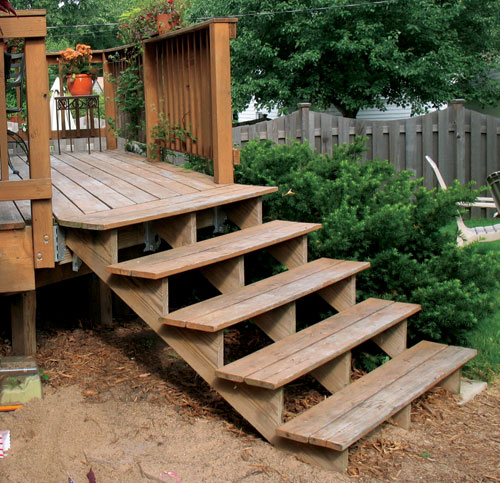 Immediate action recommended:
Wood-frame deck steps lack a handrail and guardrails. Have a qualified person build suitable railings to reduce the potential for falls.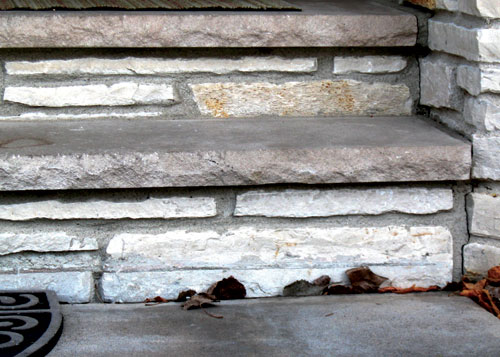 Immediate action recommended:
The front walk has settled, making the lower step about 2" taller than the upper step. Have a qualified person raise or replace the walkway to its original height to reduce the potential for falls.
These examples recommend immediate action, discuss
reducing potential for falls and do not discuss building codes. These findings and recommendations meet the ASHI Standards of Practice requirement to report unsafe
conditions without mentioning the words "safety or unsafe" and without suggesting that the inspector has conducted a "safety inspection" or a "code inspection." These examples inform the client of the adverse condition and provide useful, suggested remedies. The use of the word immediate suggests urgency. The recommendation makes no reference to responsible parties or to a real estate transaction. This preserves the inspector's role as neutral observer.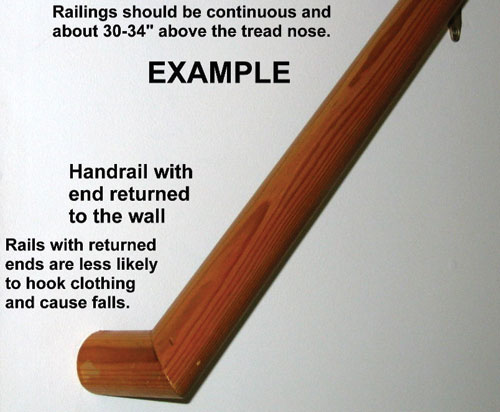 We often provide sample illustrations instead of photos of the adverse conditions. Sample illustrations help the client better understand our suggested remedies.
A successful inspection of stairs involves walking the stairs, noticing adverse conditions, carefully reporting the conditions and making appropriate recommendations. WATCH YOUR STEP while inspecting. You are also a candidate for a fall on those unfamiliar steps.