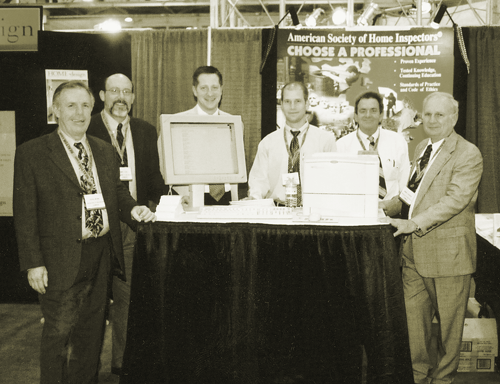 Bill Hatchett organized the members of the Louisiana Chapter to work in the ASHI booth at the November NAR® Expo in New Orleans. The volunteers guided attendees through "Find a Home Inspector," which was live online, answered questions and handed out a packet of information.
ASHI thanks.... Guy Misureca, Carrie Booker, Sterling Cardon, Mark Dietz, Chester Doll, Sidney J. Chaisson, Jr., Doug Brunet, Libby Turchi, Adley Coleman and Andy Polmer — who worked with Mike Casey, ASHI 2002 president and Rob Paterkiewicz, ASHI executive director in the booth.
San Francisco is NAR®'s city of choice this year, and the Society will once again be asking for help from the local membership to educate real estate professionals about ASHI.