Update from ASHI Public Relations Consultant Lisa Gunggoll, Publicis Dialog Chicago account manager:
The audience for the ASHI Public Service Announcement (PSA) has passed the one million mark (1,166,069), aired 173 times in 23 markets and has a media value of nearly $30,000, all in the first two months of release. Media value is defined as what it would have cost to buy the same amount of air time to advertise ASHI and The ASHI Experience. PSAs are aired for free because they serve the public.
The ASHI Video News Release (VNR) has resulted in airings to nearly three million people (2,745,175), with a media value of $122,616, as of August 1, 2004. VNRs are aired for free because stations use them for their editorial content.
Total media value for both spots is $152,616 – this amount represents the total equivalent advertising cost if ASHI had paid for this exposure. In contrast, production and agency fees for both totaled $50,000. The resulting return on investment, or ROI, for ASHI to date is 3:1.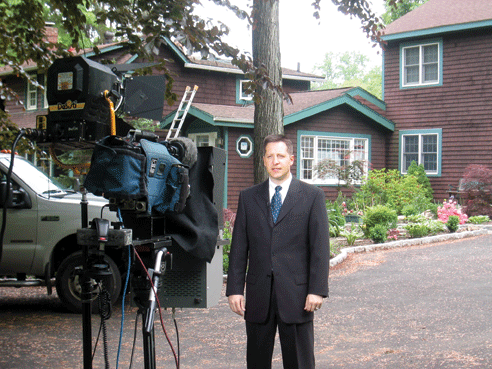 Filming the PSA with Rob Paterkiewicz, ASHI executive director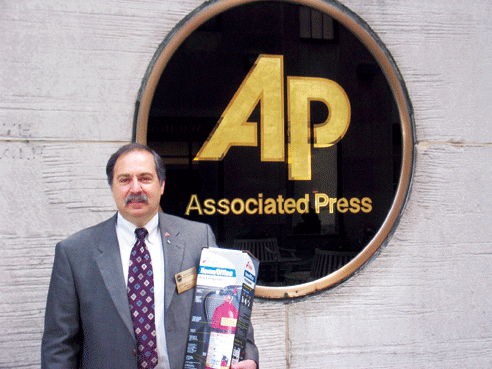 Steve Gladstone, ASHI
president, on the annual media tour
Partnering pays off
Working with other organizations gained ASHI recognition as the voice of the profession and the place to go for information about homes.
• National Association of Home Builders (NAHB), a federation of more than 800 state and local associations, and ASHI have been working on several projects. According to NAHB, about one-third of its 215,000 members are homebuilders and remodelers, with the remaining associate members working in closely related fields. The association estimates that in 2004, its builder members will construct 80 percent of all new housing in the U.S. Recently, NAHB published a "Construction Quality Survey" based on "over 6,000 responses from over 220 respondents." The respondents were ASHI Members, and the Society receives credit for providing valuable information to NAHB's Building Product Issues Committee.
A major pest-control company issued a press release citing the opinions of ASHI Membership. Under the headline, "Home Inspector Survey Reveals $2.5 Billion Difference in Opinion," CBS Market Watch included the following statement:
"The American Society of Home Inspectors (ASHI) recently surveyed its members about a common—and costly—problem sometimes discovered when a house is slated to change hands: termites. The destructive pests cause upwards of $2.5 billion in damage to American homes every year, and 67% of the survey's respondents believe that homeowners are somewhat or very knowledgeable about termites and the damage they can cause. However, the findings also reveal that homebuyers and sellers are deeply divided on the preferred course of action once a termite problem is discovered."The press release also was picked up by print publications throughout the U.S.

Kidde, a manufacturer of carbon monoxide sensing devices, and ASHI appeared together on CBS Market Watch, as well as other outlets, as the result of an article ,"Accuracy Counts When Choosing a Carbon Monoxide Alarm," which quoted ASHI President Steve Gladstone. Gladstone also joined Kidde's publicity efforts to address new laws in the New York City Metro area concerning carbon monoxide detectors. He speaks about the importance of home safety, what an ASHI Inspector looks for in the home, and how to locate an inspector by visiting www. ashi.org. In addition, Kidde is producing a flier to educate ASHI Inspectors, as well as retailers, on the new law so they can accurately inform consumers. The fliers are co-branded.
ASHI continues to establish relationships with other professional organizations, as well as with companies that recognize the Society as a resource for home inspection expertise and public good will.