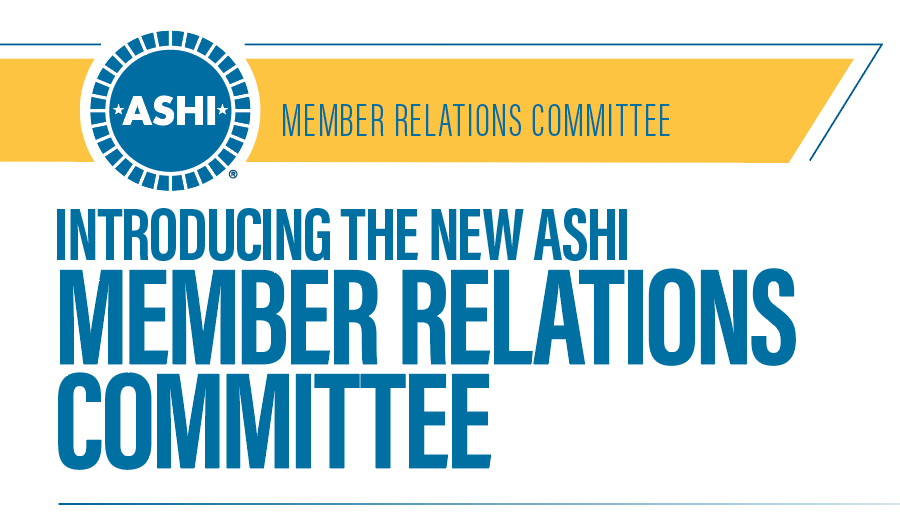 Basically, the members of the Member Relations Committee Creation Team were hand-picked to be on the team. Now, when someone tells you that you have been selected to serve on a committee, it instills a sense of pride and a willingness to work extra hard.
But then I remembered using the same psychology on my kids when they were young to get them to do extra chores around the house! Bottom line, it still works.
I had known Brendan before, and was always impressed with his work ethic and his ability to work with details and make them come together. I had heard of Dale and Kevin; however, I did not know them personally. After our first GoToMeeting conference call, I realized I was part of a super group of people with a very big task to bring to fruition.
I had been a member of the CoR prior to being elected to the ASHI Board of Directors. I knew I had colleagues on the CoR whom I hold in very high esteem for their contributions to ASHI, and I also knew we would get a lot of pushback for what we were trying to do.
However, times change, people change and we can't always do business the same way we always have done. I retired from General Motors in 2008, where I spent 35 years, serving as an 18-year-old hourly line worker and moving up the ladder to upper management, so I have certainly seen things change and I know that if you don't keep up with changes, you are suddenly at the back of the pack wondering what happened.
ASHI is ready for a change, and the MRC is designed to take these changes into consideration by involving all the members of ASHI to give a voice to both local chapter and nonchapter members. The numerous self-nomination forms we received from many nonchapter members is proof that one of the objectives of the MRC—to include the voice of everybody—is being achieved. I look forward to seeing the next great steps this MRC will make for the good of all of ASHI.


---
INTRODUCING THE NEW ASHI MEMBER RELATIONS COMMITTEE Continued:

ASHI, Up to Speed (Overview & introduction to the new MRC)

THE CREATION OF THE MEMBER RELATIONS COMMITTEE — TWO VIEWS FROM THE INSIDE: Part 1