To the Editor,

Great article by all involved. I was just about to send in my own story on "Be Aware Of Your Surroundings."
A contractor was electrocuted in an attic that I had inspected and even the firefighters who responded thought he'd collapsed due to heat exhaustion. (We all walked in the same attic.)

We cannot be reminded too often about safety. We get into our routines and forget about our safety. I think the Reporter should have a monthly safety reminder section to keep us aware of our surroundings. I know there are many safety accessories out there, from ladder stabilizers to safety harness and safe inspection practices, but how many home inspectors think they don't need them?

Mario Lucciola, Canadian Associate
ASHI Education Committee
All Spec Building Inspections
Ontario, Canada

Editor's Note: Mr. Lucciola has agreed to share safety tips on a regular basis. In response to my request, he sent a link to a website that features extension ladder stabilizers and levelers available through Amazon.com, http://extensionladderaccessories.com.



Risk conversation heats up

To the Editor,

After being asked why I didn't want to go into a scorching attic "just to look around," I wrote an article similar to the one published in the May issue of the ASHI Reporter ("When Hot Goes Way Beyond Uncomfortable").

After a lot of research, I found only one document/study that charted work-area temperature vs. work time. It was done by the U.S. Coast Guard for people working in its engine rooms, and it can be found at www.uscg.mil/directives/cim/6000-6999/CIM_6260_17.pdf.

Although most of the article was about temperatures in the 100-110 F range, the study and charts hinted at the extremes that home inspectors see routinely. The article abstract pretty much says it all.
The Coast Guard cutter heat stress program shall encompass: identifying heat stress areas, recording dry bulb temperatures for both medical and engineering purposes, measuring heat stress conditions using a Wet-Bulb Globe Temperature (WBGT) meter, determining the Physiological Heat Exposure Limits (PHEL) or stay time, rotating personnel out of heat stress areas according to exposure time, reporting heat stress casualties and taking the necessary steps to alleviate heat stress conditions. The guidelines regarding the prevention of heat casualties can be found in reference (b)
It's interesting that the chart stops at 125 F. At 125 F, the work time is less than 15 minutes. When I spoke with the author of the original study, I was told that above those temperatures the time needed to get into the work area and then get back out safely did not leave any actual work time. When I said I was looking for information about temperatures in the 150-160 F range, he said, "We won't send people in to work in areas like that ..."

So, when asked where is the information saying it is dangerous to go into an overheated attic, you can point to a government study that has definitive numbers.

Bob Sisson, ACI
Inspections by Bob
Boyds, Md.




As the brick grows, the chimney curves

Dear Editor,

A picture of a "curved" chimney appeared in the April issue of the ASHI Reporter, in the Postcards from the Field section. It is almost identical to a picture in the home inspector's "bible," "The Complete Book of Home Inspection," by Norman Becker, P.E. I know Mr. Nobile, who submitted the photo and, after a discussion with him, thought that the condition required some further explanation.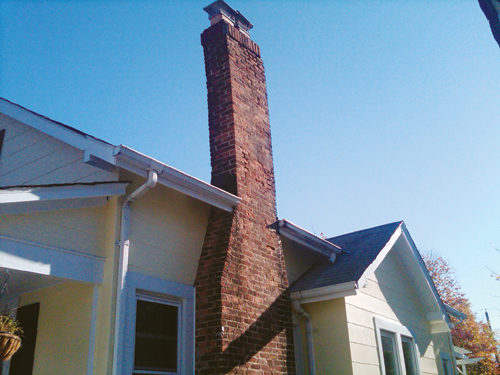 Above: The Postcards photo from the April 2011 issue of the Reporter showing a curved chimney.
A brick grows from the time it is manufactured. Yes, it grows, not expands. Mortar also grows. This expansion is irreversible. Depending on the chimney's exposure to wind, sun and rain, the chimney will grow more on one side, thus resulting in a "curved" chimney. This process takes time and the condition will only be found on an older house. Such curvature should not be confused with a tipped chimney, where it has pivoted due to some external force, such as wind or a chimney-mounted TV antenna, and although sections are straight, the chimney is out of plumb. Such a condition is serious and requires immediate attention.

While a curved chimney does not pose the same seriousness as a tipped one, it still requires further evaluation by a qualified mason or a Certified Chimney Sweep. While the bricks and mortar grow slowly and are stable, the same cannot be said for the clay flue liner. If the curvature is severe enough, it can cause the joints of the liner to separate or worse — the liner to crack — requiring rebuilding of the upper portion of the chimney. Therefore, when the condition is noted, a recommendation should always be made for further evaluation.

I hope the above information will be of benefit to newer inspectors and possibly older ones as well. Keep those pictures coming.

Victor J. Faggella, ACI #478
Member of Technical Committee
Centurion Home Inspections, Inc.
Mahopac, N.Y.




We want to hear from you

Send your comments to Sandy Bourseau, sandyb@ashi.org.