Once again, The Word invites you to travel into the dark realm of terms that often are misused or misunderstood in home inspection reports. The Word hopes you will find this trip informative and maybe a little entertaining.
As usual, The Word uses the 2009 International Residential Code (IRC) as the primary reference for this column. Local regulations and interpretations may vary. Remember that home inspections aren't code inspections. The Word does not discuss topics in depth, so you may want to look for more information from other sources if you're interested in today's term.
The Word's term today is habitable rooms (called habitable spaces in the IRC). The Word finds this term interesting because the term is used in many places, including ASHI standards, but many people don't know what it means.

What is a habitable room and why does it matter?
Habitable rooms are living, sleeping, eating and cooking rooms. Common terms for these rooms include living rooms, family rooms, dens, bedrooms, breakfast rooms, dining rooms and kitchens. These rooms can occur anywhere in the home including basements and attics. Bathrooms, laundry rooms, closets, storage rooms, equipment rooms and hallways are not habitable rooms.
Habitable rooms have special requirements for ventilation, size and ceiling height that don't apply to most nonhabitable rooms. The distinction between habitable and nonhabitable rooms usually doesn't matter during your home inspection. But your client may want to know that a room addition, porch enclosure or conversion of an attic or a basement into "living space" may not be quite as livable as advertised. Habitable room conversions and additions that don't satisfy these special requirements may be an indication of unpermitted construction.

Let there be light
Light usually isn't an issue in habitable rooms because a room isn't very habitable without light; therefore, people don't usually build rooms without light. Habitable rooms should have glazing (a window or a door with glazing) equal to at least 8 percent of the room's floor area. Artificial light may substitute for natural light, so habitable rooms don't need a window to provide light; however, bedrooms need a window or a door for escape and all habitable rooms may need an opening for ventilation. We'll get to ventilation in a minute.
Lights in most habitable rooms may be a wall switch-controlled light fixture or a switched receptacle. A wall- or ceiling-mounted light fixture is required in kitchens and bathrooms. Any type of wall switch-controlled light fixture is required in hallways and stairways and in attics, basements and crawl spaces if the area is designed for storage or if the area contains equipment requiring service. The switch should be located near the entrance to the area.
Let there be fresh (or what passes for fresh) air
Ventilation can be an issue in areas such as attics and basements that have been converted into habitable rooms. Habitable rooms should have outdoor ventilation openings, such as an operable window, with a ventilation area equal to at least 4 percent of the room's floor area.
Mechanical ventilation may substitute for natural ventilation. Mechanical ventilation may mean a ducted heating system since it provides a means to move air around older homes that have many unintentional ventilation openings to the outdoors. A ducted heating system that doesn't have a means to supply outdoor air won't satisfy ventilation requirements in newer homes built with better air sealing. The outdoor air supply may be a heat- or an energy-recovery ventilation system or a duct running between the outdoors and a return boot. Radiant heating systems like electric baseboard heaters won't ever satisfy ventilation requirements.
Habitable rooms, and the entire home, should have a heating source capable of keeping the home at 68 F. The heating source doesn't have to be in a room, the source just has to serve the room. A heating source in an adjacent room might work if there is a large enough opening between the two rooms and if the opening can't be closed. A cooling source isn't required for habitable rooms, but you might want to point out the lack of a cooling source if cooling is a big deal in your area.
Don't box me in
Habitable room floor area should be at least 70 square feet with a minimum dimension of 7 feet. This requirement doesn't apply to kitchens. Every home should have at least one habitable room with a floor area at least 120 square feet.

Don't bump your head
Habitable rooms should have a ceiling height of at least 7 feet. The 7-foot ceiling minimum height also applies to hallways, to bathrooms and to laundry rooms. The 7-foot minimum ceiling height applies regardless of where the rooms and hallways are located in the home, including attics and basements.
The 7-foot minimum ceiling height is measured between the finished floor and the lowest projection from the finished ceiling. Projections include beams, joists, ducts and pipes, but do not include light fixtures and ceiling fans. This doesn't mean that the ceiling height must be 7 feet throughout the entire room. Sloped ceilings and furred-down ceilings are allowed.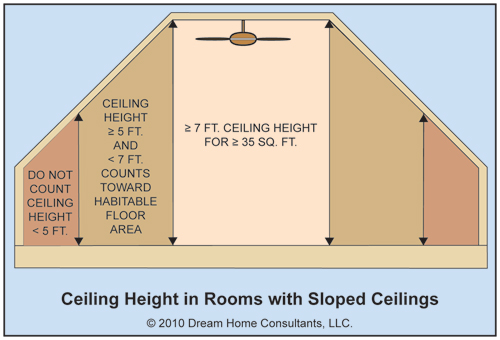 Ceiling height can be an issue in small habitable rooms with a sloped ceiling. Any sloped ceiling height above 5 feet counts toward the room's minimum 70 square feet floor area, but remember that 35 square feet of the room area should have a ceiling height of at least 7 feet.
Different rules apply in nonhabitable parts of basements. Ceiling height in nonhabitable parts of basements should be at least 80 inches and at least 76 inches under beams, ducts and pipes.
Ceiling height is both a safety and a convenience issue. Two areas where ceiling height is particularly important are above stairways and in bathrooms. The minimum stairway ceiling height is 80 inches, measured from a sloped line connecting the treads as shown in the illustration.
Strangely, there is no minimum sloped ceiling height above toilets and sinks. Five feet seems like a reasonable minimum ceiling height above toilets and sinks, but this interpretation will vary. The minimum ceiling height at 10 ½ inches in front of a toilet and sink is 80 inches. The minimum ceiling height in tubs with showers and in showers is 80 inches throughout the entire minimum required area under the shower head. Look for headroom clearance problems when bathrooms are located under stairs and in rooms with sloped ceilings.

The bottom line
Homeowners are very creative about adding "living space" to homes and listing agents are very creative about how they describe these rooms. It's definitely not our job as home inspectors to dispute this creativity. But when safety, convenience or habitability is involved, we may want to alert our clients to the possibility that these spaces may not satisfy all of their expectations. Whether and how you do this is your call.
Memo to the creativity muses: The Word does not reside on Mt. Olympus (just at its base) and welcomes other viewpoints. Send your lightning bolts or emails to
inspectorbruce@cox.net
. The thoughts contained herein are those of The Word. They are not ASHI standards or policies