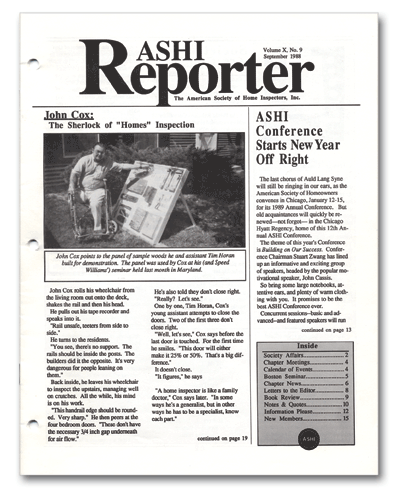 In 1988, John Cox had already been an active member of ASHI for 11 years, and according to the September 1988 ASHI Reporter, was highly respected by his peers. He was the national Bylaws Committee chair, belonged to two chapters, taught week-long seminars and routinely inspected homes, although numerous operations on his legs due to diabetes meant using crutches and a wheelchair to do so.
He said he attended the first ASHI meeting in 1977, and as of the date of the article, hadn't missed one yet. In 1985, he and Speed Williams formed their own company to train inspectors. Both felt that a complement was needed to the ASHI seminars. The company quickly expanded its seminars from 14 to 46 hours.
"A home inspector is like a family doctor," he told the Reporter. "In some ways he's a generalist, but in other ways he has to be a specialist, know each part."
For the Reporter article, Cox asked to be photographed beside his custom-made van with his 28-foot ladder on top—something he insisted "every good home inspector needs to inspect a roof."
Although he was active in national activities, it was his contributions to his chapters, especially the Great Lakes Chapter, that motivated his fellow ASHI members to create an award in his honor.
Chapters give ASHI membership an added dimension. A chapter's value depends on people like John Cox who believe in its worth, therefore, are willing to contribute time, knowledge and support as needed. Cox's commitment to his chapter earned him the respect and the gratitude of his peers.
Nominations are now being accepted for the 2007 John Cox Award.