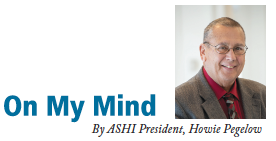 Well, this is August, and my year as ASHI President is half over. Come January, I'll be entering my last year of 10 years on the ASHI Board, serving as the Immediate Past-President, and then I'll join the ranks of my predecessors in the line of Past Presidents.
What have I been able to accomplish so far? Well, unfortunately, I required heart surgery and a good deal
of rehabilitation during the first four months of my term. (You might recall that I wrote about my health situation in last month's Reporter.) I thank President-Elect Tim Buell and Immediate Past-President Randy Sipe for coming together, along with Executive Director Frank Lesh, to assist in leading the goings-on of ASHI during my recovery.
While I was being treated in physical therapy rehab facilities, I was still able to communicate effectively with various staff and board members. We scheduled telecommunication conferences (via GoToMeeting) as needed, and I attended those meetings as often as I could.
In April, the board conducted its spring meeting at ASHI headquarters in Des Plaines, IL, and I was healthy enough to attend, accompanied by my wife, Jane. The board reviewed and discussed many items of business, including the Background Verification and Identification (BVI) program, as well as plans to offer and establish even better recognition programs among our many affiliates and multi-inspector organizations.
As far as membership programs, ASHI has established working relationships with former members of the National Association of Home Inspectors (NAHI) to welcome everyone into ASHI's membership. Thanks to the tireless efforts of these members, along with Director of Membership Services and Chapter Relations Russell Daniels and other staff members, our membership retention ratio is above expectations. Our new ASHI (formerly NAHI) members are most professional and a great benefit to our profession. In looking to the future, we hope to establish better working relationships with and among all of the other home inspection organizations. Working toward this goal will ensure the betterment of the home inspection profession.
Last year, the board, under the direction of Randy Sipe, enacted a program known as "The Year of the Chapter," which we are continuing this year. The program is simple: ASHI reviews the status and makeup of each chapter and develops specialized programs to assist in building a stronger chapter presence, especially for smaller chapters that face challenges with increasing their membership numbers. Several existing chapters have taken advantage of the offers, so we know the program is helping to achieve our goals.
The board is looking to the future with long-range plans to grow our membership and to offer the best educational opportunities. If you have any questions or comments, please feel free to contact any members of the ASHI Board of Directors. We welcome your comments and feedback.