Google is the go-to for consumers today to find products and services best suited for them. Capturing more than 90% of the market share, Google isn't among the top search engines; it is the top search engine.
As a result, you can be certain that a Google-focused marketing strategy is necessary for the long-term success of your home inspection business. What you may be less certain of, however, is exactly what that looks like. Google may be one of the world's most trusted brands, but that doesn't make it any less mysterious. Plus, it's always evolving. So how can you stay relevant in search?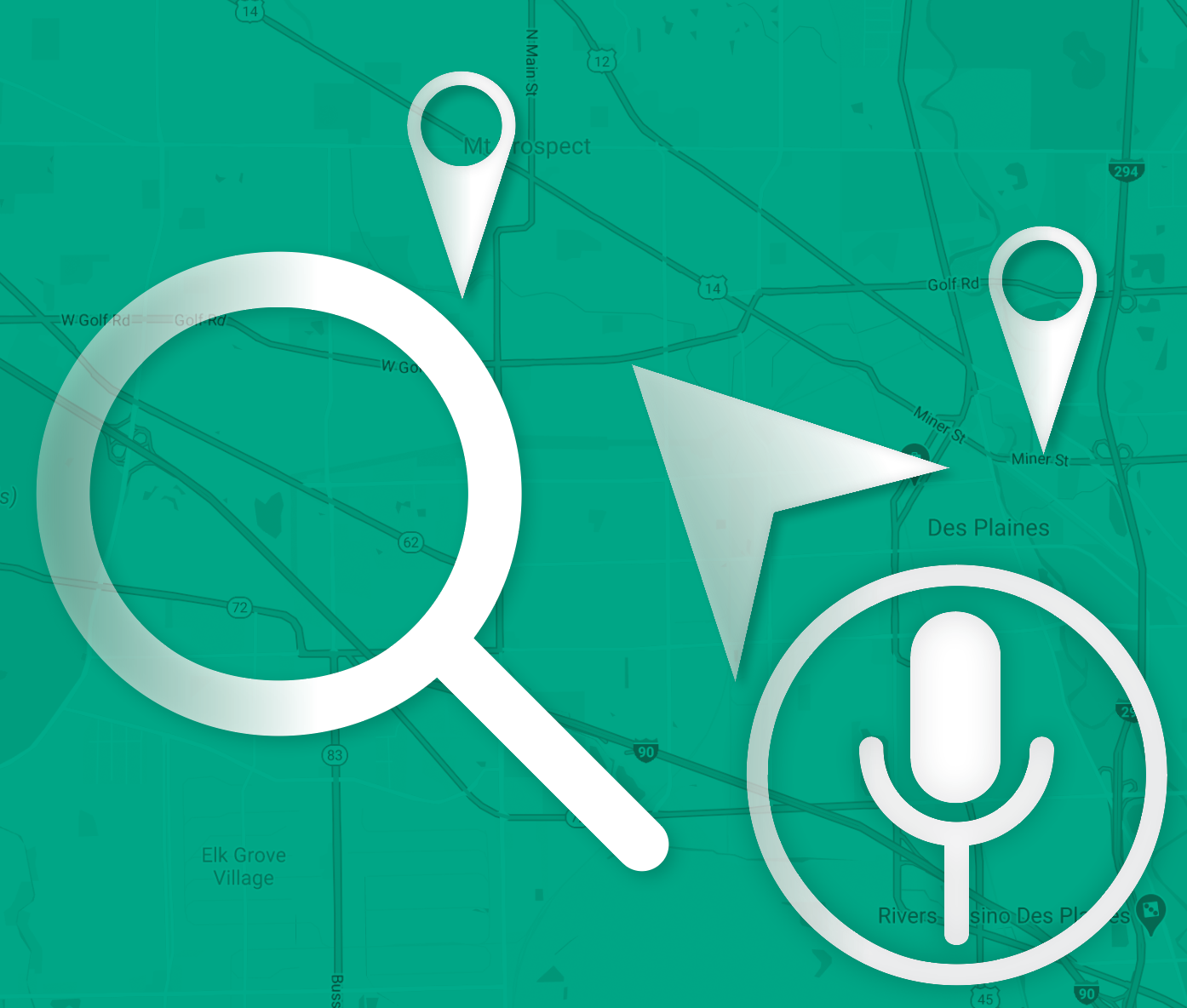 Five important trends for Google search can help you understand the direction Google is headed. For each trend, there are specific action items that you can take to "get found" and attract customers online in 2020 and beyond.


#1: "Zero-Click" Searches
If you haven't noticed, Google search results pages have drastically changed over the past decade. They're no longer just a list of 10 websites. Now they are a mixed media, interactive page with answer boxes, information cards, accordion menus and more. Google is moving toward a model of providing searchers with the information they need without having to click past the results page. This is especially true for consumers searching local businesses, thanks to Google My Business.
Your Google My Business listing appears on Google Maps and the local results of Google Search. A complete profile will display the information a consumer needs to make a decision about your business—and even contact you—without visiting your website. It's partly for this reason that the "Godfather of Local Search" Mike Blumenthal calls Google your new homepage.
What you need to do
To ensure Google connects your business with nearby home inspection seekers, you absolutely need to get listed.
Create a Google My Business profile
To create a Google My Business (GMB) profile, go to Google.com/business and create an account.
Claim your listing
To have control over your profile, you need to claim your listing. To do this, search for your business name on Google Maps. If your business appears, select "claim this business" and follow the instructions. If your business doesn't appear, you'll need to add your business as a place first and then follow the steps.
Provide all of your information
You'll eventually want to fill out all fields of your profile, but when you start off, you can just cover the basics like contact information and category. Your category is especially important, as it allows consumers to find your business without knowing your business name. Feel free to select multiple relevant categories, as this is a best practice.


#2: Quality-Based Results
Back in the good old days of about 2005, Google ranked web pages based largely on the text of the page. This enabled low-quality pages that were simply stuffed with that keyword to rank in results. Now, its algorithm is more robust, factoring in security, performance and user engagement. This enables it to identify and reward pages that deliver high-quality content through the best user experience.
The same is true for Google My Business profiles. Google won't rank your listing in results simply because it matches the zip code. It looks for listings that are accurate, active and acted on by searchers.
What you need to do
The key takeaway here is that Google My Business is no longer a "set it and forget it" platform. It's an account that needs regular maintenance.
Keep your information accurate
Trust is the name of the game with Google. Update your contact information as needed and verify holiday hours accordingly. Make sure your information is consistent with other listings across the web. Mismatches that cause Google to raise an eyebrow can hurt your rank.
Post regularly
An active presence signals to Google that your business is alive and thriving, giving it more confidence to send its searchers to you. Make use of GMB's social posting feature and keep searchers up to date on events, promotions, announcements and new offerings. Posts expire every seven days, so you really have to keep up with this one.
Update your photo library
Keep your photo reel fresh with new pictures each week. Include pictures of your staff, the different properties you inspect, the inspection process and happy customers (with their permission).
Earn reviews
One five-star review from 2013 is not going to cut it! Consumers trust and rely on what fellow consumers have to say about a business. Google knows this and rewards businesses that have a healthy review presence. To get more reviews, it's simple: Ask for them. It may feel awkward, but the truth is, customers are happy write them; they just need a prompt. Ask via email, explaining that their input helps other homebuyers to make informed decisions. Or, if a client thanks you in person, express that you'd really appreciate it if they could write a review with what they just said.
Respond to reviews
Responding to reviews is another way to check in and remind Google that you're active and attentive. Your responses also give your prospects important information, indicating that you care about customer feedback. By thoughtfully crafting responses, you have an opportunity to express your personality and demonstrate how well you communicate.
Answer questions
Your Google My Business profile has a Q&A section. Not only should you answer the questions that come up here, but you should also seed this section yourself to provide pertinent information ahead of your customers.


#3: Near Me Searches
Take a look at this chart for "near-me" searches on Google over the past five years.
While "for-me" searches have shown growth rates of 60%, "near-me" searches have reached 900% growth. Consumers are performing more "near-me" searches as opposed to inputting their zip code or location because they expect Google to detect their location.



What you need to do
Google will do the work in detecting the user's location and finding businesses that dominate that location; but you need to do the work in being one of the businesses that Google finds to be prominent in that location.
Set to service area business
Make sure your GMB profile is set to "service area business." This setting is for businesses that don't have one static location, but serve customers at their own locations. When you check this status, you can specify which areas you serve. This is especially useful if you serve some, but not all, locations outside of your radius.
Publish location-specific services pages
Rather than having one "services" page on your website, publish separate pages for each of the main neighborhoods you serve. Include photos, testimonials, inspection codes and policies specific to each area. This will fill your page with keywords pertaining to that area and signal your prevalence in each location to Google.
Include keywords in your listing
Make sure your business description and photo captions contain location-specific keywords. For example, "We are a full-service inspection group serving customers throughout the San Francisco Bay Area since 2006."


#4: Visual Search Results
ThriveHive recently released a podcast during which Ignitor Digital co-founder Carrie Bowling shared some fascinating insights from a deep dive she did with Mike Blumenthal.
The first insight is that images have started appearing in local search results. For example, search "wedding dresses wilmington" and see for yourself. Google displays a photo of a dress from the business's Google profile right in the result.
Furthermore, it changes the feature photo displayed for the listing depending on the term that was searched.
Currently, this feature is retail-focused, but Google's advances in image reading indicate that it will eventually have more widespread application. For example, Google is starting to show the ability to understand what is going on in a picture—such as a person inspecting a home—even if it isn't tagged with a text descriptor.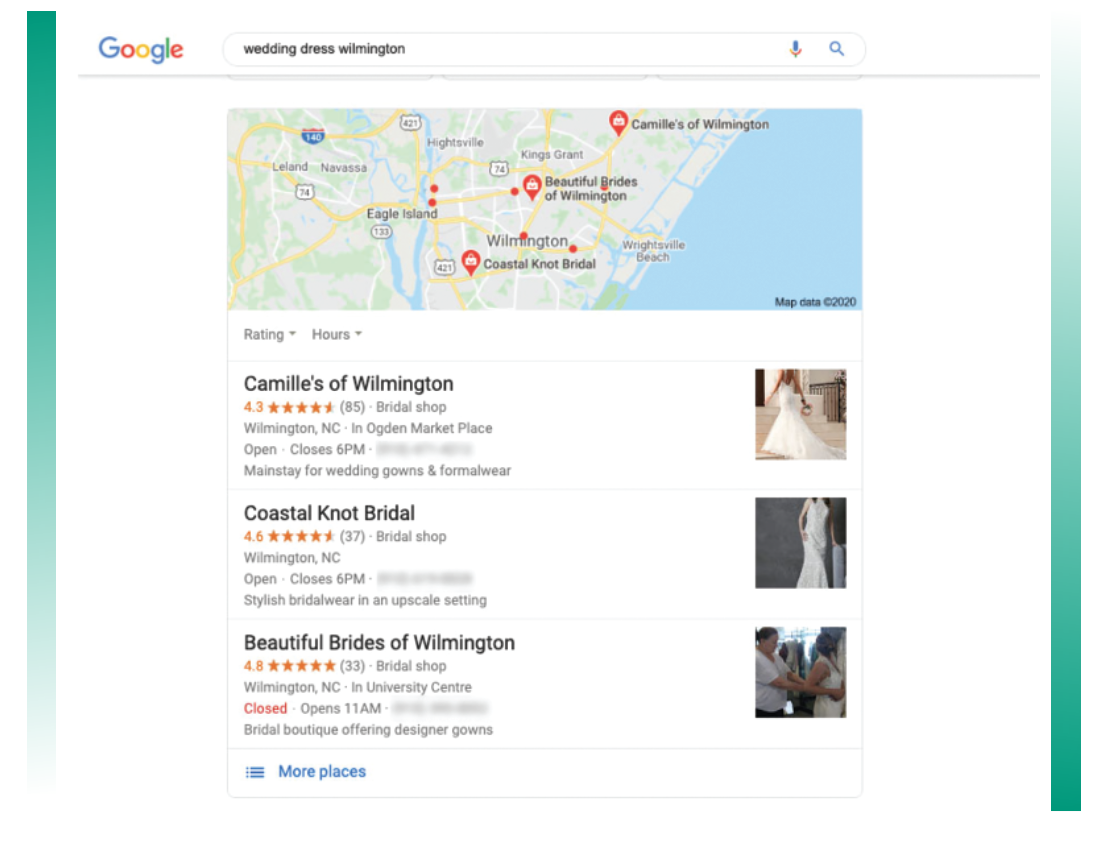 What you need to do
Use specific images
Add images to your website and Google My Business listing that are highly specific to every service you provide. Wherever possible, describe the service being provided and where. This will help you stay ahead of the curve and ensure success as Google incorporates images into local results.
Nix the stock photos
Make sure your photos are original photos. This will enable you to get as specific and relevant as possible. Plus, when consumers can see the actual people who will be going into their homes, they can establish trust with you more quickly.


#5 Voice Search
Voice search hasn't taken off as quickly as some had predicted, but it is gaining traction on Google, thanks to the increase of mobile usage and the rise of home voice assistants like Amazon Echo. According to BrightLocal, 46% of voice search users look for local businesses on a daily basis, and 76% of smart speaker users perform local searches at least weekly.
What you need to do
Make your content conversational
Make sure the content on your website and Google listings targets both the shorter search terms consumers use when typing ("home inspection newton") and the longer, conversational terms they use when voicing ("who are the best home inspectors in newton?").
Aim to be the Featured Snippet
Google likes to pull Featured Snippet information for voice search answers. The Featured Snippet is the answer box that appears at the top of Google search results, especially for "what is," "how to" and "steps" queries. If you have blog posts on your website, make sure you summarize the information with lists, steps and key definitions as much as possible. This will help your chances of having a Featured Snippet and thus gain a spotlight in voice search results.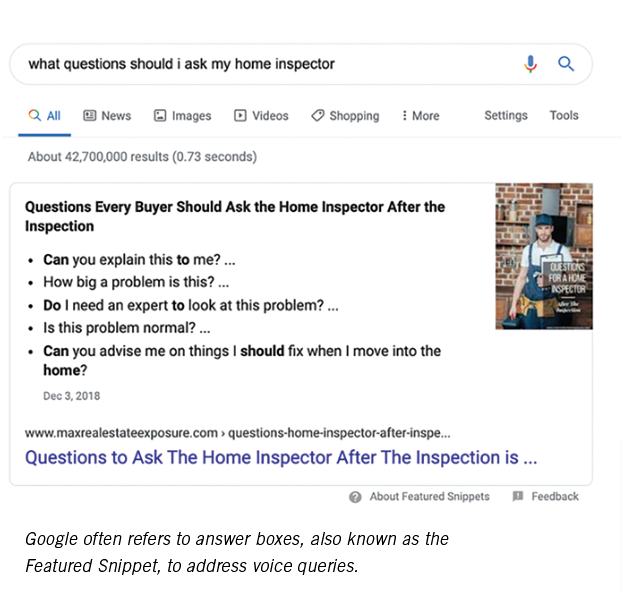 Google has many facets, but the five trends we've outlined are worth adding to your local marketing strategy. To ensure you're getting maximum visibility in Google search:
Create a Google My Business profile as a Service Area Business.
Maintain an active presence through posts, photos, reviews and responses.
Emphasize your local presence through targeted website pages.
Use real, service-specific photos
Tailor your content with conversational terms.
Google may always be changing, but its goal remains the same: To provide searchers with reliable information, fast. These steps will help you build out a Google profile that's in line with these values. This way, algorithm changes and updates will serve to your advantage and require little to no work on your part. Stay focused on your customers and Google will always be on your side.