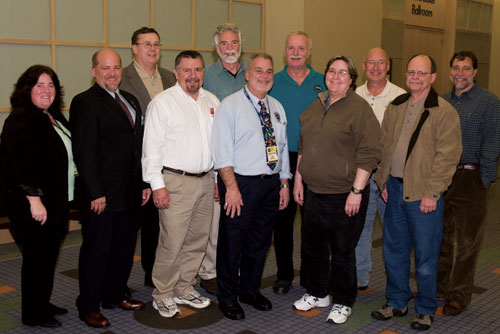 Photo:
Council members. Front row, l to r: Lisa Alajajian-Giroux, Scott Warga (past CoR speaker, current Board member), Bob Peterson, Jack McGraw, Mary Gail "Sully" Sullivan, Jack Feldmann; Back row, l to r: Howard Pegelow, Mark Londner, Bob Walstead, Randy Sipe, Larry Cerro.



Howard Pegelow, Speaker
Great Lakes Chapter
414-545-4186, hpegelow@yahoo.com
Bob Walstead, Alt Speaker Mountain – Group Leader
Southern Colorado Chapter
719-495-2652 rwalstead@aol.com

Lisa Alajajian-Giroux, New England/Canada – Group Leader
New England Chapter
508-634-2010, homequest1@comcast.net
John Sanangini, New York/New Jersey – Group Leader
Southern New JerseyChapter
856-232-6607, jsantangini@comcast.net

Mark Londner, Mid-Atlantic – Group Leader
NOVA-ASHI Chapter
540-668-6339, Mark@LBIhome.com
Bob Peterson, Midwest – Group Leader
Great Lakes Chapter
317-440-7498, inspectorbobp@sbcglobal.net
Keven Kossler, South Atlantic – Group Leader
North Carolina Chapter
704-578-9803, inspect@castlenc.net
Larry Cerro, Gulf – Group Leader
FLA-ASHI Chapter
850-222-4404, larrycerro@comcast.net
Randy Sipe, South Midwest – Group Leader
Great Plains Chapter
913-856-4515, randy@familyhomeinspections.com
John Biegalski, North Central – Group leader
Tri-State Chapter
610-992-1252, jjbiegalski@yahoo.com
Mary Gail Sullivan, Pacific – Group Leader
Oregon Chapter
503-735-0204, ashisully@gbpackersfan.com
In this second article from the Council of Representatives, I want to introduce you to the CoR group leaders and to explain their role in the organization.
ASHI chapters and unaffiliated members are represented on the council, which is divided into 10 geographic regions.
Each region has a group leader.
Once a quarter, the group leaders participate in a conference call chaired by the CoR speaker. They discuss the upcoming ASHI Board meeting for the purpose of offering direction to the board members. Ideally, such direction is from the ASHI membership, as passed through their respective council reps, when practical.
The group leaders and I are here for each of you. Please feel free to contact any of us to assist you in your needs.
In reviewing chapters' council positions, I found a few vacant spots. If your chapter happens to have an opening or two, I encourage you to strongly consider asking your chapter president for an appointment. I realize that everyone has many reasons for joining organizations and then has reasons for limited personal involvement. However, no organization can survive without help. The position of council rep is important to ASHI. First of all, council reps are the conduit between the general membership and the board and committees. They also perform an important duty, forming the nomination committees for both the slated officers and directors. As a whole, they elect the ASHI Board of Directors from within. These directors and officers are the governing body of our organization. For us to grow, we need your assistance.