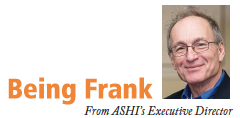 From the book "The Treasure of the Sierra Madre" and, later, to the movie "Blazing Saddles," along with a plethora of literature, television, music and cinematic performances, pop culture has embraced the line, "Badges? We don't need no stinking badges," as a great comeback when confronted by someone. If you've never heard of it, then I recommend reading the book or seeing one of the movies. The reason I bring it up is because just about everyone respects a badge.
A well-deserved badge is a sign of accomplishment. I have a few. During my youth, I earned my Eagle Scout badge. As an over-exuberant young adult, I received my parachute badge. When I was a young father, I achieved my Master Inspector By Review® (MIBR) designation from the Great Lakes Chapter of ASHI and, finally, my ASHI Certified Inspector® (ACI) badge.
There's a common thread that runs through them all: I had to earn the badge.
Working for 21 merit badges is no easy task for a preteen boy. Baseball, comic books and girls (in that order) seemed far more important. Although some would say there are only two things that fall from the sky—birdsh#t and idiots—jumping out of a perfectly good airplane 21 times is, at the least, exhilarating. And that's not counting the last time when my loving kids forced me to do it again for my 65th birthday, just to see if the old man still had it in him. Following the steps to attain the MIBR® is a challenge that every seasoned inspector should take, to be reviewed by a committee of peers. (Author's note: Visit the GLC website [www.greatinspectors.com] to find out more about the Peer Review process.)
Certainly, those first three accomplishments were self-esteem builders for me, but the one that's helped me most professionally is my ACI® badge. ASHI is the only home inspector organization that is certified by a third party. In a nutshell, that means ASHI has and continues to be monitored by an independent firm that also certifies nurses, emergency technicians, crane operators and members of more than 130 other organizations. The certifying agency's requirements are extremely stringent and have to be renewed every few years. In other words, ASHI earns its certification.
There are a number of other well-deserved badges that inspectors can achieve from independent and renowned organizations such as North American Deck and Railing Association (NADRA) and the American Association of Radon Scientists and Technologists (AARST). But what inspectors need to watch out for—and savvy consumers are leery about—are "purchased designations" that require little more effort than paying a fee and checking a box that says, "I fulfilled the requirements." Especially when the same organization issues a myriad of "certifications." In fact, the
inspector doesn't earn the recognition, he or she just buys it.
So, the next time you hear, "Badges? We don't need no stinking badges," just think, "Badges? We earn our stinking badges!"
Ch-ch-ch-ch-Changes

It's not just a song by the late David Bowie, but a fact of life here at ASHI HQ. Take a look at Page 4 of this Reporter, and you'll see that we've had to "turn and face the strain" of new jobs for some staff:
• Bonnie Bruno is now the Executive Assistant and Project Coordinator.
• Michele George is now Director of Education, Events and Chapter Relations.
• Jen Gallegos is the Manager of Membership Services and the U.S. DOE Home Energy Score Assessor Coordinator.
• Mike Rostescu is both Assistant Executive Director and Director of IT.
• Kate Laurent is now the Editor of the ASHI Reporter, as well as Graphic Designer and Digital Strategist.
• Russell Daniels is now the Executive Director of The ASHI School.
One name you won't see (after four years here at ASHI) is Arlene Zapata, who has moved on to another career. Observant readers of the Reporter have seen that, with Arlene as the Editor, there was a marked improvement in graphics, readability and consistency in our magazine. But she has left us in good stead with Kate at the helm, so we can expect continued excellence in our flagship communication medium.