Greetings, ASHI members! The ASHI team is back in the office after another wonderful and successful InspectionWorld®, this time in New Orleans. If you missed IW this year, no worries—you can start planning now to attend IW 2021, which will begin on January 31, 2021, in Las Vegas, NV. Stay tuned for more information coming your way soon.
This month, I wanted to share some news about one of our membership staff members—Janet George, ASHI Membership Project Coordinator. Janet has decided to retire after working with the ASHI Membership Department for over 9 years. She loved working with ASHI members and especially helping them with their requests and questions.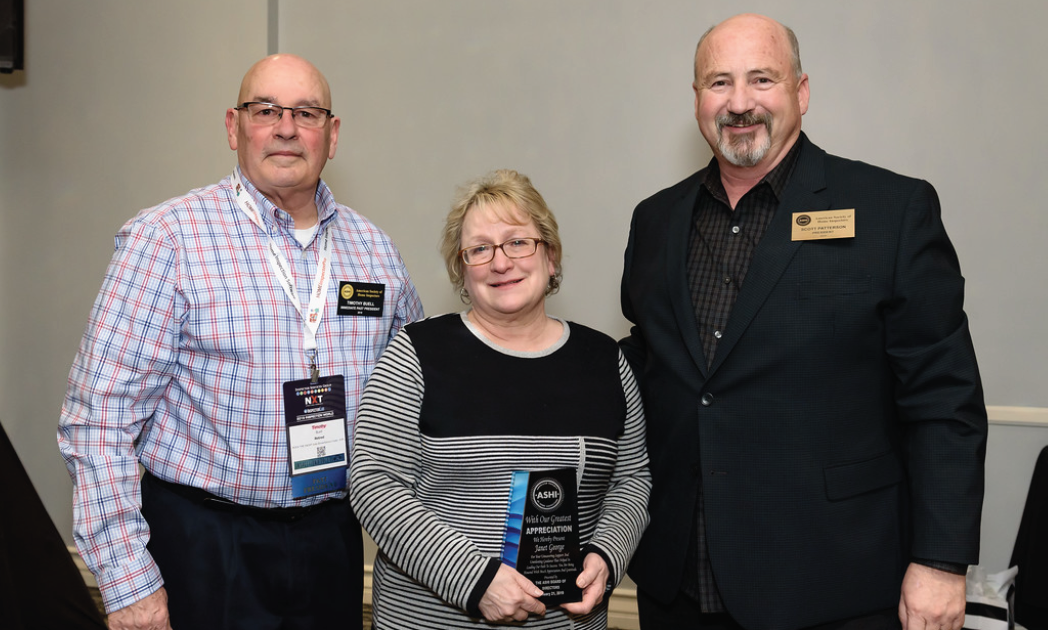 Janet started out as a temp worker at ASHI, but because of her hard work, she was asked to stay on for the long term. Over the years, she has worked with many ASHI leaders, including presidents, board members and executive directors, and has seen many changes. Her experience helped others put things into perspective when new changes to our policy or procedures were established. When the staff needed help understanding why a procedure was done a couple years ago, Janet was the one who could easily find the background information and share the history of the decision-making process. Her vast knowledge of ASHI has been a valuable resource for guiding new employees to understand and make the changes required to move ASHI forward.
Janet has a broad set of information technology (IT) skills, so she had fun helping our IT Director when our database was not functioning well. She has been a pro at using spreadsheets to create reports and charts that have helped ASHI leaders understand the numbers.
In addition to analytical work, Janet worked closely with leaders of multi-inspector firms to assist with the onboarding of their new inspectors, creating invoices for their companies and providing information to business owners about the benefits and value they receive as ASHI members. ASHI has approximately 120 multi-inspector companies as members, and all of them have worked closely with Janet.
Another project that Janet worked on was the verification process. She was instrumental in helping hundreds of members move up in ASHI—from Associate to Inspector to ASHI Certified Inspector. She also worked closely with our verifiers and our head verifier, Dr. Jim Johnson. Helping our members go through these processes is such a vital part of what the ASHI Membership Team does, and Janet has been a leader in this area.
We are sad to see Janet go, but we are excited that, in retirement, she will explore new and exciting adventures!
Thank you, Janet, for everything you have done for the ASHI community. We wish you the very best on your new adventure in life!