Subflooring is typically wood planking, plywood, waferboard or OSB (oriented strand board). Think of the subfloor as a series of many small joists or beams, as its function is similar to joists and beams. Subfloors carry live loads to the joists, which carry the loads to the beams, which carry the loads to the columns and foundation walls, which carry the loads to the footings, which carry the loads to the soil below. We hope the soil stays put.

Subflooring usually spans 12 to 24 inches, with 16 inches being most common.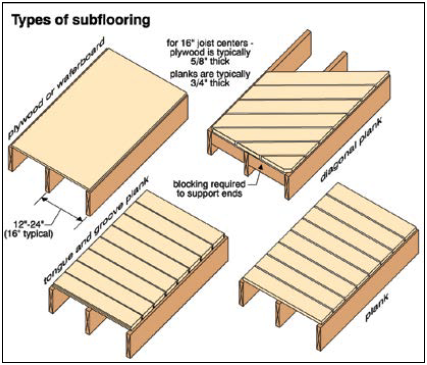 Subflooring is a nominal 1-inch thick plank (about 3⁄4-inch of actual thickness) or about 5⁄8-inch plywood or waferboard, assuming 16-inch centers on the joists.
If the subflooring is plank, it can be tongue-and-groove, although it's usually butt-jointed (the straight-cut planks are laid next to each other). Typically, tongue-and-groove is used where resilient flooring is going to be applied above. Butt joints are used where hardwood flooring will overlay the subflooring.

Perpendicular or diagonal: The plank subflooring is usually perpendicular to the joists, although it also can be installed on the diagonal. Diagonal subflooring is considered to have better rigidity with respect to racking of the building, although it can create some problems. All subflooring must be supported at its edges. Diagonal subflooring requires additional blocking at the perimeters to support ends of pieces. Often, spongy floors are caused by unsupported ends of diagonal planking.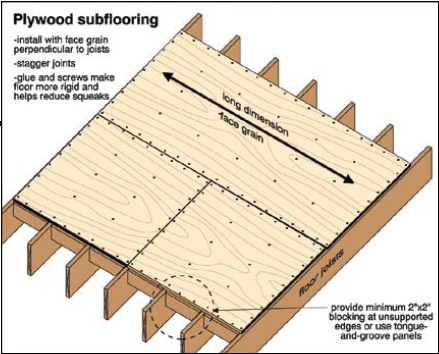 Plywood: Plywood subflooring should be installed with its long dimension and face grain perpendicular to the joists. Installing plywood with the subfloor parallel to the joists makes the flooring weaker.

Making Little Trusses: Using glue and screws to fasten the subfloor to the joists makes the whole floor act as a rigid truss.

Stagger the Joints: Joints in plywood or waferboard subflooring should be staggered to increase the rigidity of the floor. Unsupported butt joints and panels should be supported with two-by-two blocking, or the panels should be tongue-and-groove.

Support the joints: Small gaps between adjacent panels allow for swelling due to moisture changes without buckling. Gaps of 3⁄32 of an inch are typical.

Subfloor problems include the following:
rot and insect damage
sagging or springy subflooring (as a result of being overspanned or un dersized)
damaged or cut
cantilevered or unsupported ends
prior repairs
concentrated loads
squeaks
swollen waferboard
cracking ceramic tiles
Rot and Insect Damage
Damage can be caused by moisture or insects (especially in wet or rotted wood). We've talked about this with respect to other wood members. Rotted subfloors are common around toilets, bathtubs and shower stalls. Rotted subflooring also can occur below radiators on heating systems. Anywhere that water might leak, rotted subflooring could be an issue.

Rotted subflooring also may be found around building perimeters where there is exterior wall or window leakage or condensation that gets hung up on subflooring.
Subfloor damage is common at exterior doorways, particularly at sliding glass doors. Sliding glass doors often have condensation. Subflooring may be rotted along the entire length of the door. Watch for this from below or, if you can lift up an edge of the finished flooring, you also might be able to see the damage.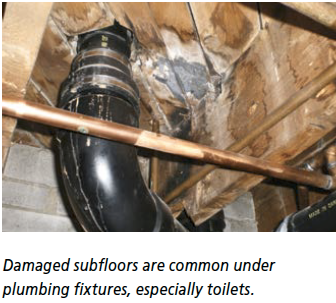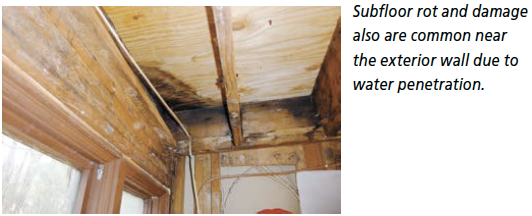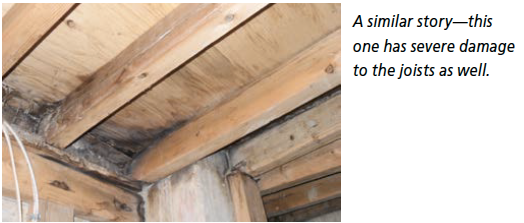 Overspanned or Undersized Subflooring
This is an installation issue. Subflooring should not deflect more than 1/360 of its span. Weakened or undersized subflooring can make flooring spongy. Often, this is a localized issue. A weakened joist will cause subflooring to be springy in that area. Diagonal subflooring with unsupported ends at walls is common.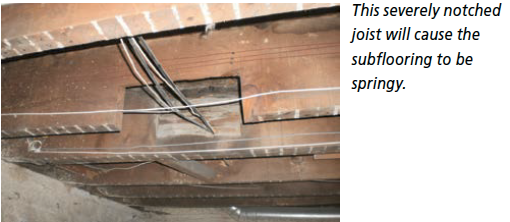 Damaged or Cut Subflooring
Mechanical damage may be done by tradespeople or homeowners. Many people cut through subflooring recklessly to accommodate ductwork or piping. Re-supporting may be necessary. In carpeted rooms, it's common to find that an opening was cut for a heating register in the wrong place. The heating register was not provided, but the hole in the subfloor gets carpeted over. Whenever someone steps on that area, the floor is very weak. Repairs are easy if the subfloor is accessible from below.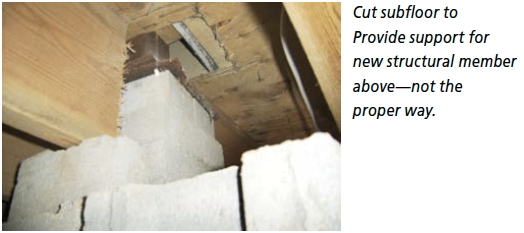 Cantilevered Subflooring (Poor End-Bearing)
Problems are with installation issues in most cases. Edges of subflooring should be supported. Where subflooring is cut or terminated and is not over a joist, blocking should be provided. Diagonal plank subflooring that is missing blocking at perimeter walls is very spongy. Where subflooring edges on plywood or OSB are butted and not tongue-and-groove, you should see blocking. Unsupported edges should have blocking added.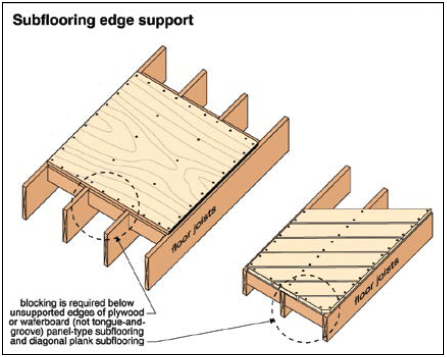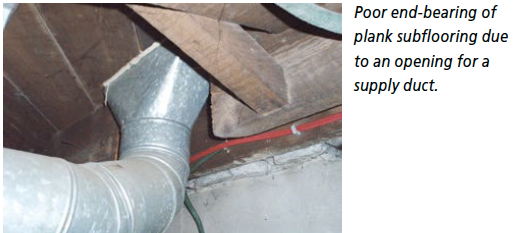 Concentrated Loads
Pianos, columns or heavy pieces of furniture with only four legs can create large point loads that can deflect or crack the subfloor. Watch for evidence of this and recommend re-supporting from below the subfloor.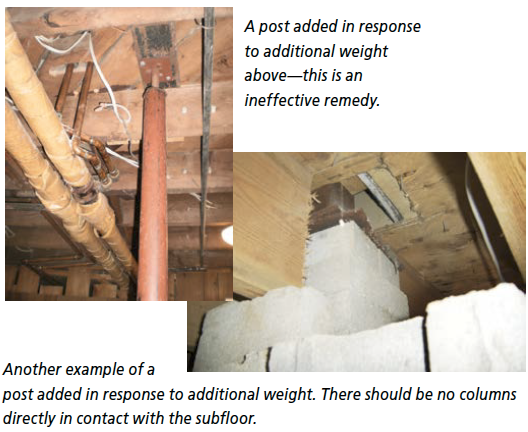 Final Note
In this article, we've covered many of the main conditions with subfloors as part of the structural floor system. In the ASHI@Home training program, you can learn many more details about this and other building issues and inspectionstrategies.

Other flooring articles in past Reporters:

http://www.ashireporter.org/HomeInspection/Articles/Floor-Systems/2463
http://www.ashireporter.org/HomeInspection/Articles/Structural-Considerations-of-Floor-Framing-and-Load-Distribution/570