InspectionWorld® will be held at the Caribe Royale Resort in Orlando. Get ready for an invigorating experience at ASHI's annual education conference and expo. You'll go home recharged and motivated to begin the new year!
Get the app!
Check out the events schedule, activities and sessions, and create your own schedule
for each day. This useful tool is available to registrants prior to IW for downloading on a mobile device.
Make it your own—plan out and create your IW schedule on the app.

CLICK HERE TO VIEW THE SCHEDULE OF EVENTS
Get all the details and register on www.inspectionworld.com
Register Now for IW Orlando!
Be prepared to soak up much more than the Florida sun.
Contact Michele George at
(847) 954-3188 or email
micheleg@ashi.org for assistance.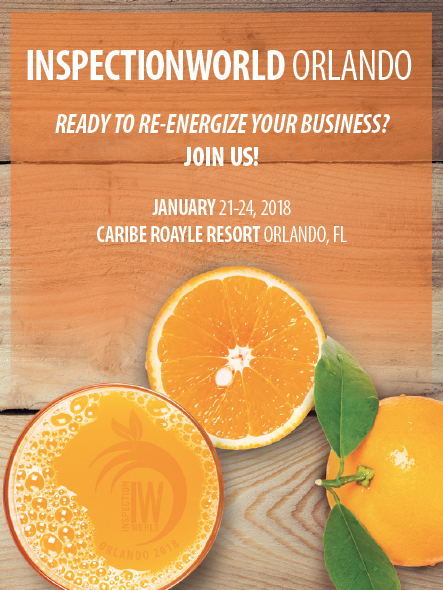 Take home fresh-squeezed ideas to move your business forward.
Take in a pre– or post–conference course for additional training.
Don't miss the Annual Luncheon and Awards Presentation beginning at noon on Sunday, January 21.
Get into the action at the Opening Night Reception on Sunday. Doors open at 3:00 pm. Meet up with old friends and make new contacts. Wine and dine while visiting the vendors and enjoying the entertainment.
Special event at 7:00 am Monday morning: Take a walk back in time to the "Early Days of ASHI."
Begin Monday, Tuesday and Wednesday mornings with a complimentary continental breakfast.
Design your own education schedule from the list of 45 sessions. Arrive to classes early. Choose from a fantastic lineup of class offerings on the IW Event app.
The "Earth, Wind and Water Track" provides a selection of nine classes that cover a variety of important topics relating to home inspection in the Southeastern U.S. region:
4-Point Inspections
Elevated Houses
Tile Roofing
Hurricane Mitigation
Air Conditioning
Stucco Failures
Disasters
Pools & Spas
Florida home inspection
Grab 'N Go: Grab your lunch and attend sessions on products offered by our vendors. Sessions will be held in classrooms on Monday and Tuesday, 11:30 am-12:30 pm.

InspectPAC Reception: On Monday evening, enjoy a cocktail reception and entertainment in a lounge atmosphere beginning at 7:00 pm. InspectPAC puts the "fun" in fundraiser. Contribute with others who believe in a strong home inspection profession.
Gala Reception/Dinner/Dance: Enjoy a special evening with a delicious meal and good times as you party and dance with friends to the lively music. The reception starts at 6:30 pm.
On Wednesday at lunchtime, Mike Crow will present "Seven Surprisingly Simple Ways to Get More Business Now."
Tours for spouses will set out for some unique adventures. Visit Epcot Center, SeaWorld Orlando & Kennedy Space Center scheduled on Monday, Tuesday and Wednesday. Everyone's welcome.
Daily prizes! Check out the daily schedule of fantastic prize drawings.