ASHI Ohio and ASHI North Central joined forces with the NAHI Ohio Chapter in March to educate home inspectors. The result was standing room only at the educational sessions. Several attendees were presented with anniversary awards, including David Tamny, ASHI president, who was celebrating 20 years as an ASHI member. Don Norman, ASHI past-president, was the featured speaker.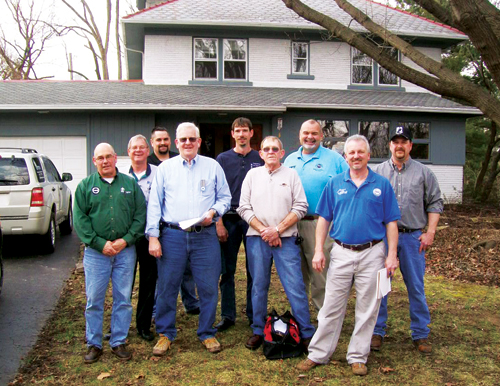 Photo: Nine of the Ohio Conference attendees take part in the house review.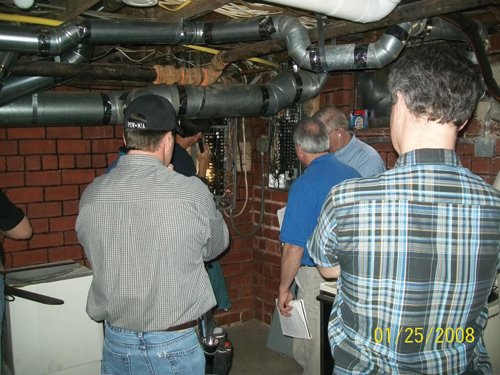 Photo: Pipes, ducts and panels. Conference attendees see it all.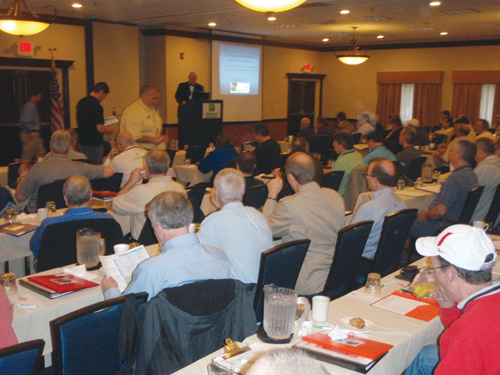 Photo: A full house for the joint venture Ohio Conference.
Submitted by David Argabright.
Great Lakes Hosts Spring Conference & Peer Review
ACI Don Nelson shared photos from the Great Lakes Chapter Spring Conference and Peer Review. A session on infrared technology was led by Peter Hopkins from United Infrared (seen in the photo below at left). ASHI Past President Frank Lesh also presented at the conference.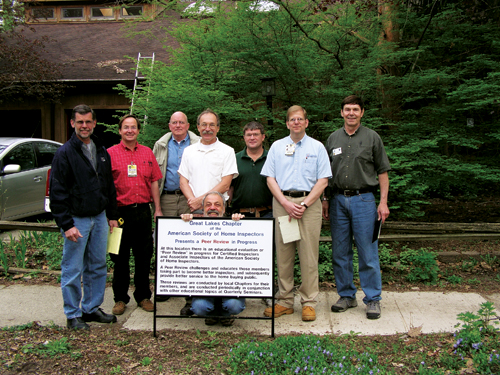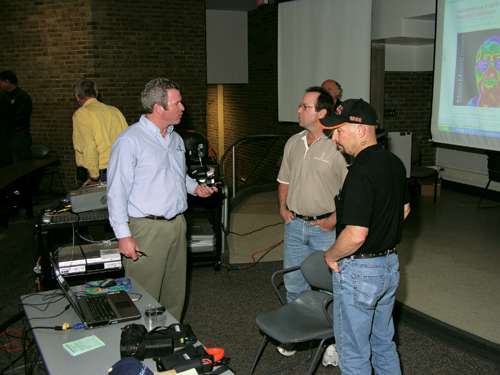 ---------------------------------------------------------------------
Contact Info for 2010 CoR Speaker and Group Leaders
Howard Pegelow, Speaker
414-545-4186
hpegelow@yahoo.com
Bob Walstead, Alternate Speaker
719-495-2652
rwalstead@aol.com
Glenn Gogal, New England/Canada Group Leader, 416-604-1280
Glen.gogal@sympatico.ca
Jerry Sanangini, New York/New Jersey Group Leader
856-232-6607
jsantangini@comcast.net
Bob Sisson, Mid-Atlantic Group Leader
301-208-8289
bob@inspectionsbybob.com
Ed Massart, Midwest Group Leader
630-514-9207
eemass@comcast.net
Keven Kossler, South Atlantic Group Leader
704-578-9803
keven@NPICarolinas.com
Phil Smith, Gulf Group Leader
205-333-0102
hshinspections@bellsouth.net
John Clason, South Midwest Group Leader
866-427-6962
john@crownhomeinspections.com
John Biegalski, North Central Group Leader
610-992-1252
jjbiegalski@yahoo.com
Alan Blaker, Mountain Group Leader
602-254-2700
ablaker@hotmail.com
Skip Walker, Pacific Group Leader
650-873-4224
homeinspection@sanbrunocable.com
Lisa Alajajian-Giroux, Council Secretary
homequest1@comcast.net
---------------------------------------------------------------------