Never, never, never miss a safety issue during a home inspection! You'll see many defects related to stairs. Steps may not be secured to the home or a footing. The rise and run vary and may be dangerous. If a door swings over a stair, the landing may not be large enough. The stringer may be cracked or cut too deeply for the treads. Treads can be loose or tipped. The list goes on.
But here's a detail you might be missing: Do you check whether stair handrails are graspable?
What is "graspable"?
The handrail must allow a firm grasp. If a person can't securely grasp a handrail, it isn't safe. The most obvious defect is when there isn't any handrail (Photo 1).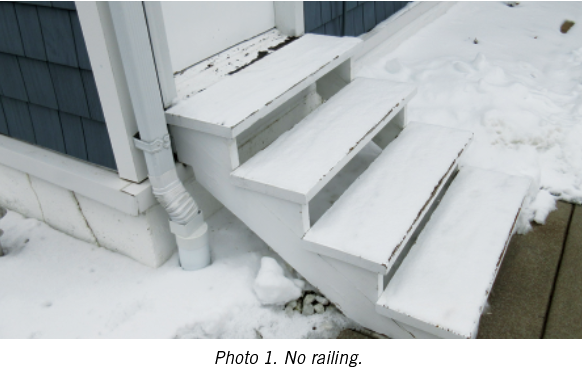 When there is a handrail, do you just accept it as is, or do you inspect it carefully? In this case, we have precast steps (Photo 2). The rise may not be uniform. Notice the typical rusting exterior railing. We would check whether the railing is securely mounted and the openings on the side are not too large.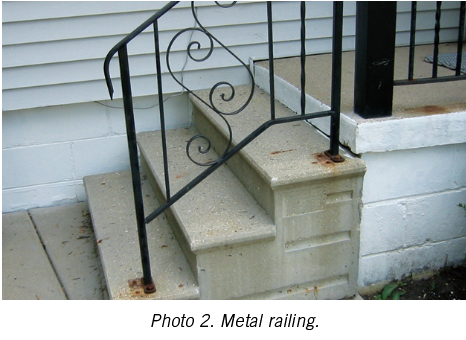 But what about graspability? The thin metal section atop the railing would not meet this requirement because the cross-section is too small.
Check interior stairways, too
This stairway in a contemporary home uses clear glass to fill the gap between the rail and the steps (Photo 3). The outer surface of the railing (not visible in the photo) has no "finger recess"—that is, no notch or groove to enable a grasp. This attractive modern handrail is not graspable, so it isn't safe.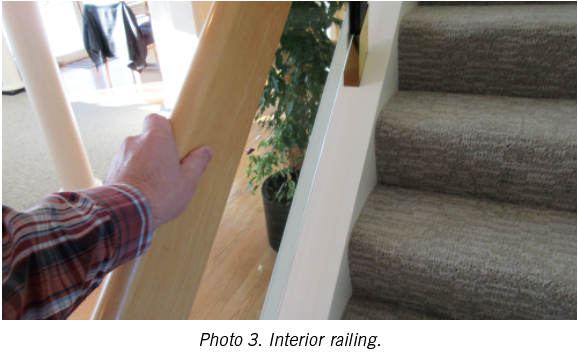 What you should do
During your inspection, check all details of stairways and handrails. Often, you can tell whether something is wrong just by walking down the stairs and grasping the handrail. Your brain wants those steps to be uniform and even, and it wants the handrail to enable a firm grip.
Note the standards for a graspable handrail (Illustration M089). There is a minimum and maximum diameter. There must be clearance for a good grip. A finger recess is required if the rectangular perimeter exceeds the maximum.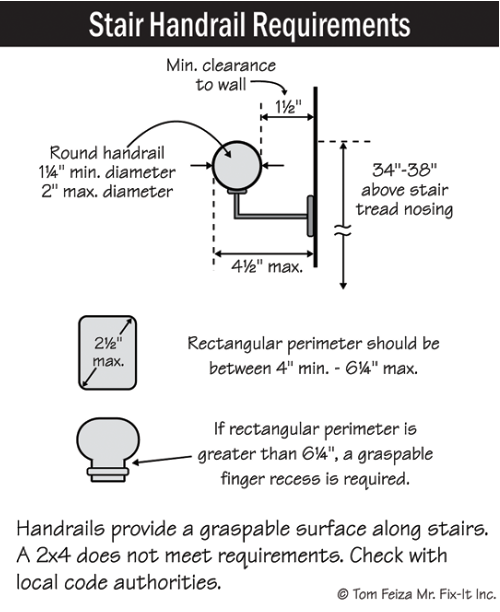 Note that a 2 x 4 or 2 x 6 railing does not meet these standards. In addition, you should check local standards for additional requirements or variants.
Don't miss a handrail that is not graspable. This is an important safety detail.

To learn more, attend Tom's technical presentations at educational sessions for ASHI chapters. Tom can also provide his knowledge for your educational event; contact him at Tom@HTOYH.com.