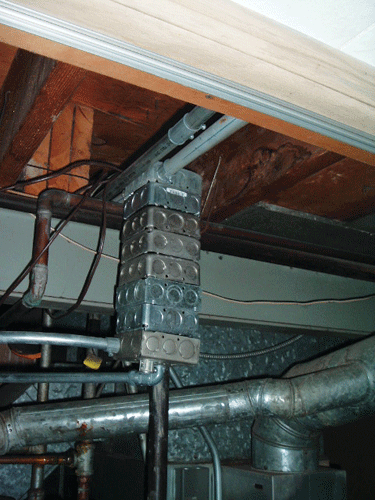 If you can't bend conduit, just use a few extra electrical boxes!
Warren E. Casey
Your Home Inspection Co.
Marengo, Ill.
Dual heating system
You can't see it in the photo, but there is a sign nearby advertising this as a "high-efficiency economical heating system." There is so much wrong with this installation that all I could do was laugh.
Michael Marosok
Weber Home Inspection Services
Marine on the St. Croix, Minn.
Don't leave the light on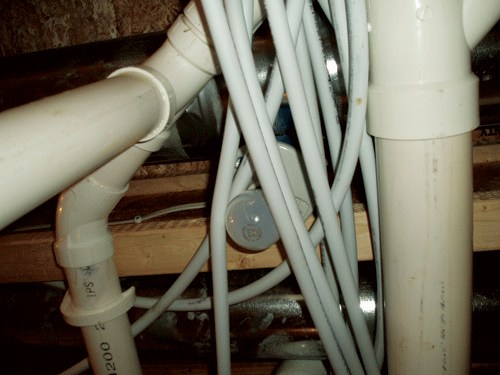 I was doing a phase inspection on a new home and I found four water lines touching the light fixture! In this case, DON'T leave the light on for me!! (There is no municipal inspection system in this county.)
Calvin Bolt
Home and Environmental Inspections
Warsaw, Ind.
Soggy and unsafe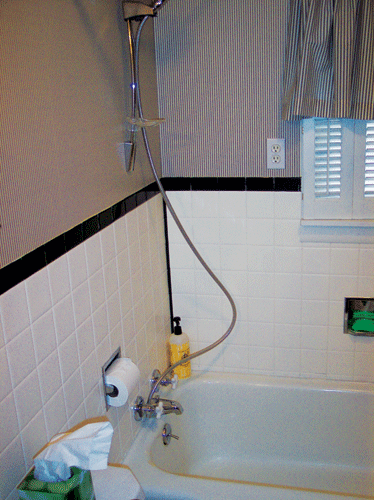 This is an unaltered (I swear) photo of a "freshly remodeled bathroom" that I found on a recent inspection. Finding a window in a shower stall is
fairly common in old homes around here. The outlet in the shower is not so common but it might come in handy if the in-laws overstay their welcome. What I found completely unacceptable is the toilet paper dispenser in the shower; nothing good could come of that!
Matt Fisher
Sherlock Homes Inspection Service Inc.
Bloomington, Ind.
Does it sound good in the rain?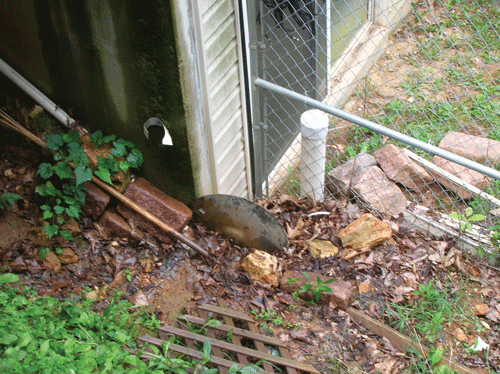 Drum manufacturers make cymbals from brass because it sounds cool, not because it's great for diverting rainwater away from basement doors. Rock on, dude!
Aaron Mayer
Housewarming Home Inspections
St. Louis, Mo.
Crawl space calamity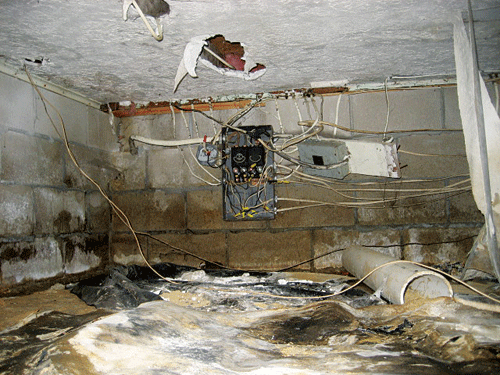 Here's a photo of a crawl space with a drywalled ceiling and old fused panel. Clearly this place must have once been on a basement foundation. I told my client that the ceiling just needed a coat of paint. NOT!
Mark Bishton
Benchmark Home Services, Inc.
Bloomfield, Ind.
DYI gussets?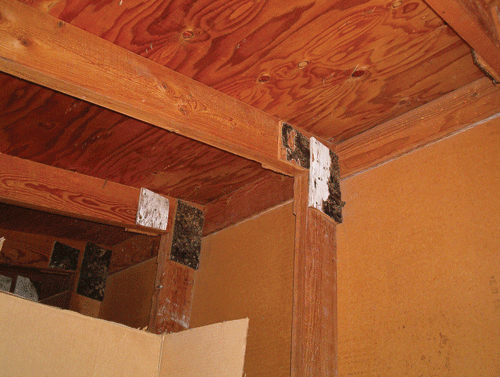 This is from a house I inspected in Phoenix, Ariz. The entire house had "home-made" gussets.
Randy Peterson
RSP Inspections
Peoria, Ariz.
Keeping their cool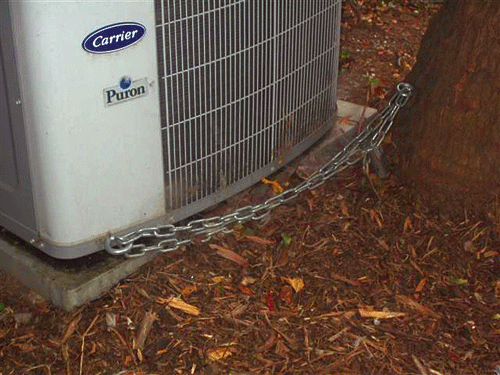 Sometimes we inspectors have to go into rough neighborhoods. Often, there are clues.
Robin Thomas
R. Thomas & Company Home Inspections
Raleigh, N.C.