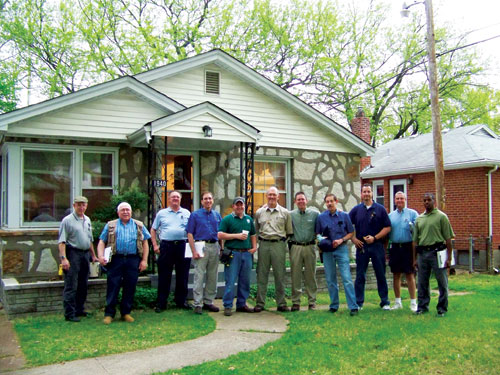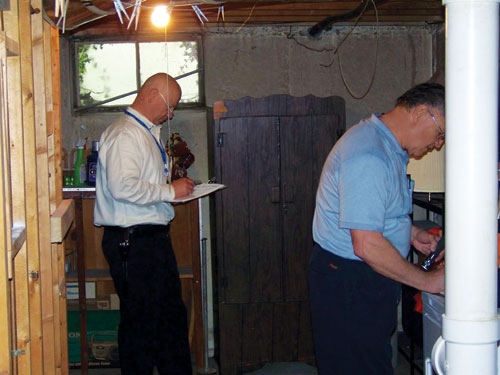 St. Louis ASHI held its first peer review on May 2. Approximately 20 inspectors participated. After several hours of inspecting the home, the group went to Masonry
Institute of St. Louis. Lunch was provided for the participants, and they reviewed their findings and shared their reports. This peer review was the first of its kind for the St. Louis Chapter of ASHI, but following in the footsteps of other ASHI chapters, it won't be the last.

Submitted by Steve McNamee, St. Louis chapter president.


Inaugural Central PA Conference Declared a Success
On March 15, 2008, ASHI Central Pa. held its first educational conference at the Hotel Carlisle and Embers Convention Center. Participants were awarded 8 CEUs for the conference.
Michael Conroy, chapter president, welcomed the 26 participants, who attended to learn about new technologies including Infrared cameras, tankless water heaters, alternative energies and Insulated Concrete Forms (ICF).
After polling by survey, the conference was termed a great success. The chapter plans to host an annual conference focusing on cutting-edge technologies. Its goal is to advance the home inspection industry. In addition to Conroy, the chapter is served by Abbas Rahbari, vice president; Kenneth J. Schaeffer, secretary; Tom Troutman, treasurer; and Keith Rutherford, public relations chair.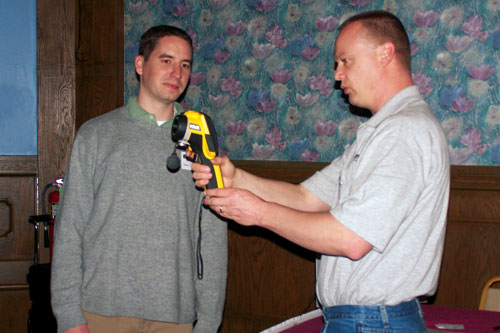 Matt Crawford of FLIR Infared Camera with ASHI Central Pa. member Wally Shank.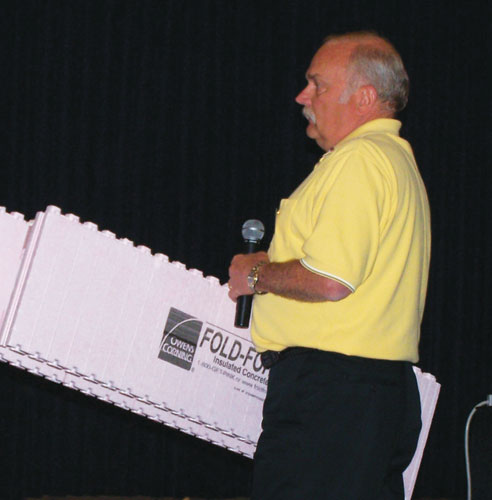 Steve Boregeson spoke on Insulated Concrete Forms.
Bottom left: Edgar Smith explains Rinnai Tankless Water heaters.
Submitted by Kenneth J. Schaeffer, ASHI Central Pa. Chapter secretary.



North Central Ohio Dreams Green
"Green Dream" proved to be the perfect place for North Central Ohio chapter members who were seeking a way to market its members locally. The eco-friendly showcase of about 60 companies and organizations was organized by the Beachwood High School Junior Achievement. On April 25, the chapter set up its booth and handed out chapter brochures, including one designed for the event by ASHI member Craig Haas.
According to Rod T. Whittington, chapter president, with several thousand people attending, the event was a "huge success."
During the convention, ASHI members enjoyed meeting and discussing home inspections with TV personality HGTV's Matt Fox from "Matt and Shari – Room by Room" (mattandshari.com).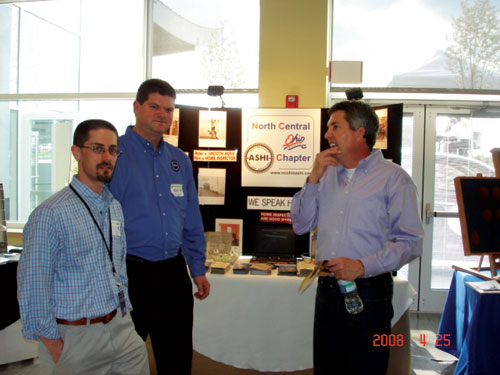 L to r: ASHI members Craig Haas and Rod T. Whittington with TV personality Matt Fox.

Photo courtesy of Tom Gaba.

Also, the local press and PBS station photographed the home inspectors. The following chapter members helped market ASHI at the Green Dream: Tom Gaba, Craig Haas, James Jagger, Chuck Mulligan and Rod Whittington.