The Southern New England Chapter surpassed its 2002 Food Drive goal. Food Drive Chairman Joseph Raffone reported the goal was set at 500 pounds based on suggestions from the staff at the Connecticut Food Bank that this would be a proud achievement for a first-year effort.
SNEC Chapter members, together with members from the Coastal Connecticut Chapter and friends, collected 1700 pounds of food for the hungry!
Great Lake Chapter Inspects London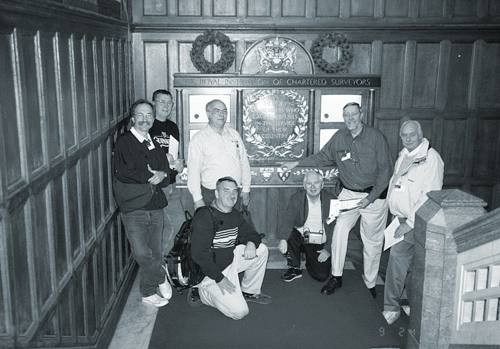 When in the course of chapter events it becomes necessary to have an educational seminar, leave it to the GLC to put on a seminar! Last year we went on a Caribbean cruise. This year we went to London, UK.
(Photo: GLC at RICS)
Twenty GLC members and guests arrived at London's Heathrow Airport on the 18th of September. What do you get when you put home inspectors together in an ancient city? A busman's holiday of the first magnitude. Every pub, restaurant, and church became a subject of intense examination. Considering the age of most of the buildings, we never ran out of things to observe.
The real fun began when a group of home inspectors had to get from point A to point B. Imagine a group of inspectors with several maps and several railroad time tables trying to figure out how to get around in a foreign city during rush hour. Herding a litter of cats might be easier.
The first day of the educational seminar was a tour of the Protimeter moisture meter plant in Marlow. Marlow is a quaint town located on the banks of the Thames, about an hour northwest of London. We were met at the train station by Fil Dadachanji, managing director of GE Protimeter plc. Fil's gracious wife Pamela provided a tour of Marlow for the ladies in our group and then invited them to her home for a spot of tea whilst we surveyors were busy at the plant.
The agenda included presentations by Peter Grant and Philip Leach, two experts in diagnosing damp using Protimeter moisture meters. Lunch was served, followed by a tour of the plant and a question and answer session. There was also an afternoon tea. All in all, it was a wonderful educational session.
The next day, Fil scheduled an inspection for us with Mike Parrett, a member of the Royal Institute of Chartered Surveyors (RICS), the U.K.'s ASHI. He is the owner of Damp Diagnosis Consultancy Ltd., and one of the premier experts on diagnosing damp in the U.K. We met him in Braintree, a small town about an hour east of London. From there, we drove to a 500-year-old pub to have a delicious lunch. A few miles down the road brought us to Witham, where we went through a building that had moisture damage from a flood.
The "survey" started the same as it does in the States: a look at the surrounding topography, with the main emphasis on grading and rain water discharge. Keep in mind that this was not a full home inspection, but rather a moisture analysis of the basement level. This involves many tests, including a chemical analysis of the water residue to determine if it's ground water or rain water. Considering the age of the buildings in the U.K., it's time well spent. Visit www.dampbuster.com for Mike's views and knowledge of moisture.
Earlier in the morning, before our trip to Braintree, we paid a visit to the RICS headquarters on Whitehall, the only privately owned building in the area. Talk about political clout! We had a guided tour of the building including the extensive library which is for the use of RICS members. I have to say that their headquarters is even nicer than ours in Des Plaines.
If you want to learn more about the trip, keep an eye on the GLC Web site at www.ashi-glc.com. Kudos to Don Nelson for another outstanding super seminar!
Cheerio!
Frank Lesh, ASHI Member
Home Sweet Home Inspection Co.
Indian Head Park, IL