Working for ASHI
The SC Chapter got out the word on ASHI at the South Carolina Association of Realtors® convention in September, 2001. According to Bill Jacques, SC ASHI president, "We had a very positive response from the Realtors® about ASHI. A hand-out list was printed up that included the names of the members, their phone numbers, email addresses and the area of the state they served. That idea came from attending the 2000 Chapter Leadership Day in Chicago."
Jacques also noted that "this was the first time the SC ASHI Chapter attended the Realtors convention, but it won't be the last. Plans are under way to attend the 2002 Realtors convention."
John Ghent visit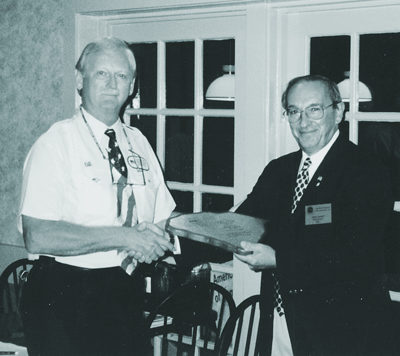 In October, 2001, John Ghent made one of his many chapter visits to SC ASHI in Charleston, SC. John's visit was described as enlightening, as he talked to the Membership about where ASHI started and the future of ASHI. He also spoke about home inspection legislation. He was presented with a plaque of appreciation
"This is the second full year for our Chapter. In our first year, President Mark Cramer visited us," said Bill Jacques. "We are looking forward to having this year's president, Mike Casey visit our chapter."
(Photo: Bill Jacques presents a plaque to President John Ghent.)

Keep Those Annual Chapter Reports Coming
Don't miss the opportunity to publish a recap of recent chapter activities in the Reporter. Consider the following topics, choose the most relevant, and submit a report that does your chapter proud:
• officers,
• legislative activities,
• educational highlights,
• community service,
• public relations successes,
• the most important accomplishment of the chapter during the previous year, and
• the primary goal for the new year.
The approximately 200-word report should be submitted to HQ, preferably by email to sandyb@ashi.com during the month of February, the earlier the better. All reports will be edited to fit the length and general format described here.
Does your chapter deserve to be recognized? Take advantage of this once-a-year opportunity to share local accomplishments with the entire Membership.

Midwest Pro-ASHI Chapter Members learn together
On Saturday, November 10, while other inspectors were working in their yards or perhaps even tramping the woods on the first day of deer hunting season – Members of the Midwest Pro-ASHI Chapter in Kansas city were busy participating in a "Group Home Inspection and Peer Review." The event was organized and hosted by Dan Bowers, the chapter's education committee chairman and an instructor at PITI (Professional Inspectors Training Institute).
The Chapter Members attending the "Group Inspection and Peer Review" were from Missouri, Kansas, Oklahoma and Arkansas. They drove as far as 200 miles to meet at a local restaurant for breakfast, and then to the home inspection at 9:30 a.m. That says a lot for the spirit of the members of the Midwest Pro-ASHI Chapter and their desire to be the best at what they do.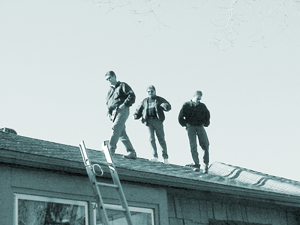 The "Group Home Inspection and Peer Review" was an informative experience for both the seasoned inspector and the novice for several reasons. It gave them the chance to see firsthand how other inspectors observe and report a defect; it gave them the opportunity to learn how significant their peers consider certain conditions; it allowed them to see how well their report system explains an issue to a client; and it let them interact with other inspectors on a noncompetitive basis, to see how well they've honed their own inspection skills.
(Photo: The 'traditional roof walk')