LinkedIn: ASHI Membership Group (Official)
Hot topic on LinkedIn last month

Discussion: Are we expected to remove a representative number of receptacle & switch covers & inspect the wiring? And what part of the SOP supports your opinion?

Comments: 50

That's one of the discussions that ASHI inspectors are enjoying on The ASHI LinkedIn Group (Official). The group is a benefit of membership. Join the 782 members now particpating so you can start or comment on topics of interest to you and other home inspectors. Join now.

Facebook: www.facebook.com/ASHIinspection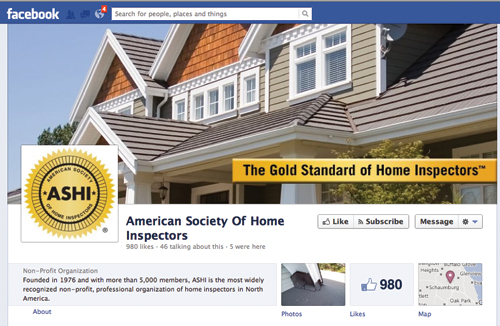 The ASHI Facebook Fan page is collecting likes — 980 currently, but equally important, some postings are attracting attention, resulting in dozens of shares. Go to www.facebook.com/ashi_inspection.
Twitter followers top 1,000
With 1,169 followers, ashi_inspection connects with others in the social network. If you tweet, ASHI can be a content resource for you with its retweetable postings. Go to www.twitter.com/ashi_inspection.
Selling ASHI in Your Market
Every year, ASHI undertakes a public relations project designed to reach the markets where you work. Early results for the placement of an editorial article total 1,296 — 51 in print and 1,245 online.

Through its public relations agency, ASHI contracts with a subscription service that makes editorial content available to news media nationwide. News outlets, especially those in small markets, subscribe to this service to meet their content needs.
Editorial articles are more credible than ads and have a much greater return on investment. Comparable ad space would have cost $358,501, while the article was developed and distributed for less than $6,000—a 60-to-1 ROI. In past years, it has proven to have long legs, being picked up many months after its May release.

The article has appeared in several major outlets, including the LA Times with a site audience of 8,698,690 and $34,158 ad value, but the real story is told in the 27 pages of listings that include Owensboro, Ky.; Southgate, Mich; Clinton, Ill.; Wichita Falls, Texas; Wickenburg, Ariz.; and Canandaigua, N.Y., to name a few.

Be sure to check the list and if you don't find your local news outlet on it, you can download the article, "Five rules for buying a foreclosure or short sale with confidence," and share it. Let the editor know you are available as a source of home inspection information when he or she is looking for additional information.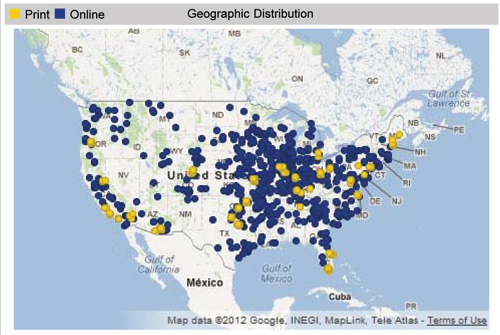 The geographic distribution of placement of the editorial article "Five Rules for Buying a Foreclosure or Short Sale with Confidence."