Flooding in the lower level of a home is always a serious problem. It can occur because of exterior surface flooding, plumbing breaks or a sanitary sewer backup. What clues indicate a sanitary sewer backup? How does it occur? It's important to examine this during a home inspection.
Signs of a Sanitary Sewer Backup
The most serious water problem in a home is sanitary sewer flooding. This creates health and safety issues, and it also damages finished surfaces. Backups can occur when the municipal sewer system is overcharged during a heavy rain or when there's a main sewer blockage downstream from the home. Backups may also occur on a routine basis. Specialized cleanup is necessary after a sanitary sewer backup.
Typical signs of a backup are water stains or damage (including horizontal water lines on surfaces) and freshly cleaned or refinished surfaces. You might also find various mechanical clues indicating that a one-time or ongoing problem has been covered up.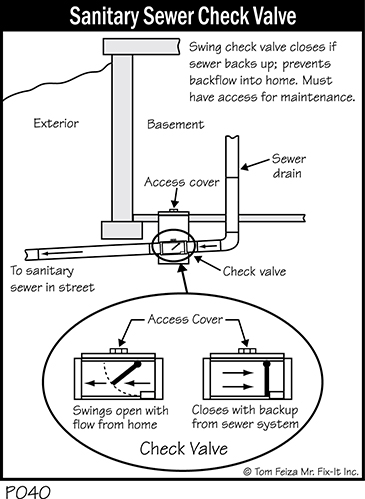 Illustration P040. Sanitary Sewer Check Valve.
Sanitary Sewer Check Valve - A Professional Solution
One professional solution to ongoing sewer backups is to install a check valve in the lowest level of a home (Illustration P040). The floor is cut open and a check valve is installed in the main sewer line as it exits the home. If sewage backs up, the valve closes.
Identifying this type of valve is straightforward: There is always an access cover in the floor (Photo 1). When you remove the cover, you'll see a second cover over the valve. This access allows routine cleaning of the valve.
Photo 1. Sewer check valve access.
Floor Drain Ball Check — One Homeowner's Solution
You might also find a small rubber ball mounted on the thin vertical shaft and bracket in the floor drain (Photo 2). In this case, if sewage backs up, the ball floats into the housing and stops the flow. These types of check valves also need to be maintained regularly, but most often they're not—most are stuck, rusted or damaged in other ways.
Standpipe for the Floor Drain — The Engineer's Solution
Since water always "seeks its own level," one good way to stop water from backing up into the basement is by placing a standpipe in the floor drain (Illustration B063). Rising water backs up into the pipe. The level of water in the standpipe will always be the same as the level in neighbors' basements.
Photo 2. Floating ball check valve.
Illustration B063. Standpipe — Prevent Sewer Backup.
The Takeaway
Whenever you see visible signs of water damage or a sewage backup or cleanup, you must report this to the buyer for further investigation. A "smart science" inspector will note the existence of a standpipe or sewer check valve and suggest further evaluation. Sellers can and do hide this type of problem. You might also suggest that the buyer check with experts at the local municipal engineering department—they know where sewer problems occur.