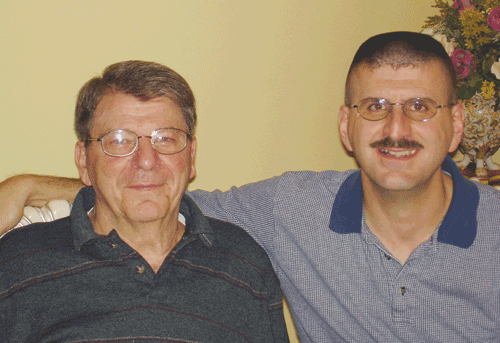 Father and son were willing to serve their chapter as president, and now enjoy talking about what motivated them to share a commitment to ASHI's proud traditions.
"I am a firm believer that we were put on this earth to leave it a better place than when we arrived. It was this belief that caused me to devote 33 years of my life to the education of young people.
"It is the same philosophy that has committed me to serve the NY Metro ASHI Chapter. I believe the time and energy I have expended for the past 25 years, as a mentor and in serving the chapter in various capacities, has helped me reach my goal. Therefore, I consider it time and energy well spent."
—Victor J. Faggella, ASHI Member 478
"I too believe in giving back in all aspects of my life. This is something my father taught me to do all my life. Besides being heavily involved with NY Metro, I devote much of my time to the local youth baseball organization, my homeowners association and our church.
"When the opportunity arose to become the chapter president, there was little hesitation on my part. I look forward to the challenge of taking what was done before me, by my father and those who came after him, and building on it. We have some
challenges ahead with licensing in New York that with the help of our local Board of Directors, I plan to use to make Metro the best Chapter in the area."
— Victor G. Faggella, PE, ASHI Member 107457
Mr. Corsetto goes to Washington (and MAC-ASHI)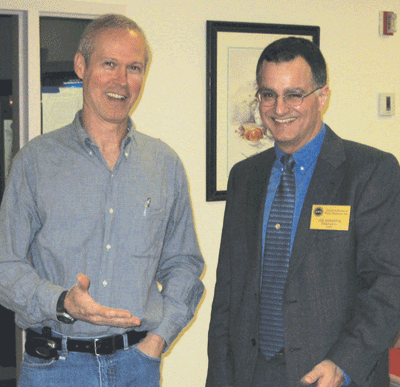 Joe Corsetto, ASHI president, braved 10 inches of snow to attend MAC-ASHI's February chapter meeting, where he spoke on the importance of building chapters so ASHI can effectively represent the home inspection industry from a position of strength. On Saturday morning, he visited the studio where Arthur S. Lazerow, ASHI Member, was co-hosting "Real Estate Today" on WMET 1160.
Photo: Two presidents: Joe Corsetto, ASHI president, and John Vaughn, MAC-ASHI president, network at the chapter meeting.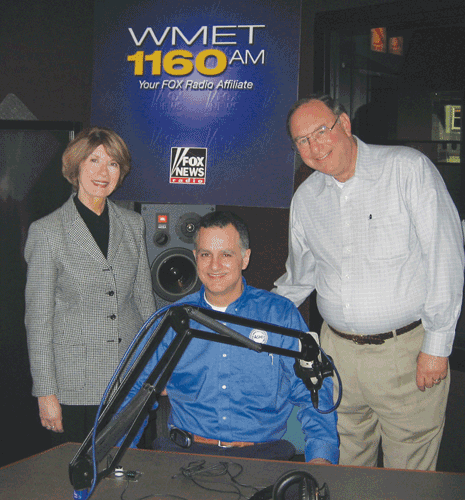 Photo: Joe Corsetto, ASHI president, visits with Donna Evers, broker, and Arthur S. Lazerow, ASHI member, co-Hosts of "Real Estate Today" on WMET 1160 AM on Saturday mornings.
Golden Gate Helps Habitat for humanity
The Golden Gate ASHI/East Bay CREIA joint chapter held an auction at their annual Holiday Gala in December. Proceeds from the auction went to benefit the CREIA Habitat for Humanity project. Those present bid on items donated by ASHI, CREIA, International Code Council, Professional Equipment, Inspection Training Associates, Doug Hansen, MaxInspect and Bonne Diva. A total of $1151 was raised through the generosity of those bidding on the items. The Golden Gate ASHI/East Bay CREIA chapter encourages other chapters to become involved in this most worthwhile project.
Candidate appreciates NOVA-ASHI's welcome mat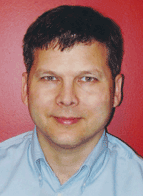 Kevin J. Yap, MetroHome Professional Inspections, Alexandria, Va., e-mailed his thanks to Mike Stephens, NOVA-ASHI president, for welcoming him to the chapter.
Dear Mike,
As a new candidate member of ASHI and the Northern Virginia Chapter, I wish to convey my appreciation to the chapter and every member with whom I have come in contact so far for making me feel welcome. In organizations that I have belonged to in the past, I have often felt like an outsider after joining.
From the beginning with NOVA-ASHI, I have been accepted and encouraged to seek answers to any questions that I might have. A special thank you should go to both Greg Caudill and Tom Murley for making this an enjoyable experience.
In a competitive marketplace, it is certainly rare to find an organization that is truly dedicated to the betterment of its members. As far as I've seen, NOVA-ASHI is one such organization. I can only think that you, and all the past presidents and board members, are responsible for this and I hope that you will always foster this goodwill.
Thank you again from a proud candidate member of NOVA-ASHI.
— Kevin J. Yap
Great Lakes makes friends across the pond
In October 2005, current ASHI President-elect Frank Lesh and his wife Vicki were invited to attend the annual Institute of Maintenance and Building Management (IMBM) awards program held in the resort town of Bournemouth, England. The IMBM is one of the organizations charged with training home inspectors in the United Kingdoms. In 2007, all English homes listed for sale will require an inspection by qualified home inspectors.
Photo: Steve Parker, 2005 IMBM president; Vicki Lesh; Frank Lesh, 2006 ASHI president elect; Michael Parrett, IMBM fellow; and Jessica Parrett enjoy the annual IMBM Awards Ceremony in Bournemouth, England.
Mike Parrett, a Fellow in the IMBM, was the catalyst for the visit. Members of the Great Lakes Chapter first met him when they traveled to England for a chapter seminar in 2002. Chapter members attended an inspection Parrett was performing. The link was firmly established between the Yanks and the Brits.
In July 2005, the Great Lakes Chapter invited Parrett to come to the United States to speak at its Summer Educational Conference in Schaumburg, Ill. While here, he filmed a chapter Peer Review house and an EIFS house.
After completing his worldwide tour of moisture problems, Parrett, his wife Jessica, son Gavin and producer Anthony Levene demonstrated his Building Pathology DVD Series at InspectionWorld in Fort Lauderdale.