The benefits of knowing a home's energy efficiency are real and they don't always speak for themselves.
As the U.S. Department of Energy's (DOE) Home Energy Score program continues to take hold among ASHI members as one of the most promising new initiatives to come down the pike in some time, inspectors are shifting from asking "How do I get on board?" to "How do I bring it into my business?" In response, the ASHI team has been hitting the drawing board with our partners at the DOE to create a collection of great-looking marketing items that let Assessors highlight top selling points in a low-key and highly professional presentation.
Leaders don't wait for demand.
Although some of our industry colleagues see us only as bearers of bad news and spoilers of deals, we know that our most important role is that of educator. On the most basic level, we deliver technical, high-stakes education to homebuyers on the invisible features and deficiencies of a residential building. ASHI members take matters further than that, however, by moving beyond the merely technical conversation to pointing out to clients the questions they should be asking, even if those questions aren't yet part of the industry status quo.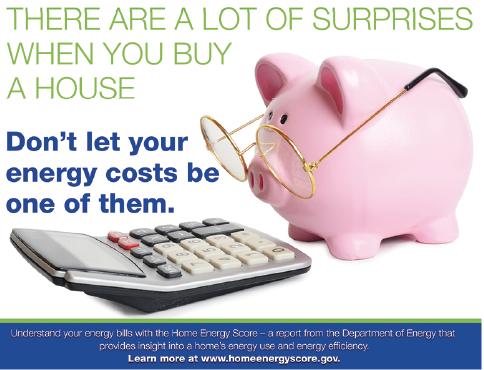 Home inspection has seen a few of these game-changers—radon and mold are perhaps the most recent examples—over the years. These are services that clients don't know to ask for until they become a mainstream issue, but nevertheless, are services that, if offered, can deliver huge results. And although inspectors tend to be the kind of technically focused professionals who would choose getting a root canal over starting an up-sell conversation, having simple and effective materials and messaging on hand makes the task of "expanding the client's horizons" a whole lot easier. The items profiled here are now available to Assessors, who can use them to explain to clients why the Score is valuable, and why they've made the right choice in selecting you as an inspector.
Avoid unpleasant surprises.
This message in various forms shows up in the marketing materials of inspectors across the country: "What you don't know (about that dream house) CAN hurt you!" And it's an easy point for us to get across because every client has heard a horror story about a failed roof or crumbling foundation from an unlucky homebuyer at one point or another. It follows that we serve our clients best when we provide the fullest possible picture of how their home investment might contain unforeseen disappointments, and a crushing monthly energy bill or uncomfortable living spaces meet that description in a big way. A Home Energy Score tells a homebuyer at a glance how their home stacks up to other homes (on a clear scale of 1 to 10), and it lists the energy-efficiency improvements that will bring the most bang for their buck when they perform improvements.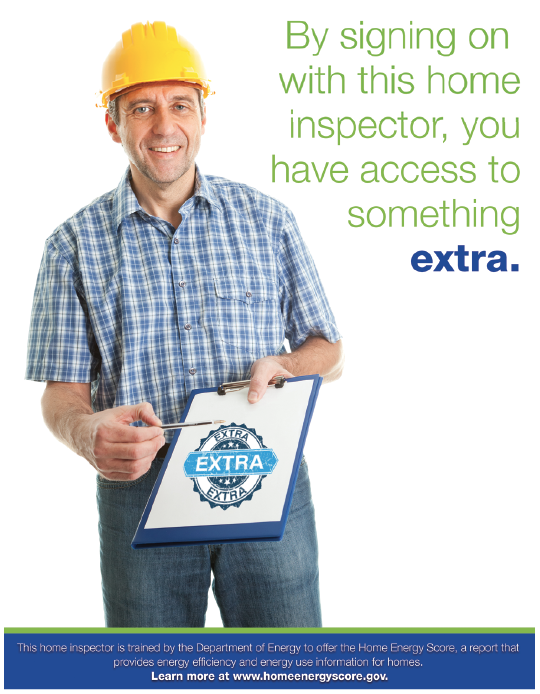 Skeptical agents, take note: The results of studies show that homebuyers are more likely to buy a home when energy-efficiency information is disclosed during the sale process—even when that home is a poor performer! It turns out that even learning bad news is better than discovering no news when it comes to energy performance, as agents around the country are learning every day.
Monthly utility costs are a bigger burden than you think.
Our clients tend to be full-grown adults who have the wherewithal and maturity to buy a home worth several thousand dollars; they likely don't see themselves as being in dire need of receiving monthly budget advice from their home inspector. Still, with all the financial figures dancing around our clients' heads during the hectic few days that we work with them, how many of them would look back and be grateful to have had a gentle reminder that their utility bills are going to be bigger expenses than either the property taxes or the insurance premiums, both of which are so often tallied up as the major monthly component costs of home ownership? A Home Energy Score sheds light on their upcoming monthly budget, their renovation plans and their resale value down the road—and you can tell them as much, without saying a word, simply by leaving some DOE-branded materials behind to do the lecturing for you.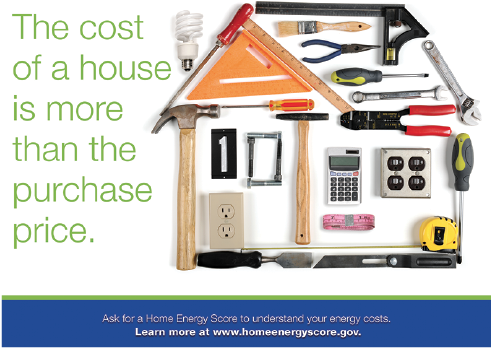 And last, but not least…you.
ASHI members put the training time and effort into earning a range of certifications and developing expertise in special services so that we can better serve both our clients and our businesses.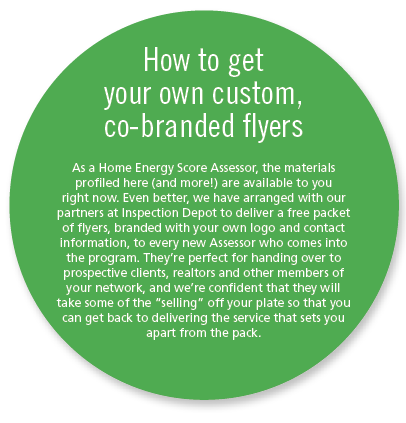 Depending on the client, offering the right ancillary services can yield higher average ticket prices, improved customer satisfaction rates, more referrals and better closing rates. And it's that last item—the prospect of closing more jobs because you make a better impression than your competition as a true expert—for which being a Home Energy Score Assessor brings some real firepower. Even if you don't up-sell a client on a Home Energy Score for every job, promoting your status as a Home Energy Score Assessor (the inspectors coming on board now have very little, if any, competition) with the U.S. DOE as a partner carries the kind of recognition and credibility that's hard to beat. Η