Some fireplaces are easier to inspect than others...

Jim Krider
House Smart
Atlanta, Ga.
2006—A Plumbing Odyssey
Wasn't there a screen saver like this? This is a
picture of some amateur plumbing work for the drain system of a home.
Tom Smith
The HomeTeam Inspection Service
Hermitage, Tenn.
Wrenching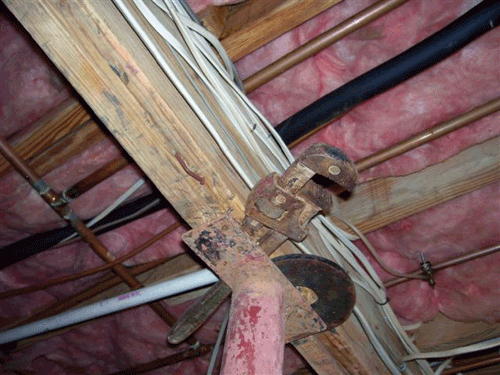 Generally, a solid shim block or steel plate is used
between a support column and girder. When not available, is it ok to use a rusted old pipe wrench and weightlifter's plate?
Al DeLong
Double Check Home Inspection Group, L.L.C.
Spartanburg, S.C.
Duct!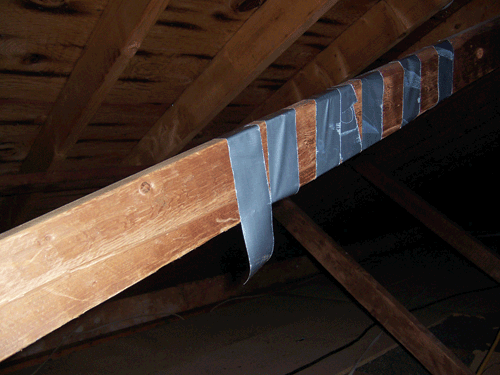 Here is a picture from an inspection I did today. If you have a broken framing member in your attic, use the all-purpose structural repair kit— duct tape!

Stefanie Brandenburg
Upstate Home Detectives
Taylors, S.C.
Hot
I guess we would call it a 1921 oversized junction box
(1' x 1.5')! Someone left a note attached indicating some of the wires were hot!! This 'box' was located on the basement ceiling and open when I found it!
Pete Jung
Hinson & Jung, LLC Home Inspections and Services
Germantown, MD
First hot water heater in space?
Not only did the homeowners install the water heater on its side, but they replaced the TPR valve with a large pressure gauge. Fortunately, the house was vacant and the heater not pressurized at time of inspection...
Chris Brown
Florida HomePro
Jacksonville, Fla.
Snug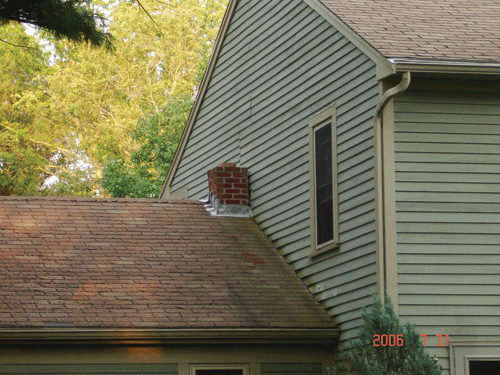 I had to stop while driving by a home to take this
picture of a chimney.
Bob Mulloy
Allsafe Home Inspection Service, Inc.
East Bridgewater, Mass.
Reuse gone too far
The homeowner thought: "I knew I could find a use for that old jockstrap someday."
Kim Thormodsgard
Thor Home Inspection Service, Inc.
Sioux Falls, S.D.