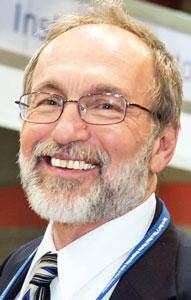 We have a lot of news from ashi to talk about this month.
One of the most important issues coming up this year is a proposed bylaw change. The Council of Representatives wrote and passed a bylaw amendment that recommends reducing the size of ASHI's board of directors. The board of directors then reviewed the proposed bylaw, checking for grammar and punctuation errors. Finding none, the Board voted unanimously to send the amendment to the bylaw committee.
The bylaw committee will send the proposal to staff, who will forward it to the membership for a vote. Two-thirds of the members will have to vote "yes" to make the change. The proposal will list the pros and cons of the amendment. Please read the bylaw proposal carefully, and please vote. It's your society, and we need your input.
Speaking of input, have you checked out the new ASHI website? I think it's easier to use, is more visually pleasing and has some great new features that benefit you. One important feature is the option you have to change your online profile information yourself. I've mentioned this feature before, but some of you have been a little hesitant to try it. Your profile contains information you'd like to share with the public such as your areas of expertise, your contact information, a photo of yourself, as well as other important information. To help you, Russell Daniels has recorded concise "how-to" videos that take you through the procedure step by step. To view it, go to:
ASHI's home page
Click on the "Members-Only" tab
Scroll down to "How-To-Videos"
There you'll find videos that will assist you. It's important that you make sure your contact information is current. Having an up-to-date profile should help prospective buyers learn more about you, which may generate more inspections for you.
Another feature on the website that can be found when you go to the "Members-Only" tab is a "Quick Poll." We use this feature at headquarters to help us help you. For example, say you'd like to know something like, "How many inspectors use thermal imaging?" You can let us know your question, and we'll put it on the website. Then we'll tally up the responses and let you know the results.
For those of you who use or are contemplating using Unmanned Aerial Vehicles (UAV) or Unmanned Aerial Systems (UAS), also known more commonly as drones, you'll be happy to know that ASHI has been lobbying regarding drones on Capitol Hill. Our lobbyist, Randy Pence, has been busy working with the Federal Aviation Administration (FAA) to make sure Uncle Sam doesn't write draconian measures limiting the use of UAS by home inspectors. Randy, with the help of the drone task force members Keven Kossler, Bob Sisson, John Biegalski, Bruce La Belle and Don Lovering, drafted a letter and forwarded it to the FAA. ASHI was asked for input from the FAA on this important issue.
ASHI IS BEING ASKED FOR INPUT FROM VARIOUS GOVERNMENT AGENCIES MORE THAN EVER BEFORE. SO YOUR VOICE IS BEING HEARD!
I've written about these achievements because some of you may wonder what ASHI is doing for you. I think we should be blowing our horn a little louder. We've never gone to the same extent as other organizations have to announce our accomplishments, but it doesn't hurt to keep members informed of our successes.
Another really big deal is our renewed approval from the National Commission for Certifying Agencies (NCCA). For anyone who doesn't know, ASHI is the ONLY home inspection organization that has true third-party certification. As we all know, everyone says they're "certified," "super certified," super duper certified," "master blaster certified" or whatever, but ASHI's certification program is acknowledged by the NCCA. The NCCA defines accreditation in this way on its website:
Accreditation for professional or personnel certification programs provides impartial, third-party validation that your program has met recognized national and international credentialing industry standards for development, implementation, and maintenance of certification programs.
That's something every ASHI Certified Inspector can be proud of. In this day of instant gratification, ASHI members can be proud that we truly have earned the 40 Years of Trust™ from our clients.
Frank Lesh, Executive Director
American Society of Home Inspectors
Direct:847-954-3182 FrankL@ashi.org • www.ashi.org