A mock instruction inspection sponsored by ASHI was the highlight of the Association of Real Estate License Law Officials (ARELLO) annual home inspector track in Jacksonville, Florida, April 6-7. Charles Gifford, ASHI Director and an AmeriSpec franchise owner, performed the inspection for an appreciative group of 18 regulators, staff and education providers from 11 states and Canada.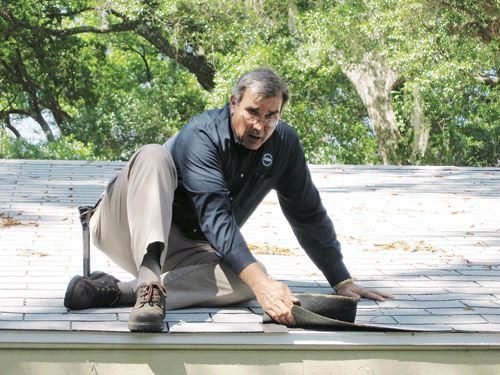 ARELLO is a global, nonprofit association of entities involved in real estate regulation. In several states, like Texas, home inspector advisory boards are
governed under state real estate commissions. ARELLO pays close attention to trends in inspector regulation and discussed major issues at the April meeting.
Photo: Charles Gifford, ASHI director and AmeriSpec
franchise owner, wasn't talking down to anyone, he was sharing the finer points of inspecting from a rooftop during a mock inspection that proved to be the highlight of the home inspector track at the annual meeting of the Association of Real Estate License Law Officials (ARELLO) in Jacksonville, Fla.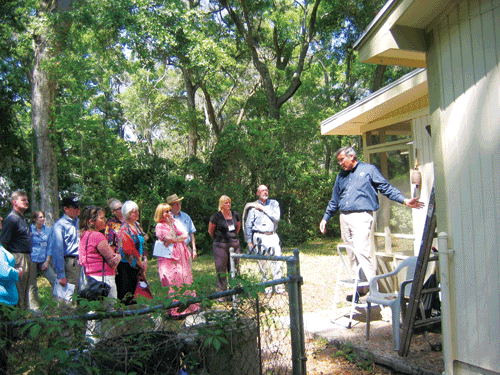 ASHI considers ARELLO an important audience with which to network and to maintain close professional ties. What better way to influence positive regulation than to have regulators truly understand what inspectors do? Participants gave Gifford a rave review, commenting on his extensive knowledge, vast experience, commanding presence and great communications skills.
Photo:ASHI Director Charles Gifford has the full attention of the group of 18 regulators, staff and education providers from 11 states and Canada as he performs a mock inspection as part of the home inspector track at the ARELLO meeting in Jacksonville, Fla.
Important victories in Florida
Speaking of experience and knowledge, those issues are on the front burner in Florida today, where a coalition of ASHI, NAHI (National Association of Home Inspectors) and FABI (Florida Association of Building Inspectors) members has won a major victory for public safety and professional standards. Through grassroots and professional lobbying, the coalition removed terrible home inspector language from a mold bill, HB 161, and was working to do the same with the senate companion, SB 2670. On May 5, the Florida State Legislature adjourned for the year and neither bill passed, meaning they are "dead" for this year.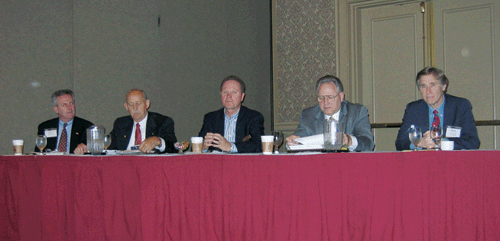 These bills were similar to last year's HB 315, which was at the governor's office for signing when ASHI mounted a last-minute e-mail campaign that resulted in a gubernatorial veto. A similar e-mail campaign was conducted through ASHI's Legislative Action Center this session. This is the second year running that honest inspectors have beaten back terrible legislation. This is all the more impressive considering that the bills had major backing from some powerful players who favor a low bar for entry into the profession.
Photo: Inspectors repairing defects found during their inspections and the real estate community's preferred provider lists were two hot topics for the ethics panel at the annual ARELLO meeting April 6-7, in Jacksonville, Fla. Marvin Goldstein (far right), ASHI Legislative Committee co-chair, represented ASHI. Representatives from CREIA, other national home inspector groups, a lobbyist for franchise executives and the local Realtor® board also served on the panel.
According to the e-mail:
"The Home Inspector part of the bill establishes a low bar for the practice of home inspections and will mislead the public into believing that someone who has never performed a home inspection is qualified to perform one after only 80 hours of classroom instruction. In other words, there is no experience requirement for a consultant who will be advising clients regarding their most expensive investment. The enforcement provisions turn minor violations into criminal actions and yet provide no professional sanctions for malpractice."
Interestingly, in a Legislative Update/Trends session at the ARELLO meeting, the presenter, a member of the Virginia State Legislature and the lobbyist for an association of home inspector franchise company executives, touted this very type of bill as the only practical and achievable regulation in today's legislative climate.
He claimed that states are no longer willing to fund home inspector governing boards; the money is just not there. He also claimed that legislators don't really see what inspectors do as important. So what if it's the biggest purchase an individual may make? As far as experience goes, lawmakers don't think much of it, according to the presenter. They favor training programs, similar to those offered by franchises and inspector schools, complete with "valid exams" at the end of, oh, say, 80 hours of training. He labeled this "licensing without administration," i.e., just declare what already exists in the marketplace, affirm it in statute, and don't spend any money enforcing it. After all, that's what courts are for, right?
While this type of legislation has reared its head in several states, and no doubt will continue to be promoted, it appears that the inspectors who live, work, pay taxes and vote in Florida had a say as to how they are regulated, how new inspectors enter the profession, and how the public is protected. Now that's an encouraging trend!