According to Robert Bruss, syndicated columnist for Tribune Media Services, "A few months ago, I read a great real estate book called "Inspecting a House" by Rex Cauldwell. It explained why home buyers should make their home purchase offers contingent upon their approval of a satisfactory, professional home inspection report."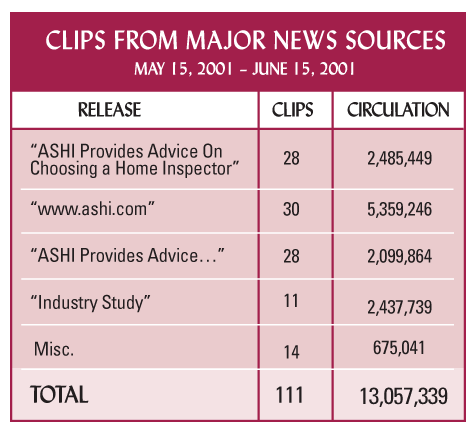 In the same column, Bruss told readers how to contact ASHI.
In USA WEEKEND, Lou Manfredni's article, "New house, old truth: Inspect as you build," included www.ashi.com as a source for finding an inspector for new construction. ASHI Member Roger Stilley saw this article in the USA WEEKEND magazine of his Marion Daily Republican, Marion, Ill., and sent a copy to ASHI HQ.
ASHI is being heard. Publicis Dialog is providing the megaphone and the touchstone that make it possible for the Society to successfully connect with the media, the public and all professionals involved in the business of real estate transactions.
The media knows whom to ask
During a recent 30-day period, Publicis Dialog, ASHI's public relations consulting firm, received and responded to the following inquires about the Society and home inspections.
• Brett Nelson from Forbes Magazine was researching a story on home construction and asked for information. Publicis Dialog provided contacts for interviews, as well as a background information on the Society.
• Kathleen Howley from Bloomberg News requested and received information on the Industry Study, as well as contact information for John Ghent.
• Mary Ernberger, a columnist for the Chicago Tribune, contacted ASHI as a resource for her story on mold and indoor air quality. The consultants arranged an interview with Steve Preins, ASHI public relations committee chair.
• Laya Rothchild from the Christian Science Monitor requested and received verification of percentages from the Industry Study for a story.
• Dan Rafter from The Times Reporter in Northwest Indiana is writing a story on home inspections. He received ASHI background material.
• Desire Strong, a producer in Knoxville, Tenn, also received background information on ASHI, plus information on how to contact Steve Preins. She is working on a consumer story on home inspections that will be distributed nationally.
• Earl Daniels from the Florida Times Union received information and Industry Study results for an article he's writing.
• Bridget McCrea, from Inman News Service, requested an interview with John Ghent. She was working on an article regarding the Homelink situation following the recent announcement from the Ontario Association of Home Inspectors and their members' use of the Homelink service.
Often positive articles, such as Bruss' and Manfredni's, are the result of how well Publicis handles the initial contact on ASHI's behalf.
If it seems the national media is beating a path to ASHI's door, it's because of the steady, focused stream of publicity created over the past several years by the Society's public relations consultants at the direction of the public relations committee.
Local publicity equally valuable
But there's more to the story. As the consultants and the committee work at a national level, ASHI Membership delivers the message on the local turf – an equally important venue.
ASHI Member John H. Moss appeared in a front-page article of the Real Estate section of the New York Times, May 27, 2001. The owner of Inspex Building Inspections was both pictured and quoted.
Don Norman, ASHI Secretary, was named "Affiliate of the Year" by the St. Louis Association of Realtors. He appeared on the front page of the Realtor Report, the newsletter for the group of more than 7000 agents in St. Louis.
"This is the first time this award has ever been given, and it was quite an honor, especially for a home inspector," he said. Don is
the Director of HouseMaster Home Inspection Service, in St. Louis, Mo.
Who hears?
The Membership enjoys seeing ASHI mentioned in newspapers, on the Internet and TV. But the true audience is made up of potential home buyers and sellers, other professionals involved in real estate transactions, government officials, both federal and state, and unaffiliated home inspectors. That's who is listening when ASHI speaks.
More for your reading pleasure
The
ASHI Reporter
has long served as the voice of the home inspection profession. With the support of the Membership and advertisers, our current publishing team has been able to build on this well-deserved reputation with continued enhancements.
Now available for your reading pleasure…
• Twelve 2-color issues a year, including two Special Editions
1) InspectionWorld Special Edition, January 2002
2) Home Inspection Recognition Special Edition, June 2002
• Reader-friendly design elements, including more graphs, tables, photographs and illustrations, plus additional customer support services for our advertisers as Judy Delvoye, communication associate specializing in graphics and publications, joins the staff.
• An evolving editorial approach designed to keep pace with the interests of the ASHI Membership, the Society and the profession.
We read our e-mail and welcome suggestions. If you have an idea for a feature or article, please send it to sandyb@ashi.com