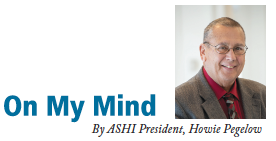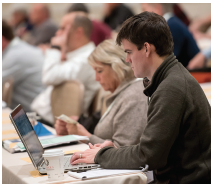 InspectionWorld® 2017 is over. We offered and you received top-rated educational courses for all levels of interest and all levels of experience. Besides the educational courses, we presented some excellent breakout sessions, sponsored by some of the best service vendors in our industry. We had get-together times as well, including the annual luncheon and gala. And of course, IW. offered you the opportunity to meet your fellow inspectors—those friends you've met before and many new ones, too.
So, now what? You came to IW,. and you met some fellow inspectors for the first time. Do you just take his or her business card and file it with all the many cards you received during the conference? Or, do you pick up the card and call that inspector—you know, that one inspector with whom you just knew a friendship was struck when you met—or do you just file it away with the others? I would bet that 99% of you might just file it or maybe even throw it away.
Then again, some of you maybe wish you had kept that card. I've attended many IWs., and sadly, I know that I've been a member of that 99% who has tossed away cards I should have kept. Later, I regret having done it, because I know that I've met inspectors with whom I could have established both a business and a friendly relationship that would have benefited both of us, but I just tossed their cards by the wayside.
Okay, okay, you say, what should I do?
First, don't be a 99%er. Dig through those many cards and look through all the scribbled notes you wrote. When you find the one name or note you want to save, you'll know. Then, pick up the phone and call the inspector. You already established a foundation back at IW., so it won't be hard. You may find that, together, your friendship will carry through many years to come.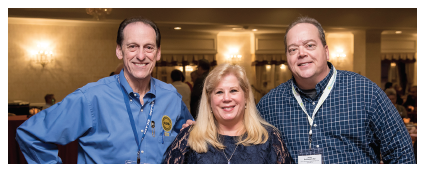 Wait, you say call someone I met only once at IW®?
What do I say? Talk about what?
Well, first, tell the person about yourself and maybe mention something about your family and your business. Ask the person you contact to share some kind of similar information. The bottom line is, talk! Just talk with one another. You may find some common interests.
Sometimes, you happen to meet inspectors who live and work near you. For those people, maybe invite them to your chapter meeting, or you could ask if you could attend their chapter's meeting. This can be a great idea if they belong to a chapter different from yours or if you haven't yet joined a chapter yourself.
Also, for those of you who don't yet belong to a chapter, ASHI offers a virtual chapter option (check out the ASHI website for details). In addition, several chapters now offer webinars to broadcast their chapter's meetings online so that any inspector can join the meeting, even when they can't physically be at the meeting place. The point is, ASHI provides you with a variety of venues and opportunities to meet with other home inspectors throughout the year, not just at IW.®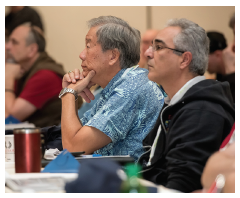 In closing, ASHI is a family. We come from all sections of the United States and Canada, and our backgrounds might be similar or different. But, we are a family, and if you take some time to reach out to someone in this organization, you'll see this for yourself!