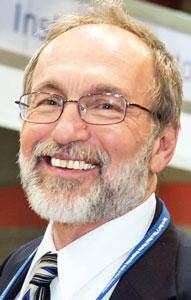 Who ever thought bottling water in 12 oz. plastic
containers and selling them at a gas station for a dollar would ever make money? Who ever thought selling anything besides gas, oil and maybe a candy bar at a gas station would ever make money? How about buying coffee for a few bucks a pound, brewing it and selling it for a few bucks a cup?
Well, some folks did … and they've made a fortune! Brilliant Ideas.
Had someone suggested these ideas to me years ago, however, I would have scoffed at their "brilliance."
But here's the story of a Brilliant Idea I came up with years ago when I first started in the business to help find a solution to a big problem inspectors had with finding cracks in heat exchangers. Years ago, about the only way we could find cracks without disassembling the furnace was to insert a mirror above the burners and look. Unfortunately, an inspector could only see a small portion of the heat exchanger and even then, rust and corrosion could make it impossible to see.
One inspector suggested placing a few drops of wintergreen oil in the burner compartment (with the burners off), turning on the blower, then going to a supply vent and using your nose to sniff. If you smelled wintergreen, there was a crack in the heat exchanger. Unfortunately, I tried it and after one drop of wintergreen landed on my fingers, that smell lingered with me for the rest of the day.
So, my Brilliant Idea was to purchase an ultrasonic leak detector. It came in two parts: a sender and a receiver. The concept was based on the fact that sound diminishes as it goes through objects. So, if there was a crack, sound would be unimpeded. (For you latent physicists, I realize that sound does travel through water and other objects faster than air, but hey, it was my money I was spending.) Anyway, I placed the sender in a burner compartment, turned it on and then went to a supply duct to "detect" the crack. Then I went back down to the furnace, placed the sender into another compartment, then went to the supply duct and listened again. I used this process for each section of the heat exchanger.
One unexpected benefit from using this system was an increase in my cardiovascular fitness. But my wife thought that she may have discovered a crack — it was in my head, considering the hundreds of dollars I spent on my "detector." And there you have it, my Brilliant Idea turned out to be a Hair-Brained Scheme.
I would like to follow up on a volunteer project in which Jack McGraw and I participated last spring. We mentored a group of volunteers for Rebuilding Together, a nonprofit organization that builds homes for struggling families in economically depressed neighborhoods. I met Sandra B. Henriquez, former Assistant Secretary for Public and Indian Housing, who is now the CEO of Rebuilding Together. ASHI has offered support to Rebuilding Together. If you'd like to learn more about how you can volunteer in your area, please contact me at frankl@ashi.org.
Frank Lesh, Executive Director
American Society of Home Inspectors
Direct:847-954-3182 FrankL@ashi.org • www.ashi.org