Peel-and-stick flashing completes a well-flashed window.
Like most home inspectors, my primary focus is single-family residential structures with the occasional duplex or multiplex. So, when the chance to inspect window flashing details on a large apartment complex came along, I figured it would be a nice change of pace for a few months. At the first meeting with the builder, whom I knew well, the task seemed straightforward: Evaluate the window flashings on each of the 10 buildings to ensure they were installed according to the architect's design, then provide a letter of certification for the builder. Simple and easy, or so it seemed….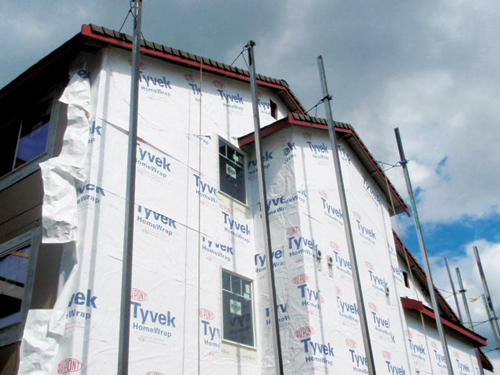 Getting ready for scaffolding and siding installation.
Changing expectations and scheduling
The first change occurred when the project supervisor told me the builder also wanted me to check the installation of the exterior sub-siding, building wrap, deck flashing and siding. Shortly thereafter, the job morphed once again as the builder now wanted me to inspect the framing, firewall and fire caulking before the insulation and sheetrock were installed. In particular, he wanted to ensure there would be no issues that could create complications for the next subcontractor, such as poor framing, which would make sheetrock installation more difficult. Clearly, this would necessitate a good practical understanding of basic carpentry. Had I not been a general contractor prior to becoming an inspector, this would have been a serious challenge. However, the bigger challenge now became one of scheduling.
Where I originally organized my time to meet the pace of one tradesperson, I now had to juggle my calendar around the work schedules of several subcontractors. Their work delays became my work delays, and I quickly found myself dealing with unavoidable and sometimes last minute cancellations. It was almost fortunate my regular home inspection schedule had slowed, thereby allowing me to be more accommodating without having to turn down other inspection opportunities. Regardless, if I were to do this again, I would negotiate a regular inspection schedule that would guarantee my inspection fees whether or not construction delays occurred.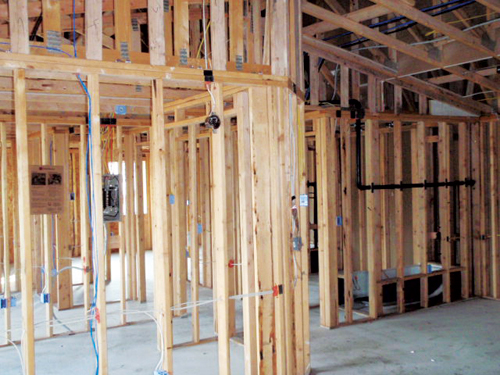 Interior ready for fire calking and framing inspection.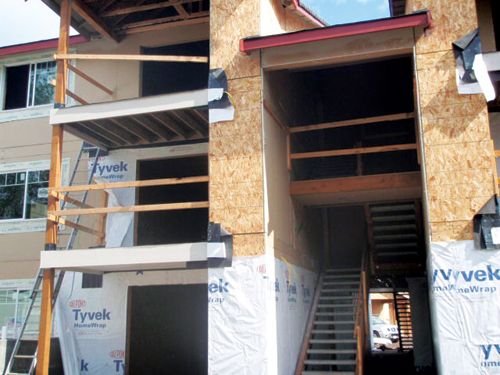 With no posted numbers, the layout was essential for identifying units.


Establishing an inspection protocol
I am a firm believer that sticking to an established protocol is the most essential component of a good inspection and a successful risk management program. In this case, I had to create that protocol on the job. The first step was to get a layout for the complex so that I could be absolutely sure of building numbers, apartment numbering and orientation of front versus back. With no numbers posted on the buildings, this would later become critical in ensuring clear documentation of inspection issues. The sheer volume and repetition of apartment after apartment would have been hopelessly confusing and ambiguous if I were not able to keep referring back to that schematic. I also found it necessary to maintain strict discipline in my protocol, always starting on the top floor with the unit on my right and proceeding in a set fashion after that. Inside each unit, I proceeded the same way every time, always working right to left. In a sense, the job was becoming more like working an assembly line, and I found the monotony was extremely conducive to missing things. Sticking to protocol became my saving grace.
What is good workmanship?
Those of you who have practical experience on the working end of a hammer understand the concept of good workmanship. Clearly, that notion seems to have changed over time. What I jokingly thought to myself to be "stone axe and bear hide" carpentry didn't seem to raise an eyebrow from the AHJ (Authority Having Jurisdiction). Certainly, we must be aware of regional differences with the interpretation and implementation of code, but this is about a much more basic principle. It is about that gray area of tolerances that defines good or bad. Getting a handle on what was acceptable carpentry and what was not became a learning process assisted by the site supervisor. After a while, I became comfortable with the thresholds of "acceptable" workmanship, but there was still a lot of "acceptable" work that I wouldn't have wanted to put my name on. The local AHJ also threw me a few curves when certain construction details got changed in midstream. Once again, this reinforced the need to keep in close and regular contact with the site supervisor.
Documentation
As with any inspection, documentation needs to be clear and concise. In this case, there were three components to the documentation process: a working punch list, a formal report and a certification letter.
For the punch list, it was essential to refer to the layout, correctly identifying the building number, apartment number, room and direction so the laborers could quickly identify and make the necessary repairs. For the builder, time is money and this piece of the documentation needs to be sensitive to that. Initially, I tried to include photographs, but the quantity of photos made it too cumbersome and time-consuming for both the supervisor and me. Further, unlike taking a picture of an issue on a house where points of reference help identification, I found the issue I was trying to document got lost in a sea of picture after picture of nondescript framing. Next, I tried spray paint to mark where I'd identified concerns, but quickly gave up after I realized how many subcontractors had the same idea. My colorful contributions to the work site were essentially useless. In the end, I found the time-honored clipboard and note pad was the way to go. From my notes, I could quickly and easily e-mail my punch list within hours of completing the inspection.
For the formal report, it was important that I provide documentation of what was inspected and what was not. For this, I turned to 3-D, where I easily created a form set specific to the apartment complex by modifying some of my residential forms. This way, I was able to clearly document the scope of my inspection and quantify my inspection process. The builder was ho-hum about the formal reports. His real concern was my letter of certification for the county. Nevertheless, he understood my need to provide the documentation. The certification letter was the easiest part of the process as the builder already had certain language he needed for the county. All I needed to do was put it on my letterhead and sign it. With the formal reports and punch lists on record, I was comfortable penning my name to the letter.
Being prepared
A huge job site like this is alien turf for most people and I, for one, tend to let my nerves get the best of me in such a situation. Therefore, I learned that while staying in control of the inspection is difficult, it would probably be impossible if one was ill-prepared. Make no mistake: Underestimating the dangers present could have quickly and unexpectedly resulted in serious injury. Based on my experience, I recommend paying close attention to your surroundings when you're working on a building site and always look up, down and
sideways before you proceed. Also, make sure you have a hardhat and safety glasses in your rig and use them appropriately. Besides protecting yourself, you certainly don't want to be the cause of the builder getting a fine for a safety violation. Signs on the work site said, "Safety is no accident," so I stuck to the formula, stayed prepared, alert and safe as I successfully completed my first inspection of an apartment complex under construction. 
Larry Stamp AD, BS, RREI, owns Cameo Home Inspection Services in Olympia, Wash. The ASHI Certified Inspector was a general contractor who specialized in sub-structure repairs, siding repair and replacement, remodels, restorations and roofing.

He is also a Certified Mobile Home Inspector, Certified FEMA Disaster Housing Inspector, Licensed Washington State Structural Pest Inspector, Certified Washington State Real Estate Instructor, certified instructor with the Washington State Department of Agriculture and an instructor at the Structural Pest Inspection Training Facility at WSU Puyallup."