Last month, President-elect Bill Jacques shared how he sends the press releases available on the ASHI website to the local media, along with an offer to answer questions about real estate-related topics. As a result, his name and ASHI's appear regularly in the Post and Courier. The articles reach an even larger audience as links to the online publication are tweeted and shared on Facebook.
Is there a reporter, editor or blogger in your area who would be interested in the results of a survey conducted by ASHI? If so, you can make ASHI's most recent press release work for you.

HOME INSPECTIONS BOOST HOMEBUYER CONFIDENCE IN 88 PERCENT OF U.S. ADULTS

New ASHI survey indicates adults are more likely to purchase a distressed property, including foreclosures and short sales, following a professional home inspection.
88 percent of respondents say home inspections increase their confidence about the condition of any property.


More than four in five adults think foreclosures and short sales can be good deals.


84 percent of respondents say they would be more likely to purchase a distressed (foreclosed or short-sale) property after a home inspection deemed it in good condition.


Consumers are uncertain of the services traditionally included in a home inspection.


The American Society of Home Inspectors (ASHI) is the Gold Standard of Home Inspectors.
DES PLAINES, Ill, (April 17, 2012) –
According to a survey released today by the American Society of Home Inspectors (ASHI), 85 percent of those surveyed believe distressed properties, such as foreclosures and short sales, can be good deals. More than four out of five (84 percent) respondents state they would be more likely to purchase a foreclosed or short-sale property if a home inspector found it to be in good condition. This boost in confidence delivered by a home inspection conducted by an ASHI Certified Inspector (ACI) may be an additional factor to help increase sales of these distressed properties, depleting surplus of inventory and spurring the recovery of the housing market.
The release file is available here
. Send it to local print and electronic news outlets with a cover note offering to be a resource for inspection-related information. Please, remember to identify yourself as an ASHI member who is speaking for him or herself, not as an ASHI spokesperson.
What's better than the numbers?
Each month, ASHI receives a file of media clippings providing examples of where the society was mentioned in print and online across the country. It's always a big file – 48.6 MB for March. In addition to the clips, there is a list and those numbers tell a positive story. For example, the article "Getting Real On Space" appeared 24 times in March, and "Ask a Broker: You call That an Inspection" 22 times. There were 96 media sources countrywide listed that had published an article promoting ASHI during March. Most included a link to or mention of ASHI's website.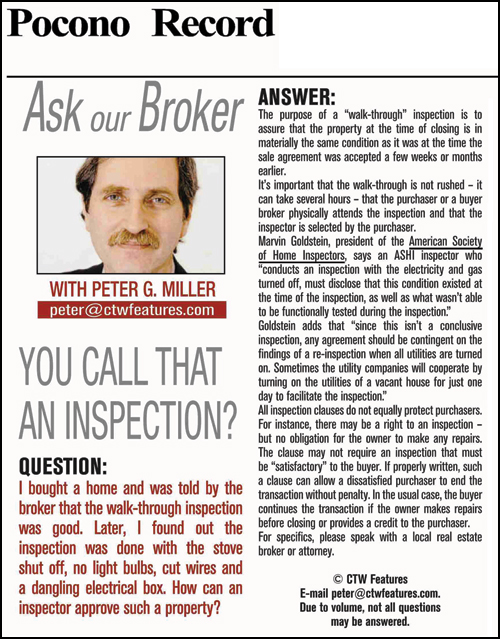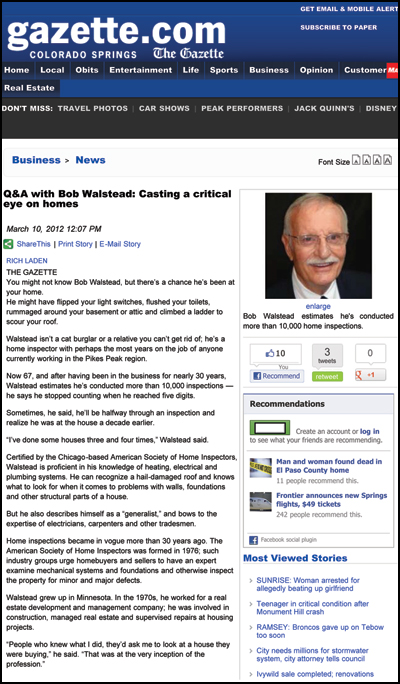 Talking about the numbers is exciting, but looking at the clips is even more fun, so we'd like to share a few with you. You'll notice some articles include interviews arranged by ASHI's public relations agency, others are the result of press releases or other outreach public relations activities. Even as ASHI continues its tradition of promoting itself through PR, it embraces new techniques including electronically distributed press releases with hyperlinks and social media networking.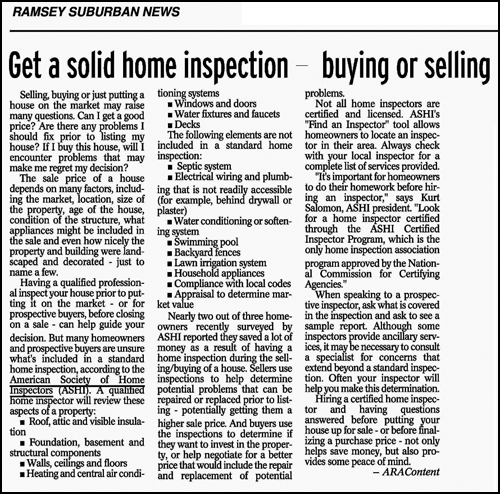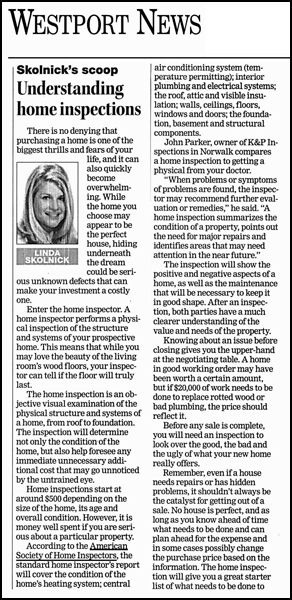 ASHI Scores on Twitter and Facebook
Check daily for ASHI good news via its social media. The public and members are finding valuable content to share or re-tweet.

Facebook
www.facebook.com/ASHIinspection
The fan count keeps climbing on ASHI's Facebook page … soon to hit 1,000.
Here are two examples of what visitors like:
Within 24 hours of posting a Postcard from the Field on the ASHI Facebook Fan page, it received 37 "likes," 36 shares and 24 comments.


The "Home Inspectors Save Buyers Money" article also proved to be popular, with 16 likes and 22 shares.
Twitter
www.twitter.com/ashi_inspection
When ASHI tweeted a link to the article "Home Inspectors Save Buyers Money," Realstate.com replied, "Thanks for the share."


Between March 7-14, there were four tweets and 10 re-tweets.


On March 22, kristencastillo tweeted, "Great interview today with Marv Goldstein of @ashi_inspection about the importance of hiring a #home #inspector. Thanks!"


Followers topped the 1,000 mark in March as ASHI builds its social networks.


Both pages were recently redesigned and updated to improve their appearance and be more user-friendly.