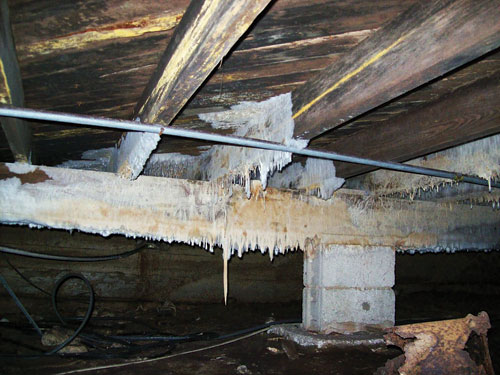 Lordy, lordy this church is moldy. This is under an 85-year-old church.
Danny Blankenship
The HomeTeam Inspection Service
Ocala, Fla.
Get a stretcher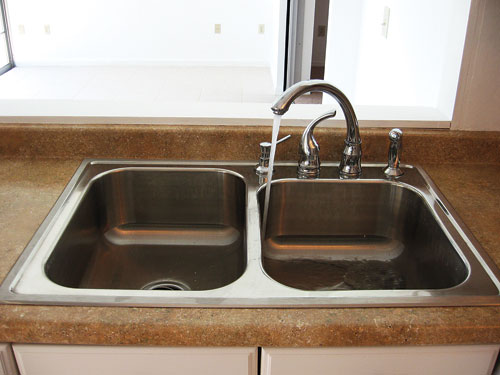 Hey, Joe. Go out to the truck and bring me the faucet stretcher.
Claude McGavic
Home Check
Bradenton, Fla.
Tennis, anyone?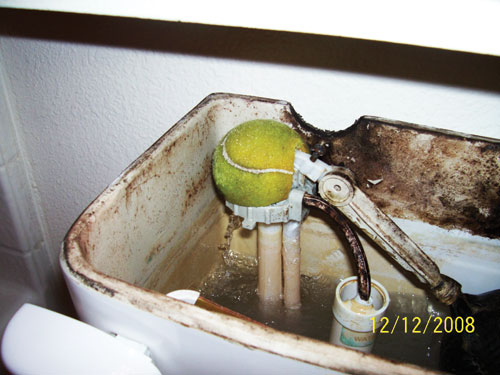 First, it was a grocery-bag-toilet-filler valve repair, now it is a tennis-ball-filler valve repair.
Timothy Hemm
Eagle Home Inspections
Yucaipa, Calif.
Short a few circuits
Do those pesky circuit breakers keep tripping? Just remove them!
Ted Gossard
Fine Tooth Home Inspections
Flagstaff, Ariz.
Call security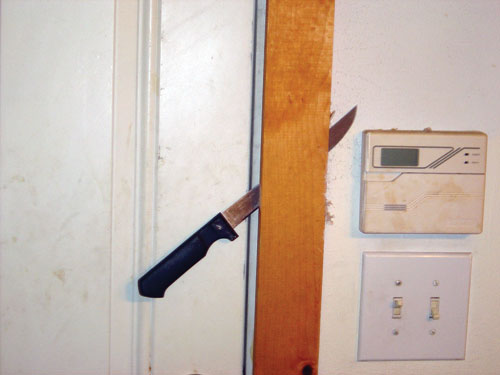 The knife is serving as the "security sytem" at the back door in the kitchen. Notice the keypad for the central
security system mounted on the wall. The service was not activated. Why pay a monthly fee when the knife is free?
David Sipple
Duke Inspection Services, Inc.
Avon, Ohio
U-turn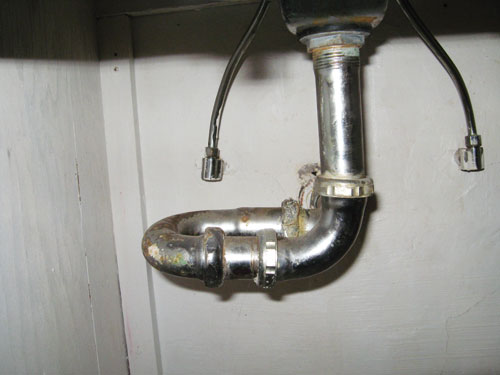 Just when you think you have seen it all ... This new "sideways" trap installation allows for much more storage under the sink, as long as you don't mind a little sewer gas smell!
Frank Friedel
Affordable Inspection Service
Cleveland, Ohio
Cooking and cleaning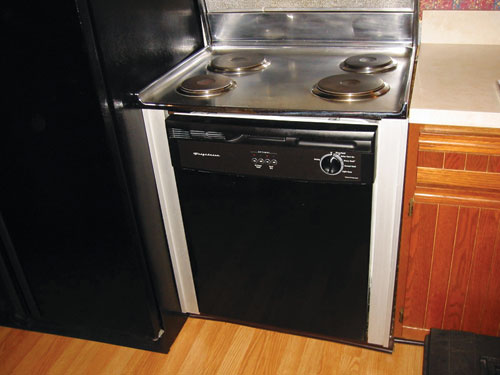 I love my job. Always something new. I have NEVER seen this before — a dishwasher installed directly under an electric cook top. You can cook and wash dishes at the same time!
Ken Salvo
Ridge Home Inspection, Inc.
Basking Ridge, N.J.
All wet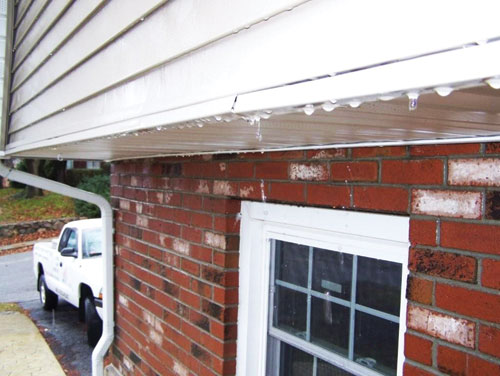 It was raining when I arrived to inspect this house, but there was something strange about the water dripping off the siding. I held my hand under it and it was hot. The heating pipes had split. Because I was 45 minutes early to the inspection, I had to call the real estate agent and get the code to get in and shut off the water. The house was flooded.
David Grudzinski
Advantage Home Inspections
Cranston, R.I.