Creative Duct Work
This is a new one. Dryer vent tubing used as duct work connected to the furnace.
Larry Transue
Integrity Inspection, Inc.
Easton, PA
Rain, Rain Go Away
Let's put the roof mounted A/C lines through a plumbing vent boot next to the upper roof downspout.
Mike Leiden
Spectro Home Inspection
Strongville OH
No Stinkin' Ledger Board and Lag Bolts
This deck was built using joist hangers directly nailed through vinyl siding. Amazing what some people do.
Matthew Steger, ACI
WIN Home Inspection
Elizabethtown, PA

I Need a Nice Hot Shower
This shower stall permanently covers a sump pump. They kept the electrical receptacle where it was and built the shower around it! That takes the cake, but the icing is that the receptacle is incorrectly wired, with hot and neutral reversed, and with no GFCI protection.
Ron Seiber
Ron Seiber Home Inspections
Fairfax, VA
Botanic Garden
This lovely garden is in someone's crawlspace.
David Tabor, ACI
American Home Inspectors and Engineering Assessments, Inc.
Hurricane, WV
Someone Is Watching
So, who do you call for this repair? A qualified framing contractor or a pest control specialist? This pest was NOT seen until the photos were being reviewed later!
William Blake
American Home Inspectors and Engineering Assessments, Inc.
Hurricane, WV
Sprinkler Timer Challenge
For $30 the owner could have purchased a sprinkler timer from Home Depot or Lowes. The parts for this timer cost much more and the time to build it was more than the trip to buy one.
Bob Pyne
AmeriSpec Inspection Services
Colorado Springs, CO
Just Can It!
This is what I call a creative way to terminate the TPR valve.

Chuck Lindeen
Chuck's Home Inspection
Big Bear Lake, CA
Just Missed the Junction

I guess it was too hard to get the terminal bars attached to the inside of the plastic junction box.


Neil Brogren

A'N'B
Gold Canyon, AZ
Electricity and Water Don't Mix
In case you need power in the bathtub, it is close by.
Gerry Loesch, P.E., ACI
Buyer's Protection Group
Ballwin, MO
Carbon Monoxide Delivery System
This metal vent pipe serves a gas water heater, a gas
furnace, and a bathroom exhaust fan.
Mike Kimble
Accuspex Home Inspection Service
Eldersburg, MD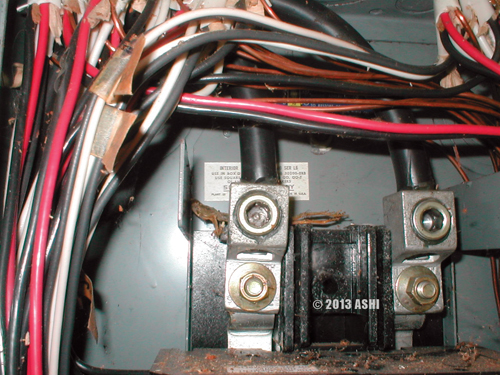 Giant Leap
This frog must have had one revolting croak.
Jay de Wolf
de Wolf Inspection Services
Burlingame, CA