Plumbing vents through the roof often allow leaks because of flashing defects and improper installation. Let's look at some typical situations.
Overall Drainage, Waste and Vent System
Every home requires a plumbing vent though the roof as part of its drainage, waste and vent system (Illustration P016). Air flows into the vent pipe, allowing fixtures to drain. No vent—no drain, just like blocking the top of a vertical drinking straw.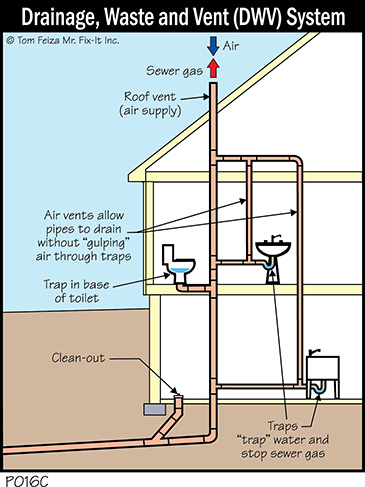 Illustration P016C. Drainage, Waste and Vent (DWV) System
Flashing around the vent prevents leaks through the roof (Illustration R012). This flashing is sealed to the vent pipe. An integral metal or vinyl pan is tucked under the upper shingles and laid over the lower shingles to shed water. Many variations in materials and types exist among homes, but the principles are the same. The flashing allows movement between the pipe and the roof shingles with no leaks.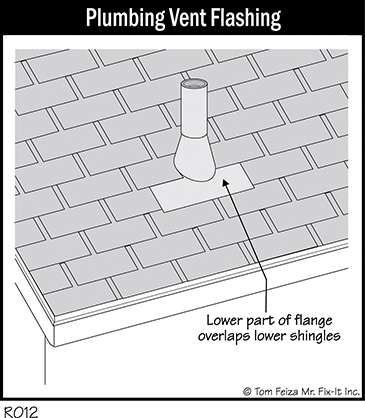 Illustration R012. Plumbing Vent Flashing
Cracks and Gaps in the Flashing
This typical modern vinyl flashing is woven into the shingles and lies on top of the lower shingles (Photo 1). The problem—cracks in the vinyl edge around the white PVC vent pipe—is a defect that needs to be noted because this will leak.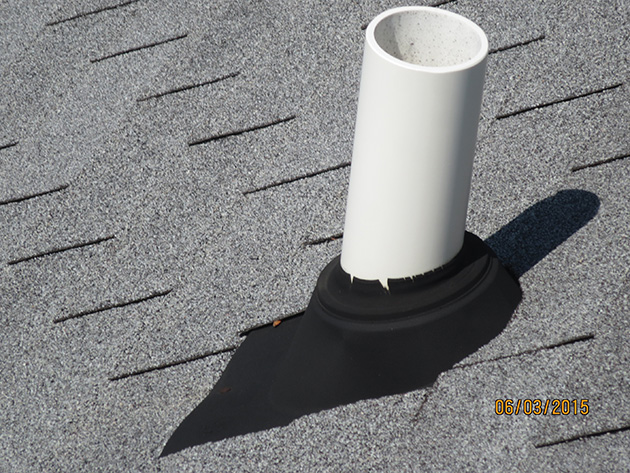 Photo 1. Cracked vinyl flashing
Tar-Coated Flashing
The amateurish repair attempt in Photo 2 used a tar or butyl coating over leaking vinyl. The lower edge of flashing should lie over the shingles below the vent. Instead, the lower edge is sealed to the shingles with tar and this will cause a leak. Defect. Defect. Defect.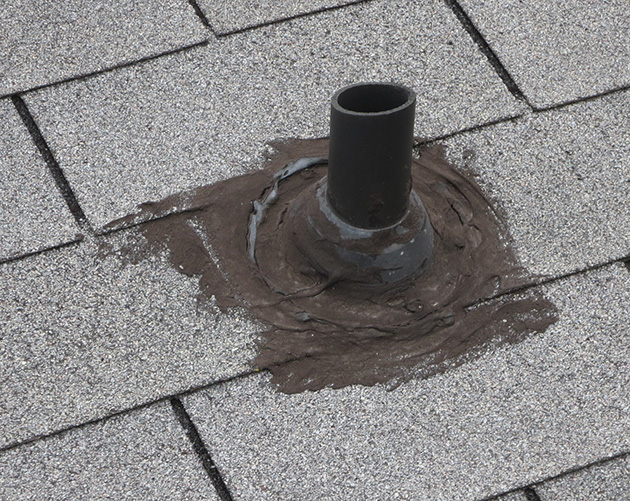 Photo 2. Tar-coated flashing
Short cast iron pipe
Now look at Photo 3. Where is the vent pipe—dropped into the attic? Technically, vinyl vent flashing can't be used for a cast iron pipe; most standards want to see lead flashing in this situation. At least the flashing is woven into the shingles properly. Your inspection must identify the "short" cast iron vent caused by pipe movement. Try to look in the attic below the vent; why did the heavy pipe drop?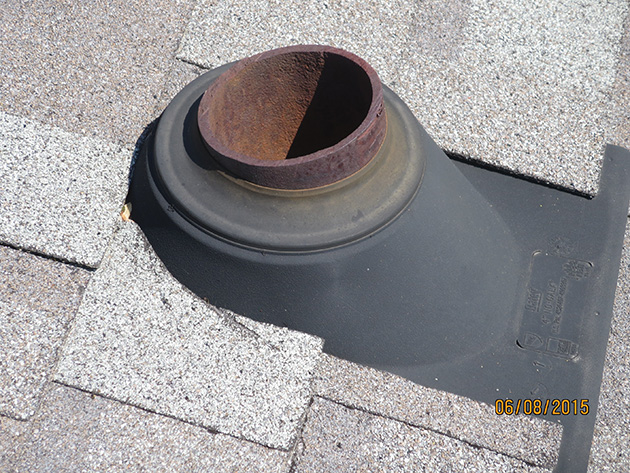 Photo 3. Short cast iron
The takeaway
Penetrations through a roof cause leaks, and this includes plumbing vents. Try to get a good look at all vent flashings. Tar coating indicates a leak. Flashings should be woven properly into the shingles. The lower edge of the flashing should lie over the lower shingle to shed water.