The Arizona Chapter fielded its first softball team at the Tucson Board of Realtors fundraiser for Habitat for Humanity. According to Bryck Guibor, "The AZ ASHI Home Inspectors did well. We made it out of the second round and lost the last game 16-10 in a duel rarely seen in sports today — the inspectors against the transformers in a slow-pitch softball game for the ages. What else can I say that hasn't been said to ESPN, NBC, ABS and PVC?"

Photo and report submitted by Bryck Guibor, ACI
ASHI Central PA Conference
Photo: Joe Wohl and Chapter President Michael Conroy
Photo: Tim Hollinger
Four speakers shared their expertise with the 26 attendees at Central PA's second annual education conference. A full house heard presentations on cellulose insulation, EPDM rubber roofing, renewable energy solutions and heat pumps.
Photos and report submitted by Michael R. Conroy, chapter president.
Central NY Sets Spring Seminar Attendance Record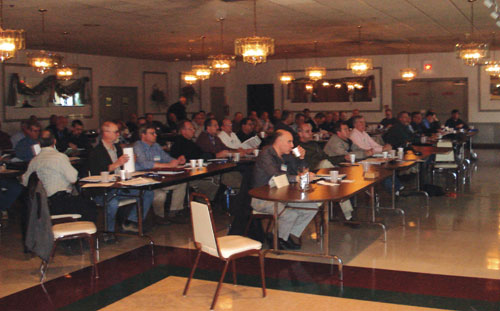 Photo: The education session gets underway
.
Sixty-one inspectors came from New York,
Pennsylvania, Massachusetts, Vermont and New Hampshire to set an all time attendance record for the annual Central New York Chapter Spring Seminar. Tom Sherman, chapter past-president; Peter Apgar, chapter education chair; and Greg Haley, treasurer, were among those who made this educational opportunity available to home inspectors.

Photo and report submitted by Michael Chapman, chapter president.

Insurance inspection program introduced at Mac-ASHI Seminar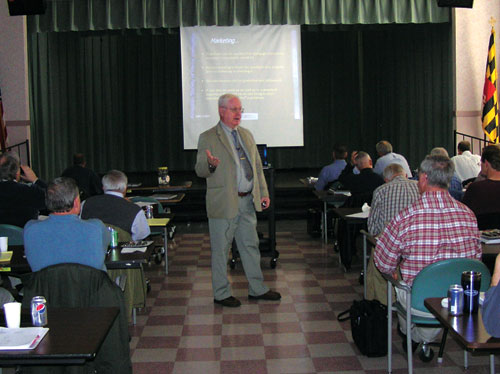 Mike Conley, pictured above, an ASHI Certified Inspector from Florida, introduced 70 MAC-ASHI Spring Seminar attendees to an ASHI-endorsed insurance inspection program. ACI Bill Mason also presented and administered the insurance evaluator certification exam to the home inspectors from the Mid-Atlantic region.
Photo and report submitted by JD Grewel.
Central VA Members Have Fun Helping Out
Continuing a long tradition, members of the Central VA chapter volunteered to work at a local Habitat for Humanity-sponsored project. Charles Chisholm, chapter president, said, "We've found it a good way to get to know our fellow inspectors outside of the inspection world and, at the same time, have some fun."

Above photo l to r: Chris Rowe, John Cranor, Isaac Gonzalez, Charles Chisholm, John Jennings, Bruce Blackwell, Doug Miller, Eric Babcock, Leon Smith, Chuck Loppacker. Not pictured: Kenny Stepp.

Photos and report submitted by Charles Chisholm, chapter president.