Option 1: In-person Training at IW 2019
If you've been paying attention to the Home Energy Score updates in the Reporter, you'll know that the U.S. Department of Energy (DOE) Home Energy Score program is catching on, with multiple state and local governments, financing firms and, yes, major inspection firms getting on board in reaction to popular demand and to a shifting home buying clientele.
What you might not know is that, despite the ease of using the Score in the field, the simulator-based ("Sim") training that instructs you how to conduct a Home Energy Score is nobody's idea of a good time. In fact, many ASHI members who jumped into the HES program in its early days told us that the Sim's video-game format isn't the most inviting learning experience for people who didn't grow up with joysticks or game consoles embedded in their hands 24/7. And even though the online availability of the training allows for a lot of scheduling flexibility, one can be a lonely number when there's some stubborn little aspect of the training that you just can't figure out.
The good news is that the DOE listened to this feedback and fixed a lot of quirks that bedeviled trainees in the early days. They've also discovered that the best way to make the whole Sim experience painless—and maybe even fun—is to offer an "old-fashioned" option, with real, live people who can answer real, live questions!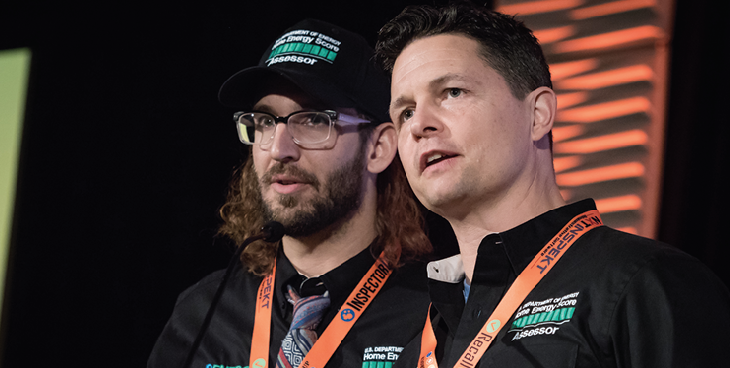 It's this kind of live training event that ASHI members can take part in at InspectionWorld® 2019 in San Diego. If you've read the inspiring stories in the Reporter, or have heard directly from inspectors about their success with offering the Home Energy Score and if you've been kicking yourself for waiting to get on board, now is your chance!
We think the in-classroom Sim training is a great way to race through the onboarding process and we can tell you that it will be a lot more enjoyable than going it alone. Co-trainers Brent Loya from ID Energy and Ken Slattery from the DOE will be dropping the knowledge.
If you've been to InspectionWorld® in the last few years, you've probably met Brent and Ken—they are the energetic duo (representing ID Energy and the US DOE, respectively) who have been faithfully beating the drum about the Home Energy Score™ to get the program to its current level of enthusiastic acceptance in the inspection industry.
In-person events like this are widely recognized as the best way to get on board as a Certified Home Energy Score Assessor, so sign up today through the IW registration website (www.inspectionworld.com/register/) to save your place.
Option 2: Visit the ASHI Online Learning Center
In-person training is great, but you don't have to attend a live session to decide whether becoming a Home Energy Score Certified Assessor™ is the right move for you and your business. ASHI now features the two-hour presentation from IW 2018 on the ASHI Online Learning Center, so you can listen, learn and earn CE credits at your leisure (without having to pretend to laugh at Brent's or Ken's corny jokes!).
The online presentation covers the basic nuts and bolts of delivering the Home Energy Score to your clients, including the technical aspects of the program, the best ways to build it into your business and the specific steps to get on board as quickly as possible. The online course offers two CE credits, which you'll receive after you listen to the module and take a 20-question quiz.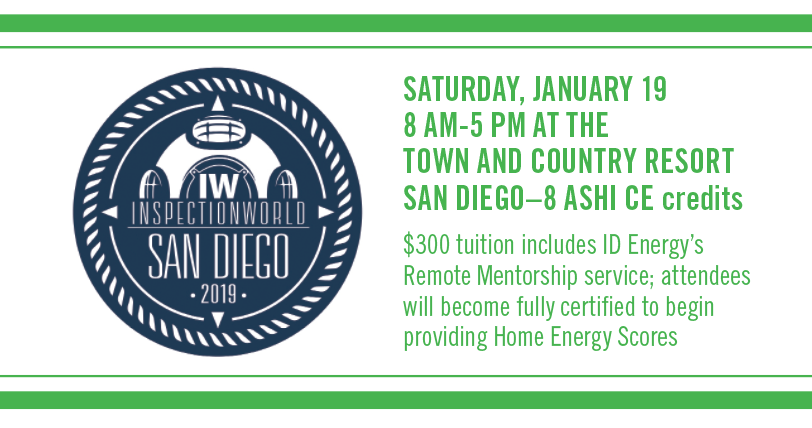 To check it out, visit the ASHI Online Learning Center (www.softconference.com/ashi/default.asp) and select the Specialty/Diversification category.
For more information, contact Jen Gallegos at ASHI HQ (jeng@ashi.org) or sign up through ID Energy (energyscoreusa.com/sign_up.php).