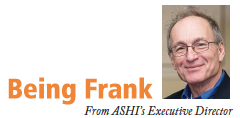 Topic 1: "How Do I…?"
My office, which is referred to as "The Fishbowl," faces the reception desk. We call it that because the window measures about 7 feet by 5 feet, and you can see right into it. One advantage to having such a big expanse of glass is that I can see most of what's going on in the whole office. One disadvantage to that large window is that I have a hard time getting any undisturbed shut-eye without someone seeing me.
A mixed benefit of my office location is that I get to hear ASHI staff respond to a lot of callers who are looking for information. I say it's a mixed benefit because, although it's nice to hear how well ASHI staff serves our members, it can be frustrating to hear many of the same answers to the same questions every day.
Here are some of the most frequent questions:
• How do I change my profile on the ASHI website?
• How do I pay my dues?
• How do I move up in the membership categories?
• How do I use the Online Learning Center?
• How do I download a logo? (See Page 13)
On some days, when the phones are ringing off the hook, the staff has to return some missed calls. Occasionally, this leads to a game of phone tag because, well, you have a business to run and we can't expect that you'll be sitting by your phone waiting for us to call you back.
With this in mind, we've decided to produce a short video that will point members in the right direction on the ASHI website so that they can receive the information they need without waiting for a return call from ASHI HQ. We'll also create a link to FAQs on the ASHI website. We think these improvements will help you easily access what you need, 24/7/365.
Topic 2: A Preview of IW® in Orlando
It's hard to believe that we are only six short months away from the next InspectionWorld®, the home inspection profession's
premier international educational conference and exhibition. In February's Reporter, I shared some teasers about IW 2018 in
Orlando, and since then, we've added some exciting new plans.
It bears repeating that IW will "go paperless" in Orlando. The IW app will give you everything you'll need regarding scheduling, speakers, activities, sponsors, exhibitors, maps, attendees and FAQs. You'll also use the app to give feedback about the educational sessions you attend—this feature will make it easier for attendees to offer comments and for staff to compile them.
Back by popular demand, we're going to feature a "live inspection." Members of the Florida Association of Building Inspectors (FABI) and ASHI will do an onsite home inspection, and all of the action and discussion will be streamed live, directly into a classroom at the conference location. Attendees of the live inspection session will have the opportunity to ask questions while the inspection is being performed. Other inspectors, who will have already inspected the house in person, will moderate the process in the classroom. We featured live inspections at IWs in San Diego and Philadelphia, and received great reviews from attendees of the sessions. You won't want to miss this opportunity in Orlando!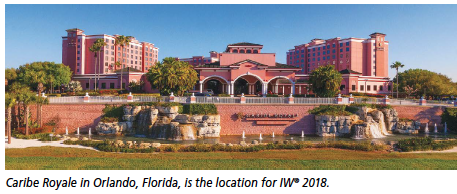 I hope everyone who hasn't attended an IW in the past will make every effort to come to Orlando in January 2018. It is going to be another fantastic, one-of-a-kind event that will kick off the new year with gusto.
Frank Lesh, Executive Director
American Society of Home Inspectors
Direct: 847-954-3182
Frankl@ashi.org • www.ashi.org