To the editor,

It is with a heavy heart and deep feeling of loss we announce the passing of James (Jim) Thompson. Jim was a longtime home inspector and ASHI member serving the greater Columbus, Ohio, area. He was serving on the board of directors of the Ohio Chapter.

Jim suffered a massive heart attack after completing his last inspection on Monday, August 16. He was only 58 years old and is survived by his loving wife, Kathy, two daughters, and several beautiful grandchildren who owned his heart.
Jim was a good friend and mentor who always had a smile and a big howdy for everyone. His passing leaves a void in our lives that can never be filled. We are better because he passed this way.

Contributions can be made in his name to the American Heart Association.

David Argabright
ASHI Certified Inspector
Attic to Sidewalk Home Inspections
Orient, Ohio


New meaning to going green

To the editor,

Thank you for a well-written article on pot grow houses. Carson is great with a keyboard. The article clearly explains how the topic exceeds the Standards but also provides good information. It gives a new meaning to "going green." Consider also including a disclaimer for all drug-related activities, especially speed labs.

John Cahill
ASHI Certified Inspector
Cahill Inspection Services, Inc.
Plano, Texas



Traveling advertisement

To the editor,

Here's a shot of my car graphics. I would be interested in seeing how other members use their work vehicles to promote their company.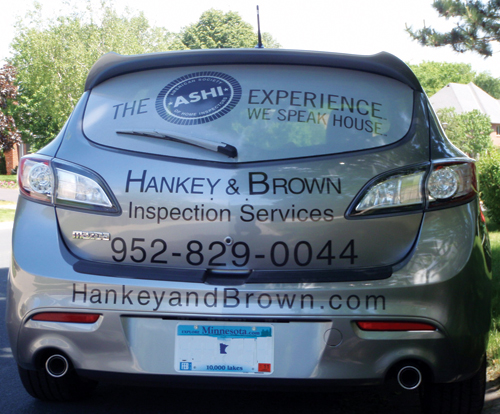 Roger Hankey
ASHI Certified Inspector
Hankey & Brown Inspection Services
Eden Prairie, Minn.



Editor: Readers, are you willing to contribute a photo of your vehicle? If so, e-mail it to sandyb@ashi.org.