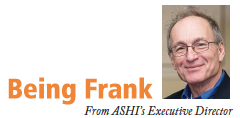 Heads up! Several important issues are coming up soon for your consideration.
Prepare to Submit Your Votes
Proposal for the Auxiliary Residential Deck Inspections Standard. On Page 13 of this issue of the Reporter, you'll find a great article from Bruce Barker, "Guru of the Standard." He has compiled answers to FAQs so that all inspectors can be informed when casting their vote about ASHI's proposed new deck standard. Please read this information to familiarize yourself with the proposal so that you will be prepared to vote when you receive your ballot via email.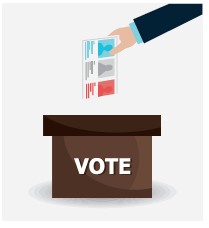 Changes to the ASHI Bylaws. Several of these proposed changes to ASHI's bylaws are simple "housekeeping" items, but some are more involved. When you receive your ballot, please take the time to read through the proposed changes and cast your vote. If we don't receive enough completed ballots from members, we will have to keep bugging you to do your civic—I mean, ASHI—duty. Remember, ASHI is your Society, and you have the opportunity to participate in its governance. So, when your ballot arrives via email, please submit your vote.
We started a contest that gives you a chance to win a special giveaway every month; the "trinket" you'll receive will be determined by our very own Marketing Director, Dave Kogan. For every month you enter, you also will get a chance to earn the Grand Prize—a Full Conference Attendance Package for InspectionWorld. 2018 in Orlando, FL! It's easy to participate. Just click on a link to the ASHI website that you'll receive in an email from ASHI HQ. The link will connect you with information about ASHI that we'd like you to know. Be sure to click the link every month!
For example, last month, the link we sent took you to information about Insight, a new app for home inspectors by Carson Dunlop. If you haven't seen the details, be sure to check them out at www.carsondunlop.com/insight/. This app is a fantastic tool that all inspectors can use.

Rob Kinsey won the first monthly drawing and he received a fantastic ASHI license plate bracket. (We spare no expense here at ASHI HQ!) Even better, Rob is also entered in the drawing to win the Grand Prize later this year. Don't miss out on this monthly opportunity to learn something new, potentially win an ASHIthemed item and have a crack at getting a complimentary attendance package to IW 2018.
ASHI Goes Paperless at IW
Building on the success of this year's launch of the IW app in Las Vegas, we've decided to officially move into the 21st century by going "paperless" at IW. For those of you who've been around a while, you may remember that, years ago, ASHI handed out giant conference proceeding books that weighed about 25 pounds. Attendees even got to carry those encyclopedias from class to class! Although that may have helped us build up stamina and bone density, it also caused shoulder, neck, back and knee deterioration. The bonus benefit was trying to stuff all those books into our suitcases for the trip home. And once we placed them in our offices, they sat on a bookshelf until the shelf collapsed.
A few years back, we switched to providing CDs in addition to the books. Note to Millennials: Compact discs held 700 MB of data. Maybe you can imagine how much information that included, but let's just say that, compared with the storage systems today, it wasn't much. Over the years, we've also provided thumb drives, which do hold quite a bit of data, but because the drives are so small, most of us ended up losing them before we even had to deal with the issue of having a laptop or desktop computer to access the data.
So, now we've decided to put everything on the ASHI IW app so that everything needed for the conference can be compiled into one place and accessed by a mobile device. If you want to know when, where and what courses are available, go to the app. To review handouts, notes from a session, lists of attendees, a map of the conference center, daily messages or any other event information, you'll just use the app. With so much information at our fingertips, we might get carpal thumb syndrome, but our shoulders will be just fine.
Frank Lesh, Executive Director
American Society of Home Inspectors
Direct: 847-954-3182
Frankl@ashi.org • www.ashi.org